January 30, 2015
---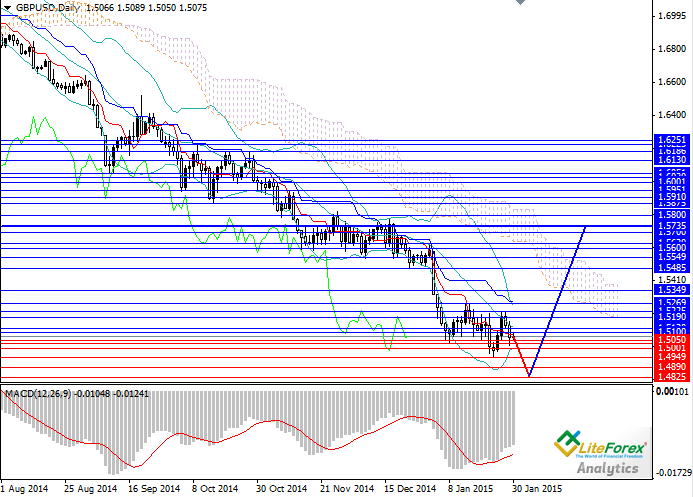 Current trend
Week UK statistics were released again before noon yesterday. This time, the retail sales index dropped almost twofold. Then the favourable data on the US labour market helped the dollar to put increased pressure on the GBP/USD. The pair broke a few important support levels and dropped below 1.5030, and then partially recovered losses.
Today, the GBP/USD did not show high volatility, but the information on UK mortgage loans, publication of key indexes and preliminary data on US GDP in fourth quarter of the previous year will probably dynamize the pair.
The demand for dollar continues to rise. The pound's upward correction was only a temporary respite after which investors resumed buying the American currency. High growth rates of the US economy continue, but let's remember that every rise is inevitably followed by a recession. The American currency is substantially overbought, which starts to affect US exports, therefore the growth will be replaced by a substantial correction in the shortest time.
Support and resistance
The pair is very likely to drop to local lows of July-March 2013 (1.4825), but a breakout will require not only a growing demand but also fundamental catalyzers. A level of 1.4825 will probably be critical.
Support levels: 1.5050, 1.5030, 1.5000, 1.4950, 1.4890, 1.4825.
Resistance levels: 1.5100, 1.5120, 1.5190, 1.5225, 1.5270, 1.5350, 1.5485, 1.5550.
Trading tips
This situation implies increasing short positions with profit fixing at 1.4830. After a level of 1.4830 is reached, long positions with short Stop-Loss and Take-profit at 1.5550, 1.5700 will be relevant.
Dmitry Likhachev
Analyst at LiteForex Investment Limited
Publication source
---
LiteForex information
LiteForex reviews
December 9, 2016
ECB board member Benoit Coeure commented the yesterday decision in a radio interview. The central bank announced QE tapering stressing that it does not mean less engagement...
---
December 8, 2016
The main challenge for markets today will be steering through the messages that emerge from the ECB meeting and press conference. Whereas the Fed meeting next week is seen as a near certainty in terms of its outcome, this is not the same for the ECB...
---
December 7, 2016
The oil price fell for the first time in 4 days today as skepticism creeped in over some OPEC member's commitment to keep to their end of the deal and cut production...
---