February 27, 2015
---
It has been a busy day in Asia after even busier sessions in North America and Europe. There has been a deluge of economic data from Japan, as well as some important moves in the FX market. This helped to push AUDJPY away from a key resistance zone around the top of its long-term downward channel.
The aussie is back on the back foot today as investors price-in a greater chance of monetary policy loosening from the Reserve Bank of Australia and as the yuan sinks against the US dollar. Bloomberg released a survey which outlined that most economists/market commentators believe that the RBA will lower the official cash rate on Tuesday. This encouraged aussie bears and pushed AUDUSD to its lowest level in a couple of days.
In Japan, economic data released earlier today was largely disappointing but not bad enough to materially change the yen's push lower. Core consumer prices rose 2.2% y/y in January, missing an expected 2.3% gain and a prior figure of 2.5%. Also, household consumption fell more than expected at -5.1% y/y. The only real bright spot in today's numbers was a surprisingly strong 4.0% jump in industrial production.
The yen largely brushed aside today's figures as safe haven flows proved too strong, which when combined with AUD's weakness saw AUDJPY reach an important medium-term trend line (see chart). Given our weak outlook for the Australian dollar and the softening techs of AUDJPY, it may only be a matter of time before this pair breaks through the aforementioned support line. However, a break through the top of its long-term downward channel would negate this bearish scenario.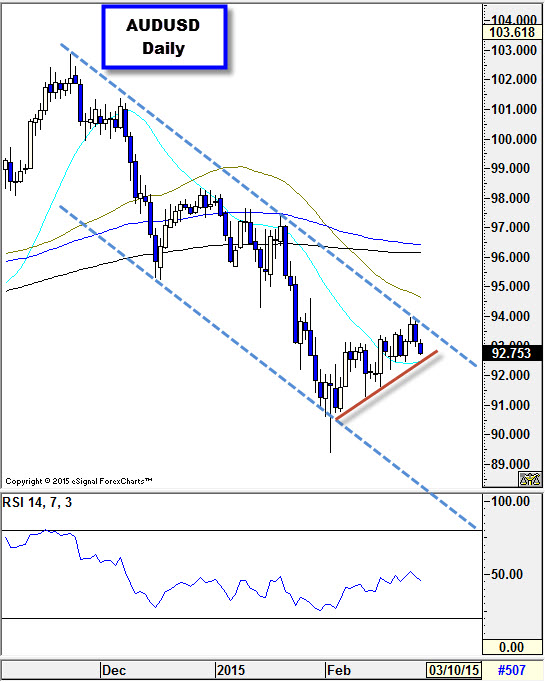 Publication source
---
FOREX.com information
FOREX.com reviews
September 28, 2016
The market's initial response to the US presidential election debate overnight was a clear sigh of relief. The Mexican Peso, which had hit a record low against the dollar just the day before, surged higher, as too did the Canadian dollar...
---
September 27, 2016
It hasn't been a great start for global equities in this last week of September, with European indices dropping between 1.0 to 1.5 per cent during Monday's morning session, mirroring a similar performance in Chinese and Japanese markets overnight...
---
September 23, 2016
The price of gold extended its rebound modestly on Thursday after the US Federal Reserve provided some key signals on Wednesday that, despite a considerable probability of one Fed rate hike by the end of this year...
---