February 27, 2015
---
It has been a busy day in Asia after even busier sessions in North America and Europe. There has been a deluge of economic data from Japan, as well as some important moves in the FX market. This helped to push AUDJPY away from a key resistance zone around the top of its long-term downward channel.
The aussie is back on the back foot today as investors price-in a greater chance of monetary policy loosening from the Reserve Bank of Australia and as the yuan sinks against the US dollar. Bloomberg released a survey which outlined that most economists/market commentators believe that the RBA will lower the official cash rate on Tuesday. This encouraged aussie bears and pushed AUDUSD to its lowest level in a couple of days.
In Japan, economic data released earlier today was largely disappointing but not bad enough to materially change the yen's push lower. Core consumer prices rose 2.2% y/y in January, missing an expected 2.3% gain and a prior figure of 2.5%. Also, household consumption fell more than expected at -5.1% y/y. The only real bright spot in today's numbers was a surprisingly strong 4.0% jump in industrial production.
The yen largely brushed aside today's figures as safe haven flows proved too strong, which when combined with AUD's weakness saw AUDJPY reach an important medium-term trend line (see chart). Given our weak outlook for the Australian dollar and the softening techs of AUDJPY, it may only be a matter of time before this pair breaks through the aforementioned support line. However, a break through the top of its long-term downward channel would negate this bearish scenario.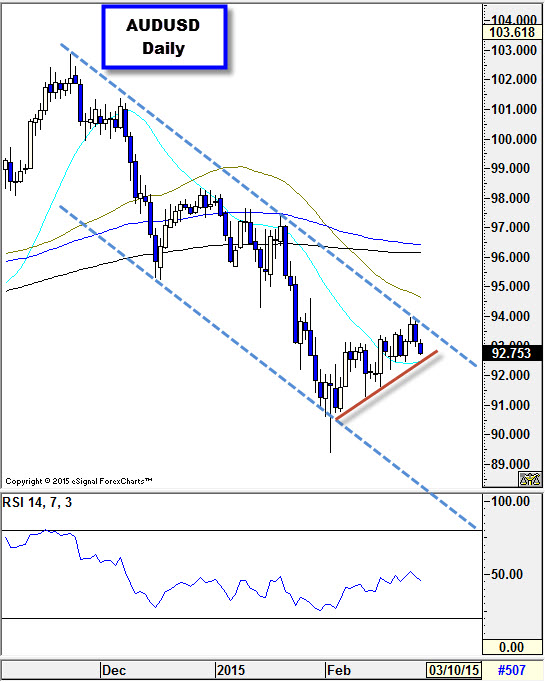 Publication source
---
FOREX.com information
FOREX.com reviews
February 17, 2017
The gold price has racked up its 2nd straight day of gains today on the back of US dollar weakness and doubts over an interest rate hike next month from the US Federal Reserve...
---
February 16, 2017
The Euro is slowly going down and this is not brought on by the Eurozone situation. Instead, this is fueled by the U.S. Dollar. Yesterday, Janet Yellen gave a speech in the Senate Banking Committee emphasising the fact that it Is not quite right to use the wait-and-see stance regarding the interest rate hike...
---
February 14, 2017
The Euro has come under pressure late in the European session today, after analysts warned of the huge costs that France would face should they decide to ditch the European currency...
---