March 9, 2015
---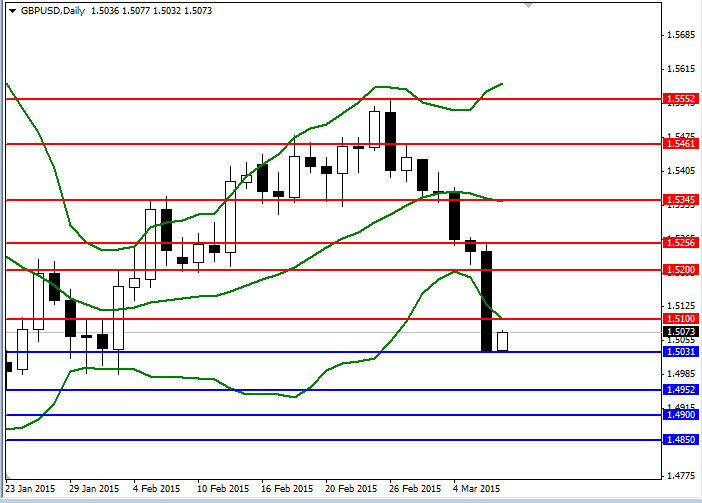 Current trend
GBP/USD reached this month's lowest value on Friday, having dropped to a value of 1.5031. The pound weakened owing to the strengthening of the US dollar. Data on non-farm payrolls turned out to be better than expected, demonstrating an increase in new jobs by 295 thousand against a forecast of 241 thousand and the previous value of 239 thousand. The unemployment rate decreased by 0.2% and amounted to 5.5%, which is better than a forecast of 5.6%.
Last Thursday, the Bank of England kept interest rates at the same record low level of 0.5% set in March 2009. The Central Bank also kept the asset purchase program volumes unchanged, at a level of 375 billion pounds.
This week, the pound will be influenced by statistics for manufacturing and industrial production volumes in the UK. The outlook for these 2 indexes are quite upbeat and the British currency will be able to recover slightly.
Support and resistance
Resistance levels: 1.5100 (lower line of Bollinger bands), 1.5200 (important psychological level), 1.5226 (6th March's maximum) 1.5345 (middle line of Bollinger bands), 1.5461 (27th February's maximum).
Support levels are local lows at 1.5031, 1.4952, 1.4900 and 1.4850.
Trading tips
Buy after a level of 1.5100 is broken with the first target at 1.5200 and second target at 1.5256. Sell from a level of 1.5030 with targets at 1.4950 and 1.4900.
Andrey Cherkas
Analyst at LiteForex Investments Limited
Publication source
---
LiteForex information
LiteForex reviews
September 29, 2016
The risk is increasing on the market ahead OPEC meeting in Algiers and Yellen testimonial, which will happen before the House panel. FED-fueled rally on gold starts to fizzle out as the December futures keep on a losing streak for a second day, finally dipping by 0.12% to 1,328.75...
---
September 28, 2016
The market's initial response to the US presidential election debate overnight was a clear sigh of relief. The Mexican Peso, which had hit a record low against the dollar just the day before, surged higher, as too did the Canadian dollar...
---
September 27, 2016
It hasn't been a great start for global equities in this last week of September, with European indices dropping between 1.0 to 1.5 per cent during Monday's morning session, mirroring a similar performance in Chinese and Japanese markets overnight...
---