March 19, 2015
---
The yuan is surging higher against the USD this week, even before the FOMC's meeting overnight. The PBoC may be attempting to fight the idea that the yuan is only heading lower this year amidst looser monetary policy and as concerns about China's economy mount. While this core theme remains, the recent bout of USD weakness is dominating the FX market and the PBoC appears more than comfortable to use this to set a lower reference, which it did today – Beijing set the fix at 6.146 today, its lowest level in three weeks.
However, if Chinese economic data continues to disappoint we expect to see USDCNY test the top of its trading band once again. While the new holes in the USD strength story cannot be ignored, especially given the PBoC's apparent want to push the currency higher in the short-term, CNY cannot ignore the possibility of slower growth in China and looser monetary policy. On balance, we expect USDCNY will broadly appreciate this year, albeit not by any drastic amount.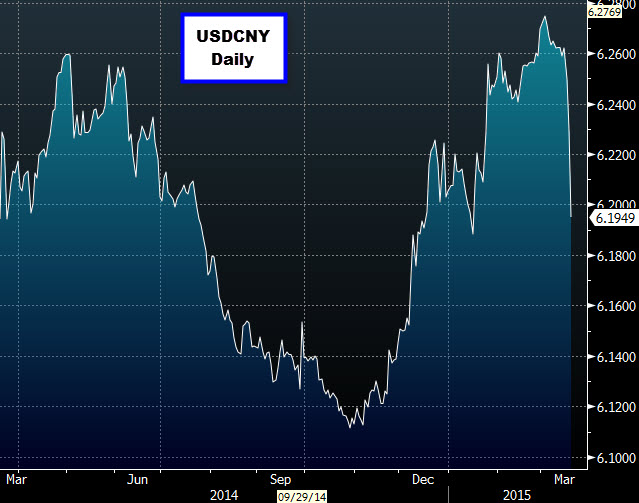 Publication source
---
FOREX.com information
FOREX.com reviews
September 27, 2016
It hasn't been a great start for global equities in this last week of September, with European indices dropping between 1.0 to 1.5 per cent during Monday's morning session, mirroring a similar performance in Chinese and Japanese markets overnight...
---
September 23, 2016
The price of gold extended its rebound modestly on Thursday after the US Federal Reserve provided some key signals on Wednesday that, despite a considerable probability of one Fed rate hike by the end of this year...
---
September 22, 2016
The reaction seen in currency markets yesterday to respective central bank policy decisions was instructive of the change in dynamics that we're seeing. The BoJ enacted a number of changes to its policy regime...
---