March 19, 2015
---
The yuan is surging higher against the USD this week, even before the FOMC's meeting overnight. The PBoC may be attempting to fight the idea that the yuan is only heading lower this year amidst looser monetary policy and as concerns about China's economy mount. While this core theme remains, the recent bout of USD weakness is dominating the FX market and the PBoC appears more than comfortable to use this to set a lower reference, which it did today – Beijing set the fix at 6.146 today, its lowest level in three weeks.
However, if Chinese economic data continues to disappoint we expect to see USDCNY test the top of its trading band once again. While the new holes in the USD strength story cannot be ignored, especially given the PBoC's apparent want to push the currency higher in the short-term, CNY cannot ignore the possibility of slower growth in China and looser monetary policy. On balance, we expect USDCNY will broadly appreciate this year, albeit not by any drastic amount.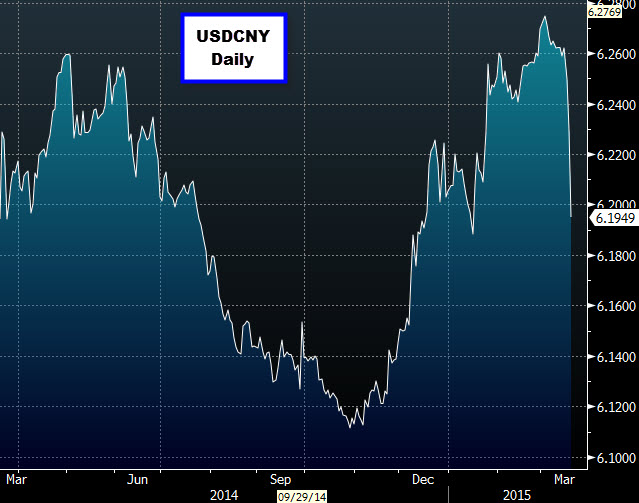 Publication source
---
FOREX.com information
FOREX.com reviews
October 27, 2016
The Brexit vote back in June taught markets never to take anything for granted and the same holds true for the upcoming US Presidential election. A poll lead for Trump in Florida yesterday, combined with some further revelations in the daily mud-slinging...
---
October 26, 2016
What we saw in sterling yesterday was instructive of the dilemma that may face other central bankers before long. Carney played down expectations of a further easing in policy before the end of the year, as was strongly suggested in August when they eased policy in the wake of the Brexit referendum...
---
October 24, 2016
Monday, October 24, 2016 - JPY Small Business Confidence (OCT), EUR Markit/BME Germany Manufacturing PMI (OCT P), USD Markit US Manufacturing PMI (OCT P)...
---