March 19, 2015
---
The yuan is surging higher against the USD this week, even before the FOMC's meeting overnight. The PBoC may be attempting to fight the idea that the yuan is only heading lower this year amidst looser monetary policy and as concerns about China's economy mount. While this core theme remains, the recent bout of USD weakness is dominating the FX market and the PBoC appears more than comfortable to use this to set a lower reference, which it did today – Beijing set the fix at 6.146 today, its lowest level in three weeks.
However, if Chinese economic data continues to disappoint we expect to see USDCNY test the top of its trading band once again. While the new holes in the USD strength story cannot be ignored, especially given the PBoC's apparent want to push the currency higher in the short-term, CNY cannot ignore the possibility of slower growth in China and looser monetary policy. On balance, we expect USDCNY will broadly appreciate this year, albeit not by any drastic amount.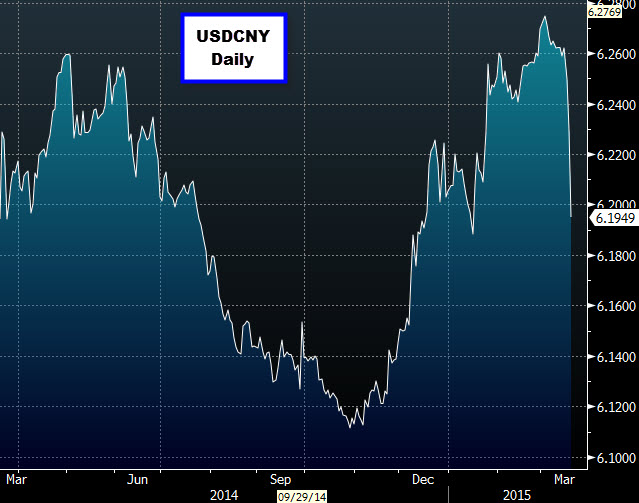 Publication source
---
FOREX.com information
FOREX.com reviews
February 17, 2017
The gold price has racked up its 2nd straight day of gains today on the back of US dollar weakness and doubts over an interest rate hike next month from the US Federal Reserve...
---
February 16, 2017
The Euro is slowly going down and this is not brought on by the Eurozone situation. Instead, this is fueled by the U.S. Dollar. Yesterday, Janet Yellen gave a speech in the Senate Banking Committee emphasising the fact that it Is not quite right to use the wait-and-see stance regarding the interest rate hike...
---
February 14, 2017
The Euro has come under pressure late in the European session today, after analysts warned of the huge costs that France would face should they decide to ditch the European currency...
---