April 7, 2015
---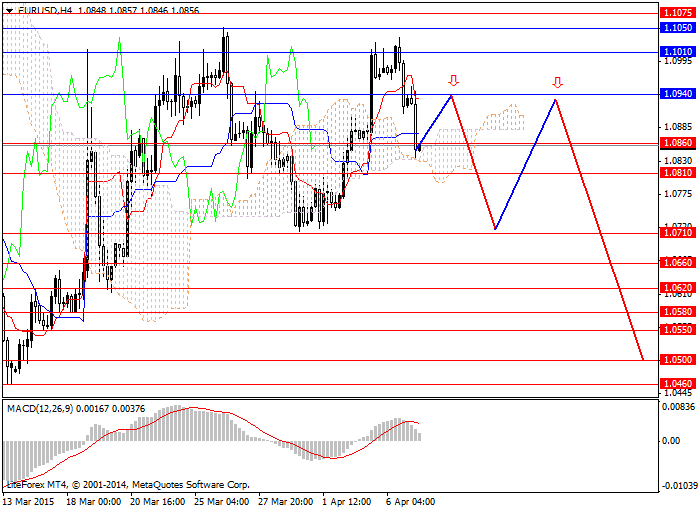 Current trend
At the end of last week European currency started to strengthen against the USD amid negative US labour market statistics. Yesterday, additional pressure on the American currency was caused by the negative data on the US business activity index. The pair EUR/USD went up and almost reached key resistance level and the local highs of 1.1050.
Today, European currency started to lose positions due to negative news on business activity index in France and Eurozone. In addition, attention shall be focused on producer price index in Eurozone and US nonfarm payroll and some other US news.
It is worth noting that following any upward correction, European currency comes under pressure from investors. Amid long-term downward correction and complicated macro-economic situation in Eurozone, investors sell European currency at the key resistance levels, as they await that Euro will weaken. If plus to this fundamental catalysts also indicate the decline, then Euro is sharply losing positions versus the USD.
Support and resistance
Today, the pair EUR/USD can go further down up to support level of 1.0710. In the medium-term downtrend will continue.
Support levels: 1.0860, 1.0810, 1.0810, 1.0660, 1.0580, 1.0550, 1.0500 and 1.0460.
Resistance levels: 1.0940, 1.1010, 1.1050, 1.1110, 1.1160, 1.1240 and 1.1290.
Trading tips
It makes sense to open short positions from resistance levels of 1.0940, 1.1010 and 1.1050 and stop-loss above resistance level of 1.1050 and take profit at the levels of 1.0620 and 1.0550.
Analytics of LiteForex Investment Limited
Publication source
---
LiteForex information
LiteForex reviews
October 21, 2016
With the dust having settled after Wednesday final US presidential debate of the 2016 campaign between Donald Trump and Hillary Clinton, the results have become rather apparent...
---
October 20, 2016
The ECB meeting arrives today when EURUSD is testing key levels. The mid-year lows at 1.0952 is perilously close as I write, whilst the post-Brexit referendum low of 1.0913 being in the frame after that. It's hard to see the ECB adding to its quantitative easing policy...
---
October 19, 2016
The Dollar upturn seen in the recent weeks that was influenced by the firm belief in a rate hike of December fizzles out, after Yellen's speech and the downbeat US inflation and manufacturing data...
---