13 April, 2015
The beginning of a widespread sell-off in the euro last week coincided with EURAUD rebounding off a key resistance zone around its 200-day SMA. However, price action was bolstered today by some soft trade numbers out of China which resulted in a sell-off in the Australian dollar. AUDUSD was propelled away from a resistance zone around 0.7700 on the back of today's numbers, before finally finding some support just below 0.7600.
Exports fell 15.0% in the year to March, completely missing an expected 9.0% gain. Imports also missed the mark at -12.7% y/y (exp. -10.0%), adding to fears about the health of domestic demand. It's worth noting that the accuracy of these numbers is being drawn into question after months of volatile data due to the timing of Chinese New Year celebrations this year and last year, but they are still concerning.
China's disheartening trade numbers cast even more doubt over the health of the economy as it attempts to readjust to more sustainable levels of growth (Q1 growth numbers are due out on Thursday – exp. 7.0% y/y). The export market was the brightest light in otherwise fairly gloomy economy, which also happens to be Australia's largest trading partner. This directly threatens the commodity-backed Australian dollar, which was already suffering from the threat of loose monetary policy, falling commodity prices and a general lack of economic activity in Australia.
Apart from China's growth numbers on Wednesday, the most important piece of data this week for the Australian dollar will be Australia's employment report for March. The market is looking for a fairly uneventful report, with headline jobs growth expected to be 15K and the unemployment and participation rates are anticipated to remain at 6.3% and 64.6% respectively. Apart from these headline figures, it's important to assess where the jobs came from; full-time employment trumps part-time employment in regards to assessing the health of the economy.
EURAUD – is the recovery going to last?
The ECB has a policy meeting this week, which all EUR traders should keep an eye even though no major policy changes are expected. From a technical perspective, EURAUD is still looking somewhat weak; only a very strong support zone around its almost 2-year low saved the pair (around 1.3730). If the pair does drift lower there is the potential that it may break the neckline of a long-term head-and-shoulders pattern. On the upside, we're watching 1.4000 and another resistance zone just below 1.4500.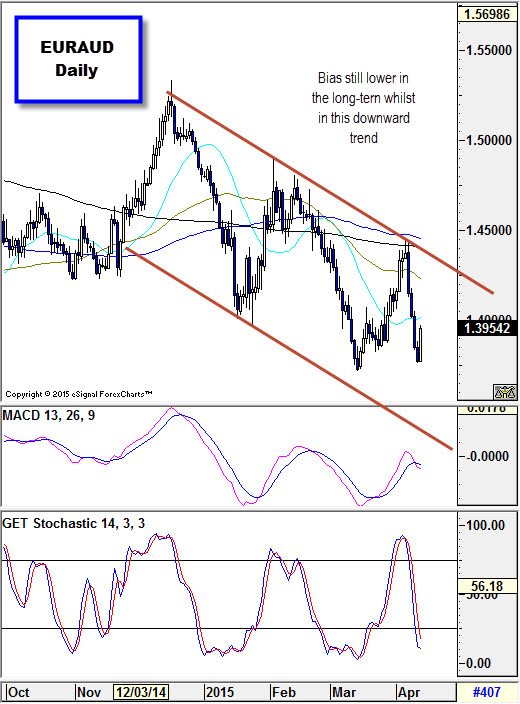 ---
Source link
---
---