14 May, 2015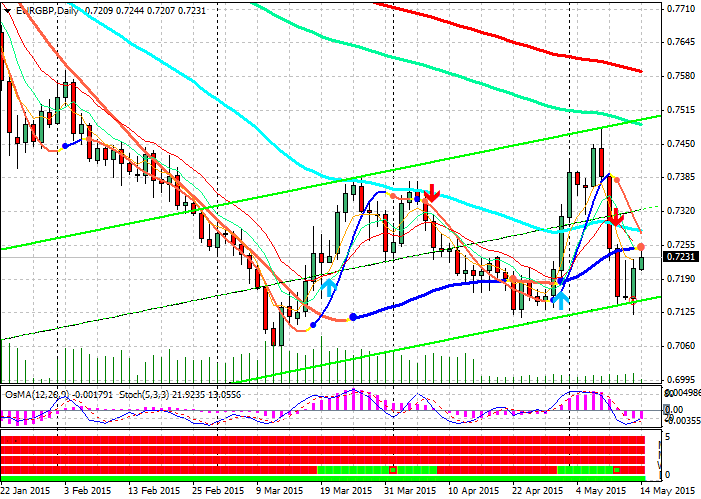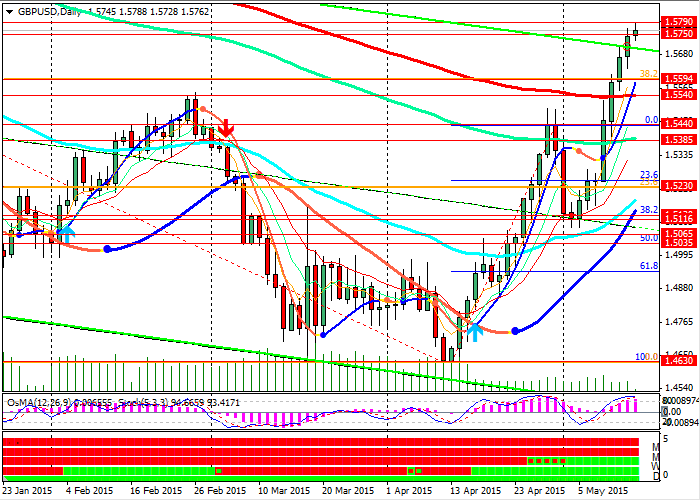 Current trend
The main driver of yesterday's movement in the market was poor data on the US retail sales for April. This index (which shows the changes in the volume of retail sales) was below the forecast, as it fell to 0.0% against expectations of 0.2%. Retail sales index excluding sales of the automobiles amounted to 0.1% against the forecast of 5%.
Some important British news was also released yesterday: in the monthly inflation report, the Bank of England has downgraded forecast of GDP growth from 2.7% to 2.4% for 2016 and from 2.9% to 2.6% for 2017. The timing of the interest rate increase was rescheduled for the mid-2016. After the release of the report by the British regulator, the Pound fell to 1.5647, and later reached the level of 1.5633, amid the American news. Nevertheless, by the end of the day the pair GBP/USD has regained lost positions rising up to 1.5743.
At today's Asian session the USD declined versus all major currencies, and after breaking down resistance level of 1.5750, the pair GBP/USD is traded at the level of 1.5780. It is expected that the pair will move in the uptrend, as there is no important news scheduled for the release on Thursday.
Support and resistance
The indicator OsMA also suggests buy positions (rising histogram in the daily timeframe). Stochastic and trend indicator of the green color shows long positions on D1.
However, it is worth paying attention to the daily chart of the cross-pair EUR/GBP, where the Pound is declining against the USD. Therefore, it is recommended to open buy positions if the pair GBP/USD rebounds to the levels of 1.5750, 1.5725 or 1.5700. The nearest targets can be at the levels of 1.5800 and 1.5900 (Fibonacci 50%). The signal of the completion of the downtrend and development of the uptrend is the breakdown of Fibonacci level of 38.2% (1.5595). In case of the uptrend the pair will be targeted at the level of 1.6200. As an alternative scenario we can consider the decline in the Pound to 1.5595 (Fibonacci 38.2%) or further down to 1.5540 (ÅÌÀ200). After breaking down EMA144 (1.5380) the Pound can continue downtrend.
Resistance levels: 1.5750, 1.5900, 1.6000 and 1.6160.
Support levels: 1.5595, 1.554 and, 1.5380.
Trading tips
It is preferable to place buy orders with the nearest targets of 1.5800, 1.5850 and 1.5900. However, it is better to enter into long positions at the rebound to the levels of 1.5750, 1.5725 or 1.5700. Sell positions with the targets of 1.5540 and 1.5440 are advisable after breakdown of the level of 1.5595.
---
---