June 29, 2015
---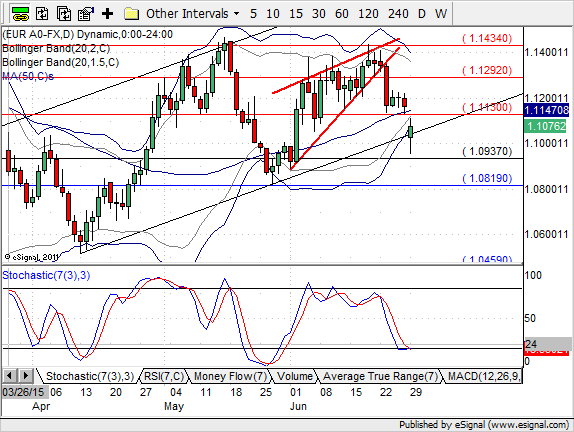 The euro is under pressure in early-week trade as Greece's talks with the Eurogroup broke down over the weekend, and the ECB refused to top up ELA assistance. Greece has consequently imposed capital controls and announced a referendum for next Sunday, which will determine whether the electorate has the stomach to exit the euro. Finally, after five years, the Greek drama is coming to a definitive head. Polls suggest that the people of Greece would rather compromise to stay in the euro than exit, but markets will remain on tenterhooks this week ahead of the referendum. Some key US data are also due this week, culminating with the release of the June payrolls report on Thursday (Friday is a holiday in the States). EURUSD hit a four-week low at 1.0953 after closing Friday at 1.1166, subsequently recovering above 1.1000. Recoveries will likely remain muted affairs, though incoming polls out of Greece will have potential to create volatility this week.
EURUSD is trading higher and tries to close the gap. Not suprisingly EUR is down against all the currencies but at the time of writing there is no sense of panic spreading across the FX markets. This is evidenced at the time of writing by EURUSD trading higher after the gap opening. Asian, European and US equity futures markets are down and Gold is trading higher by 0.4%.
EURUSD remains bearish as it is difficult to anticipate what the political players will do and how it impact markets. Over the next few days we should see trading opportunities for technical traders that know how to take advantage of nervous markets and volatility. EURUSD has a resistance level not far above current price action at 1.1130 which in the light of what's happening with Greece suggests that EURUSD will trade lower after the return move is over. The June 1st candle seems to be the first pivotal support area and I expect this support hold today unless new suprising news items come up.
Janne Muta
Chief Market Analyst
HotForex
Publication source
---
HotForex information
HotForex reviews
January 17, 2017
Oil has spiked higher on Al Falih comments in Davos (Saudi oil minister). He said during a panel discussion at WEF in Davos that there will be inflation in the cost of doing business in the oil industry, following the squeeze that accompanied the decline in crude prices...
---
January 16, 2017
A speech from Theresa May is one of the key events for financial markets this week and certainly the most relevant for the British pound. Primie Minister is about to deliver a speech on UK's stance and conditions ahead of the triggering article 50 and beginning the Brexit negotiations...
---
January 13, 2017
USD was taking damage from the Wednesday Donald Trump specch until yesterday evening. Lack of details on economic and fiscal agenda at the first press conference of the president-elect caused a correction on equities boosted since the US elections...
---