Predicting the next move in the markets is the key to making money in trading, but putting this simple concept into action is much harder than it sounds. Professional forex traders have long known that trading currencies requires looking beyond the world of FX. The fact is that currencies are moved by many factors - supply and demand, politics, interest rates, economic growth, and so on. More specifically, since economic growth and exports are directly related to a country's domestic industry, it is natural for some currencies to be heavily correlated with commodity prices. The top three currencies that have the tightest correlations with commodities are the Australian dollar, the Canadian dollar and the New Zealand dollar. Other currencies that are also impacted by commodity prices but have a weaker correlation are the Swiss franc and the Japanese yen. Knowing which currency is correlated with what commodity can help traders understand and predict certain market movements. Here we look at currencies correlated with oil and gold and show you how you can use this information in your trading. (For background reading, see The Most Popular Forex Currencies.)
Oil and the Canadian Dollar
Over the past few years, the price of commodities has fluctuated significantly. Oil, for example, surged from $60 a barrel in 2006 to a high of $147.27 a barrel in 2008 before plummeting back below $40 a barrel in the first quarter of 2009 and rising to above $80 in 2011. Similar volatility can be seen in the price of gold, which hit $1600 an ounce in June 2011 and then a new high of over $1,800 an ounce a few months later in August 2011. With many countries around the world in recession, the trend of commodity prices can mean the difference between a deeper downturn and a faster recovery. Knowing which currencies are affected by what commodities will help you make more educated trading decisions. (Find out how the everyday items you use can affect your investments in Commodities That Move The Markets.)

Oil is one of the world's basic necessities - at least for now, most people in developed countries cannot live without it. In February 2009, the price of oil was nearly 70% below its all-time high of $147.27 set on July 11, 2008. A decline in oil prices is a nightmare for oil producers, while oil consumers enjoy the benefits of greater purchasing power. This is a complete 180-degree change from the situation at the beginning of 2008, when record-high oil prices put a big smile on the faces of oil producers while forcing oil consumers to pinch pennies. There are a number of reasons to explain the fall in oil prices, including a stronger dollar (oil is priced in dollars) and weaker global demand. As a net oil exporter, Canada is severely hurt by declines in oil, while Japan - a major net oil importer - tends to benefit.
Between the years 2006-2009, for example, the correlation between the Canadian dollar and oil prices was approximately 80%. On a day-to-day basis, the correlation can break, but over the long term it has been strong because the value of the Canadian dollar has good reason to be sensitive to the price of oil. Canada is the seventh-largest producer of crude oil in the world and continues to climb up the list, with production in oil sands increasing regularly. In 2000, Canada surpassed Saudi Arabia as the United States' most significant oil supplier. Unbeknownst to many, the size of Canada's oil reserves is second only to those in Saudi Arabia. The geographical proximity between the U.S. and Canada, as well as the growing political uncertainty in the Middle East and South America, makes Canada one of the more desirable places from which the U.S. can import oil. But Canada does not service only U.S. demand. The country's vast oil resources are beginning to get a lot of attention from China, especially since Canada stumbled upon a new stash of oil after a reclassification of its Alberta oil sands to the "economically recoverable" category. (Read more in Peak Oil: What To Do When The Wells Run Dry.)
Figure 1 shows the clearly positive relationship between oil and the Canadian loonie. In fact, it should come as no surprise that the price of oil actually acts as a leading indicator for the price action of the CAD/USD. Since the traded instrument is the inverse, or USD/CAD, it's important to note that based on the historical relationship, when oil prices go up, USD/CAD falls and when oil prices go down, USD/CAD rises.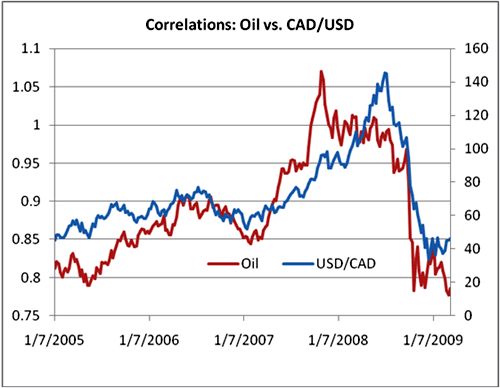 Figure 1: A look at the correlation between the price of oil and the price action in
the CAD/USD from January 2005 to March 2009
Source: FXCM
Oil and the Japanese Economy
At the other end of the spectrum is Japan, which imports nearly all of its oil (compared to the U.S., which imports approximately 50%). As of 2011, it is the world's third-largest net oil importer behind the U.S. and China. Japan's lack of domestic sources of energy, and its need to import vast amounts of crude oil, natural gas and other energy resources, make it particularly sensitive to changes in oil prices. Japan also lacks the flexibility to switch to nuclear power because it is a huge net importer of uranium for its nuclear power plants. As of 2008, the country's dependence on imports for primary energy stood at more than 84%. Oil provided Japan with 49% of its total energy needs, coal with 20%, nuclear power 13%, natural gas 14%, hydroelectric power 3% and renewable sources a mere 1%. Therefore, when oil prices skyrocket, the Japanese economy suffers. (Hedge against rising energy prices and diversify your portfolio; read ETFs Provide Easy Access To Energy Commodities.)

An Attractive Oil Play: CAD/JPY
Looking at this from a net oil exporter/importer perspective, the currency pair that tops the list of currencies to trade to express a view on oil prices is the Canadian dollar against the Japanese yen. Figure 2 illustrates the tight correlation between oil prices and CAD/JPY. More often than not, oil prices tend to be the leading indicator (as with USD/CAD) for CAD/JPY price action with a noticeable delay. As oil prices continued to fall during this period, CAD/JPY broke the 100 level to hit a low of 76.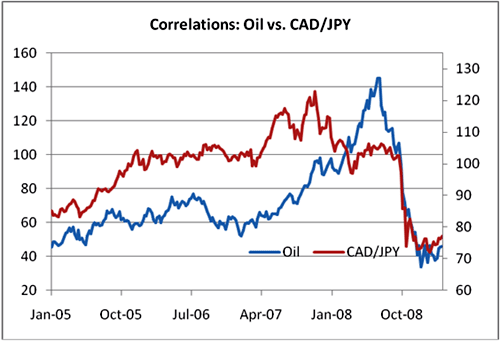 Figure 2: A look at the correlation between the price of oil and the price action in the CAD/JPY from January 2005 to March 2009
Source: FXCM
Going for Gold
Gold traders may also be surprised to hear that trading the Australian dollar is just like trading gold in many ways. As the world's third-largest producer of gold, the Australian dollar had an 84% positive correlation with the precious metal between 1999 and 2008. Generally speaking, this means that when gold prices rise, the Australian dollar appreciates as well. The proximity of New Zealand to Australia makes Australia a preferred destination for exporting New Zealand goods. Therefore, the health of New Zealand's economy is closely tied to the health of the Australian economy, which explains why the NZD/USD and the AUD/USD have had a 96% positive correlation over the same time period. The correlation of the NZD/USD with gold is slightly less than that of the Australia dollar but is still strong at 78%.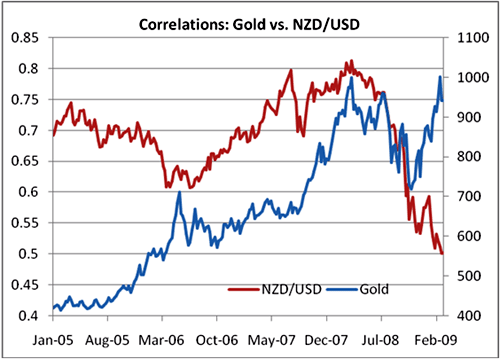 Figure 3: A look at the correlation between the price of gold and the price action in the NZD/USD from January 2005 to March 2009
Source: FXCM
A weaker, but still important, correlation is that of gold prices and the Swiss franc. The country's political neutrality and the fact that its currency used to be backed by gold have made the franc the currency of choice in times of political uncertainty. From January 2006 until January 2009, USD/CHF and gold prices had a 77% positive correlation. However, the relationship broke down somewhat in September 2005 as the U.S. dollar decoupled from gold price movements. (For further reading, see The Gold Standard Revisited and What Is Wrong With Gold?)

Trading Currencies as a Supplement to Trading Oil or Gold
For seasoned commodity traders, it may also be worthwhile to look at trading currencies as an alternative or a supplement to trading commodities. In addition to being able to capitalize on a similar outlook (e.g. higher oil), traders may also be able to earn interest if they are on 2% margin or higher with most brokers. When trading currencies, you are dealing with countries, and countries have interest rates, of course. For example, a trader who may have bought the AUD/USD in March 2009 would be able to earn up to 3% in interest income if Australian interest rates remained at 3.25% and U.S. interest rates remained at 0.25% for the entire year. The 3% comes from taking Australia's central bank rate, which is the amount earned, and subtracting the nearly 0% rates paid for shorting the U.S. dollar. These are unleveraged rates, which mean that with 10 times leverage, for example, net of any exchange rate changes, the interest income would be that much higher. Leverage also makes the trade riskier, which means that if the trade turns against you, losses will be larger.

Along the same lines, if you shorted AUD/USD to express a short gold view, you would end up paying interest. If you're a commodity trader looking for a bit of a change from the usual pro gold trade (for example), commodity currencies such as the AUD/USD and NZD/USD provide good opportunities worth looking into.

Conclusion
If you want to trade commodity currencies, the best way to use commodity prices in your trading is to always keep one eye on movements in the oil or gold market and the other eye on the currency market to watch how quickly it responds. Due to the slightly delayed impact of these movements on the currency market, there is generally an opportunity to overlay a broader movement that is happening in the commodity market to that of the currency market. Bottom line: It never hurts to be more informed about commodity prices and how they drive currency movements. (For more insight, read The Currency Market Information Edge and Forex: Wading Into The Currency Market.)
A beginner trader, who just enters the forex market, is shocked profoundly by the diversity of trading strategies. Most of them have so jaw-breaking names and crabbed systems. Sidus forex strategy, trendline forex strategy, Fisher strategy, forex strategy moving average, forex puria method and many others, plus uncountable indicators and trends, all of these seem mountain peaks lost far away in the clouds...
---
To make the trading process easier and more successful many brokers and traders prefer to use forex economic indicators. These are half-automatic programs and aim at depicting this or that criteria depending on a demand. They help to analyze a currency market...
---
Scalping is a term, which is not often mentioned in many of the forex glossaries, so I thought that I would write about it here, which has actually come about as a question, which was posed to me the other day, on this topic, over a beer, with some friends. We all had our various thoughts and nothing seemed really conclusive...
---