Released on a monthly basis, the U.S. Trade Balance Report is a vital piece of economic data for the foreign exchange markets. Now, it's not on the level with reports like nonfarm payrolls or the consumer price index, but the survey does have relevance. Worldwide trade between countries affects the supply and demand for certain currencies - if a country's goods are in high demand, that same country's currency will also be in high demand. The key is to find and interpret key data points in the report that are relevant to the overall currency trend and apply them when initiating a position. (For other reports that have an effect on the U.S. Dollar, check out 5 Reports That Affect The U.S. Dollar.)

The U.S. Trade Balance Report
Simply, the U.S. Trade Report shows the difference in value between the exports of goods and services leaving the U.S. and the imports of goods and services heading into the U.S. If the trade balance is positive, then the value of U.S. exports is greater than the value of imports coming into the country. Conversely, the trade balance is negative when import values are greater.

Now, a positive trade balance report is vital to an economy that is experiencing expansion. Why?

Higher export growth - a driver of positive trade reports - fuels foundations for further growth and expansion. This is particularly true for manufacturing and industrial sectors. However, a negative balance report can weigh down an economy - potentially placing enormous pressure on a country's currency. That's why economists and currency traders always prefer positive trade balance reports to negative ones on a monthly basis.

In charge of this monthly responsibility is the Bureau of Economic Analysis, a division of the U.S. Department of Commerce. It is the BEA's job to calculate all components of the report, with the full release scheduled shortly after the end of the reported period. This can take time - and is the reason why the report isn't necessarily released on a set date or time like other economic reports (i.e. U.S. nonfarm payrolls).

Why the Report Affects FX
But, when it is time for the U.S. trade balance release, currency traders always look for the report to contribute to their overall positions.

First, foreign exchange investors are always concerned about the implications of the report and how it affects the U.S. dollar in the long term. A more positive trade balance report can lead to higher economic growth and production. This in turn will boost the likelihood that prices will rise in response to higher consumer spending. And, if prices rise, interest rates will rise - attracting more interest and investment into U.S.-based assets. All these things are good for the U.S. dollar.
But, a negative report would crop U.S. expansion prospects and decrease the likelihood that interest rates will be raised by the Federal Reserve. Moreover, a negative trade balance will become a drag on the U.S. economy - taking away from any economic gains in the short term. This is bearish for the greenback and will prompt money managers and traders to trim dollar holdings.
So, the report contributes a lot of perspective when considering positions on a long term horizon. This is why currency investors will always review the results of the U.S. trade balance report simultaneously when looking at important data points like consumer prices, gross domestic product and Federal Reserve rate announcements. (For more on how the imports and exports effect the economy, read Understanding The Current Account In The Balance Of Payments.)

And, then there's the short term.

Short term investors will consider the trade balance report as it relates to market sentiment. This is similar to the long term trader as the report acts as a simple component. But, it's different in that the investors will use the report as a reason to either buy or sell positions in the currency. Long term investors tend to trim their larger currency exposure, rather than completely buying or selling their positions.

How It Works
To clarify, let's take a look at some examples in the EUR/USD exchange rate.

With Europe's financial crisis surfacing and concerns over a Greek default mounting, the EUR/USD had come under selling pressure in the beginning of June 2011. Short term traders saw the pessimism surrounding the EUR/USD exchange rate and had already sold short the EUR while buying the U.S. dollar in the two sessions preceding the U.S. trade report release. If the U.S. trade balance was positive, this would be another great opportunity to sell the EUR/USD pair.

On June 9, the U.S. trade balance report was better than expected. The figure beat estimates, with the deficit shrinking to just under $44 billion. Now, although not positive, the contraction meant that the overall trade deficit was improving – a dollar positive.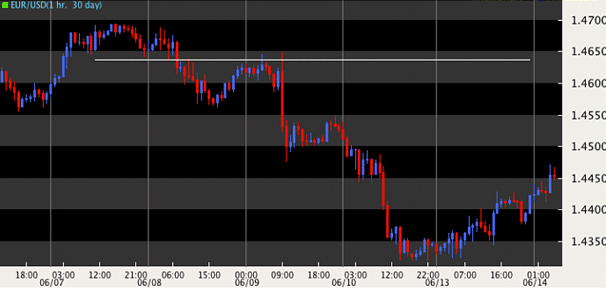 Figure 1 – Traders referring to the U.S. trade balance report shorted the 1.4630 resistance level
Initiating short EURUSD positions at resistance of 1.4630 (Figure 1), and corresponding stops 50 pips above, traders were able to capture an intraday gain of about 150 pips (a 3:1 risk/reward ratio). The trade becomes even more profitable in the medium term as the spot exchange continues to decline to 1.4350 before testing major support.

Fast forward to July 2011, and a different opportunity emerges.

This time, on July 12, 2011, the market sentiment changed a bit. Although traders and investors were still concerned about a European financial crisis, the U.S. debt ceiling debate had begun to emerge. So, any U.S. dollar negative news would add to already rising concerns of a U.S. credit downgrade.

Short-term traders referring to technical analysis could already see that the EUR/USD currency decline seemed to be stalling. Confirmation of this signal would be a break of the descending trendline (1.4320-1.4044) in the 15-minute time frame (Figure 2). A penetration of this resistance level would indicate that momentum had shifted and that there was upside potential in the pair.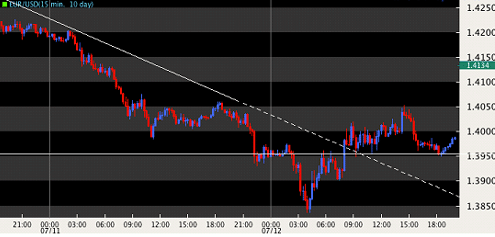 Figure 2 – Currency traders initiated buy positions at the retest of a broken trendline barrier
And, that's just what happened. Hours before the release, the EUR/USD pair broke through the trendline resistance - signaling a move higher. Short term traders watching this level placed long or buy positions on support of 1.3950 with corresponding stops of 50 pips placed below.

Intraday traders long on this position would have profited nicely as the EUR/USD topped out at 1.4052 that afternoon - giving traders a 100 pip gain (a 2:1 risk/reward ratio). Medium-term traders who held on would have seen the EUR/USD climb to as high as 1.4100.

The Bottom Line
Given these examples, it's easy to see that analyzing and applying the trade balance report is necessary to currency portfolio positioning these days. Without it, the FX investor will be missing out on underlying signs of a trend – both in the short and long term. But, those that are able to capitalize on this rather obscure report will benefit immensely from it.
A beginner trader, who just enters the forex market, is shocked profoundly by the diversity of trading strategies. Most of them have so jaw-breaking names and crabbed systems. Sidus forex strategy, trendline forex strategy, Fisher strategy, forex strategy moving average, forex puria method and many others, plus uncountable indicators and trends, all of these seem mountain peaks lost far away in the clouds...
---
To make the trading process easier and more successful many brokers and traders prefer to use forex economic indicators. These are half-automatic programs and aim at depicting this or that criteria depending on a demand. They help to analyze a currency market...
---
Scalping is a term, which is not often mentioned in many of the forex glossaries, so I thought that I would write about it here, which has actually come about as a question, which was posed to me the other day, on this topic, over a beer, with some friends. We all had our various thoughts and nothing seemed really conclusive...
---