Advantages and Disadvantages of Forex Platform FxPro SuperTrader
---
SuperTrader platform is an easy service developed by a world famous broker FxPro. This software is good for all the traders independently of experience level. SuperTrader is suitable for automatic and manual trading and supports algorithms, robots and advisers. Its universality makes the platform suitable not only for traders but also for scalpers, investors and day traders.
The key idea of SuperTrader software is to make a universal system and to improve the existing signal services. This product allows trader to forget all of his doubts considering market data. The intuitive interface of the program needs only account opening and everything else happens automatically.
SuperTrader Forex provides a wide range of trading strategies. All of them have previously passed a hard control and a lot of tests in real time with real deposits. The investor can diversify risks by choosing a number of different strategies. All of them are controlled by the Department of Business Development for compliance risk management. If the strategy does not justify itself, it is removed. Therefore SuperTrader provides the best of the best strategies.
SuperTrader reviews notice that this program is suited for investment in excess of $ 50,000. That is why FxPro team has developed a credit line that increases the investment capital up to 5 times.
Also SuperTrader review emphasizes such aspect as economy. Strategies that have been developed within the company do not take a commission from the profit. If the strategy belongs to a third party, the trustee receives 5% of the profits. This is a very low percentage in comparison with others that take up to 30% commission.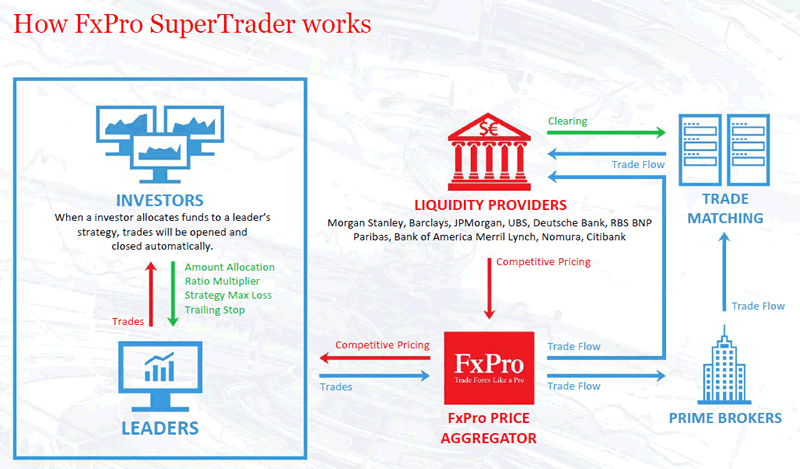 MetaTrader 4 Trading Platform
MetaTrader platform is one of the most widely used Forex platforms in the world. It is suitable both for novices and for experienced traders. Metatrader 4 review considers the software as leading platform for automated trading.
Metatrader5 Trading Platform
MetaTrader 5 is the world-famous Forex trading web platform that provides wide opportunities for brokers who have different accounts. Metatrader platform allows trader to switch quickly between accounts and windows making his orders fast...
MetaTrader 5 Mobile Trading Platform
Basically, a trader's job is to regularly monitor the market conditions and to know about any changes, because these factors are of critical importance for his earnings. However, it is not always possible to sit in front of a computer all days through...
---
MetaTrader 4 Mobile
The number of mobile trading followers constantly increases, but there are also those who consider it ineffective: the skeptics are 10% of the trading community. Generally, currency traders highly estimate the opportunity of having more flexibility in their daily activities...
Rumus
Rumus is a customizable modular system designed to use existing features and developing new ones. Rumus platform has the capability to carry out an accurate analysis of quotes history, to display quotes in real time and save trader's indicators.
Ninja Trader
The Ninja Trader platform is the whole complex of useful features with friendly interface that allows user to make a successful and easy trading. The functionality of Ninja Trader software is easy to understand so both the novices and the experienced traders could use it with no problems.
---
Mirror Trader
The Mirror Trading platform is a completely different solution for Forex traders. The key principle of it remains the same. Mirror Trading as well as any other platform allows trader to commit the transactions but the way of it is completely different.
JForex
Jforex platform is not so wide-spread as many other trading software but it is very simple and comfortable in use for novices as well as for experienced traders. Jforex allows to trade manually and automatically.
eSignal
Esignal trading platform is a tool that provides wide opportunities for every broker. Esignal allows scanning and analyzing all of the data connected with currency market. Also esign software uses indicators and charts to make technical analysis even more accurate.