15 October, 2013
For those of you who read my article on how I am approaching the precious metal in October, let's take a step back and re-evaluate the situation since it is mid-month. We now have 10 more daily candles to give us further clues as to what is happening from a technical standpoint. We would have 3 main observations from the Daily charts:

Price is still below the 200-day Moving Average.
Price has broken past the $1,300 zone an important area of confluence for 3 reasons:
a. Neck-line of the D1 head and shoulders pattern
b. 50 fib level of the Oct '08 swing low and Sep '11 swing high
c. There has been price action in this zone of support/resistance
There is on official mid-term downtrend as 2 consecutive lower lows and lower highs have been form as depicted by the bearish channel
We might be able to identify good bearish entries on an intra-day time frame off price reactions to the $1,300 zone. I for one will be looking for a pullback and reversals of those pullbacks for possible re-entries short.

I am aware many gold bulls are calling bottoms right now but I am not really concerned with that at the moment as there is still room to the downside seeing that on the weekly chart the previous swing low in June this year is around the $1,200 zone.

As trend traders, we are not clairvoyant; I cannot tell you with absolute certainty that price will head down. What I have done is to merely describe that price is trending downwards now and that we would like to find places to join the bear as it is walking through the markets.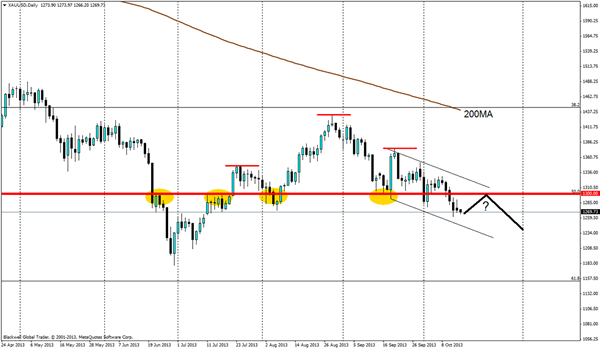 By Jonathan Suen, Blackwell Global
---
Source link
---
---