24 October, 2013
Japan has recorded a trade deficit for the 15th consecutive month. Despite the Japanese economy expanding by an impressive 3.8% over the second quarter, such a large deficit is a high cause of concern for their economy. Critics are suggesting that the era known as "Abenomics" has contributed towards this.
Abenomics devalues the currency and supports the price of exports, making them competitive again. While it has helped Japan's exports become less expensive for their trading partners, a natural disaster has meant that Japan is far more reliant on importing from other countries than it previously was.
Overall, Abenomics has seen the JPY devalued against the USD by nearly 25% over the past year.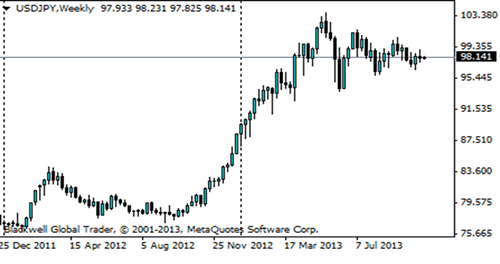 Imports have climbed by 16.5% in the past month. On the other hand, exports have increased by only 11.5%. The Japanese trade deficit has expanded by an astonishing 64% in the previous year.
Having such a high trade deficit has further devalued the currency to greater depths and there are several reasons to indicate that their trade deficit may carry on increasing in the future, which could lead to the JPY depreciating even more.
Negative implication of Fukishima:
In March 2011, Japan was devastated by a magnitude 9.0 earthquake that led to a tsunami. The damage caused led to a nuclear meltdown, where radioactive materials were released into the atmosphere. Since this unfortunate incident, Japan has shut down all of their 50 nuclear power plants.
Previously, the nuclear energy sector supplied Japan with one third of all their power. It took a full one year for the JPY to witness the effects of the Fukishima disaster. After the event, a repatriation of funds actually led to the JPY strengthening.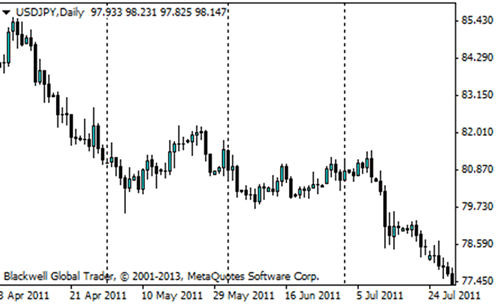 (Graph showing the USDJPY depreciated following the Fukishima disaster)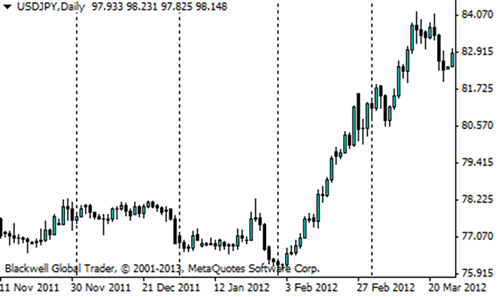 (Graph one year on, showing the JPY finally depreciating and realising the Fukishima affects)
An inherent problem with having such a devalued currency is that it increases the prices of imports. Nobody initially realised the severe ramifications of the Fukishima power plant disaster. Japan are now importing substantially more than they were previously. In fact, since the catastrophe, Japan have imported 84% of their energy requirements.
At present, there is no real indication of when the 50 nuclear power plants within Japan will be reopened. Analysts suggest that Japan will carry on importing high proportions of their energy requirements, until their internal issues are resolved.
This leads me to believe that the trade deficit will carry on appreciating, further devaluing the power of the JPY currency.
Loss of manufacturing momentum:
Regrettably, the Fukishima disaster also had negative repercussions for Japan's manufacturing industry. In 2010, Toyota was the world leader in car sales, however they dropped to 3rd by 2011. The natural disaster left a devastating effect on Japan's supply chain, leading to a wide decrease in sales revenue.
Japan was previously looked upon as a manufacturing powerhouse, but natural disasters, alongside increased competition from neighboring countries like China, Vietnam, Korea and Thailand have had a detrimental effect on their market share.
Right now, manufacturing equates to 18% of Japan's GDP. It was hoped that Abenomics will lead to Japan having a greater manufacturing market share.
After all, the country is famous for their innovation in technology and automobiles. Nintendo, and Sony products are manufactured in Japan, alongside Mitsubishi and Toyota cars. Japan is also recognised for manufacturing pharmaceutical products.
The only problem is that exports need to show increased growth at a faster pace, otherwise any gains will be supplanted by Japan's reliance on energy imports.
Global economic slowdown:
Japan received high praise for delivering a 3.8% second quarter GDP expansion. However, it is expected that economic growth will slow to 2.8% in 2014 and 1.1% in 2015.
This means Japan's exports may decrease in the future. There is a likelihood that this will encourage the trade deficit to carry on widening in the future, leading to a further devaluation in the JPY.
Elsewhere, China's annual economic growth slowing down will have an adverse impact on Japan's trade deficit. In 2012, China constituted 12 % of Japan's exports but if China's economy does slow down, this may correlate to China importing less from Japan in the future.
On the other hand, Japan heavily imports from China. Last year alone, they imported approximately 30% of their goods from their neighbors. If Chinese economic growth does begin to slow down, this will lead to Japan's trade deficit growing even wider.
In conclusion, there are reasons to be concerned about Japan's growing trade deficit.
It is quite obvious that although devaluing the currency has positive effects on businesses looking to export their products, this hasn't offset the rate at which Japan is importing from other nations. We are unsure about the long term implications this may have on the Japanese economy.
In my opinion, Japan is likely to witness a trade deficit for some time to come.
Written by Jameel Ahmad, Research Analyst from Blackwell Global.
Follow Jameel on twitter @JameelAhmadFX.
---
Source link
---
---