24 October, 2013
Last night's Non-farm payroll data came in through with a hiss and a roar, and markets appropriately rallied against the USD as markets looked at the data as if the FED will be forced not to taper the current stimulus programme. In some ways it is true, employment markets are still weak, and the American economy is still recovering – it's certainly not expanding rapidly like some had hoped or professed. But what can we make of last night's actual news release?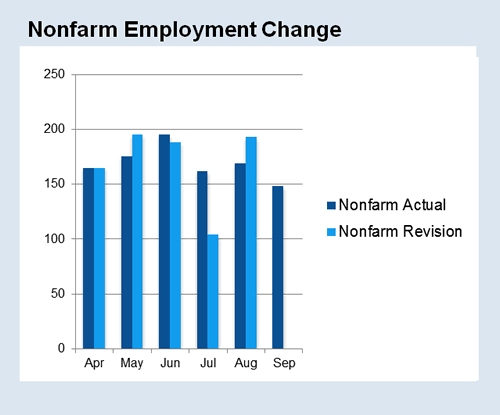 Nonfarm Employment Change
Well for one, the actual Non-farm employment change does vary to what is actually forecast. Also take note that what is actually released is revised three more times before becoming official data; and after a census to verify it. Additionally, the revision last night showed that the original release in August was weaker than anticipated and there was strong growth in the American economy. The FED will certainly take this into consideration though, when making policy decisions, however with Yellen playing an integral part in the future of the FED alongside Bernanke before he leaves, its unlikely that we will see tapering.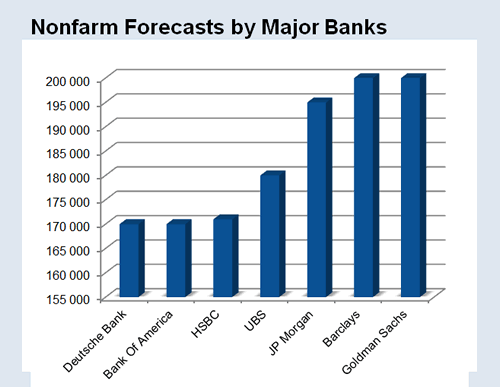 Nonfarm Forecasts by Major Banks
Major bank forecasts were much stronger than anticipated, and despite their forecasts being off, it's unlikely they are that wrong when we take into account the revision and the annual employment build up coming into the holiday period (Though 200k does seem very over-optimistic this early on). Even though the government shutdown caused some major uncertainty in the employment sector, it's likely that just like the markets, most businesses were looking forward and looking at an 11th hour compromise which ended being the result.
Overall though, the unemployment rate has dropped to 7.2 percent, a decrease of 500,000 unemployed workers since June. This is positive for the overall unemployed population, though slow-groing compared to the historical average of 5.82 percent for the United States. Forecasts have the unemployment rate dropping further to 7.1% as its expected participation won't increase in the workforce, and more jobs will be added overall coming into the holiday season.
The only major worry for the current data set would be job growth as it is currently in - it shows blue collar workers are the big winners in the economy, while there has been very little growth in traditional white collar industries. Construction grew by an additional 20,000 jobs and wholesale trade by 16,000 – the clear winners in job growth. While blue collar growth is good, more growth in the manufacturing sector and services sector would also paint a big positive for the US economic recovery.
Looking forward overall, last nights Non-farm payroll does not seem all that doom and gloom - yes its likely the FED will hold of tapering, but only until after the holiday season in the US. If anything, we should look at further revisions before we start betting against the US economy, as it still is showing good progress in recovering, despite the recent setbacks from internal squabbles.
Written by Alex, Currency Analyst at Blackwell Global
---
Source link
---
---