October 24, 2013
---
The Aussie dollar is looking strong after touching on major support levels overnight. Recent heavy falling after yesterday's announcement on Chinese banks saw the pair touch on the 0.96126 mark before pulling back upwards.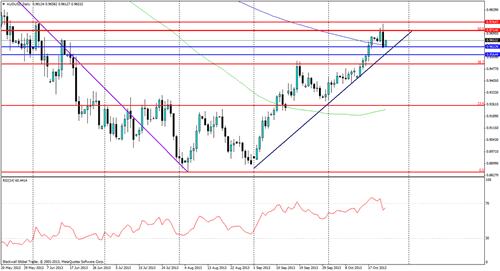 The AUDUSD pair certainly took a heavy beating but did not break through the current trend line or even break through the support levels in the marketplace – this signals that the market is reluctant to give up on the current bull run. Looking forward, the next major resistance level for the Aussie dollar will be the 50.0 fib mark at 0.91746 and signal further support in the markets for the pair.
Despite this view of a bullish run, the 200 MA is currently sitting at the support level and any breakthrough will have to take this into consideration. Despite the MA though, support for the pair to rise does not look stronger than before.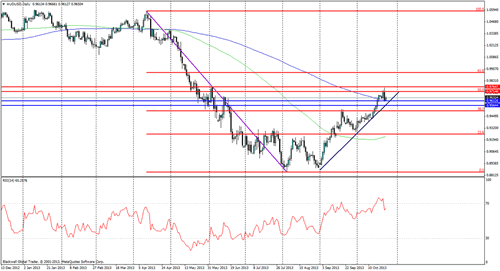 When zooming further out on the daily chart, it is clear that if the pair moves past the 0.97647 mark, it is likely the next point of resistance won't be until the fib 61.8 level and the 1000 level which will act as the psychological barrier.
When using the RSI, it is key to note that strong buying pressure is still there in the market, and looks set to continue so. If markets were to start correcting, we would expect to see the RSI fall to the 50.0 mark and below and stay below that mark. However, if trending is to continue, I imagine it would stay well above the 50 mark with the occasional pullback.
Written by Alex Gurr, Currency Analyst at Blackwell Global.
Publication source
---
Blackwell Global information
Blackwell Global reviews
February 27, 2017
Price is dropping nicely towards our profit target. We remain bearish below 1.0604 resistance (Fibonacci retracement, Fibonacci extension, horizontal overlap resistance) for a further push down to 1.0494 (Fibonacci extension, horizontal support)...
---
February 27, 2017
Spot gold remained on strong bullish footing on Friday. After an Asian flat the price got an upward impetus in the European morning...
---
February 24, 2017
Gold surged Thursday on a breakout of its previous consolidation to hit and slightly exceed major technical resistance at $1250, a level not seen since early November...
---