October 30, 2013
---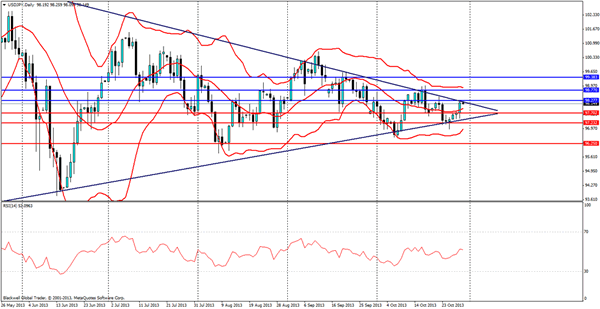 The Yen is looking like its going to run out of time in the next week and the FOMC meeting might be the catalyst to cause this triangle to break. Currently the Yen has been driven by risk aversion after climbing to the dramatic highs of 103.00 to the USD; after markets felt fear after the US delayed tapering, and in more recent weeks a debt buildup in China.
This is set to change though as traders have up their bets on the USD, as they expect the FOMC meeting might be a sign of hawkish comments from the current board. This is seen as unlikely though due to the nature of the FED with its dovish board and the recent economic data.
Current support levels can be found at 97.702, 97.232 and 96.250. These levels will act as hard support levels for the USDJPY pair in the event of a breakout from the triangle. With the 97.702 level and 97.232 being the weakest support levels, and could be a fake breakout unless confirmed by a candle the next day.
The resistance levels are likely to be strong at 98.277, 98.770 and 99.383 with an actual breakout having to close past the 98.770 mark in order to signal a bullish uptrend for traders. No support for a bullish move at this stage can be found in the RSI, as momentum and pressure has tapered off.
Written by Alex Gurr, Currency Analyst at Blackwell Global
Publication source
---
Blackwell Global information
Blackwell Global reviews
December 2, 2016
Revealed a solid 53.2 November ISM reading and a 0.5% October construction spending rise that followed big upward Q3 revisions, both of which lifted prospects for GDP. We also saw a 17k Thanksgiving week spike in claims that reversed the remarkably tight 333k Veteran's Day figure...
---
December 2, 2016
I do apologise in advance for bombarding you with lots of commodity reports, but ahead of Friday's NFP report, the FX markets tend to create lots of false moves, so it is difficult to make much of todays moves...
---
December 2, 2016
Its payrolls Friday and the markets are expecting to see a solid print for November following Wednesday's ADP payrolls increase. Yesterday, the ISM and Markit's manufacturing PMI showed a strong increase in the reading...
---