31 October, 2013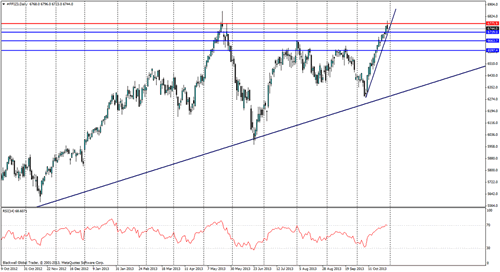 The FTSE 100 is presenting a great opportunity in the last few days as it has climbed rapidly to touch on a major resistance level at 6776.0. After the recent last few years of quantitative easing globally and the asset purchase program at home in the UK, the markets are awash with cash looking for a return and the equity markets benefited heavily. This has led to the FTSE 100 being a major benefactor and a bullish trend has been in place over the last three years.
Currently looking at the RSI, we can see buying pressure has been intense over the last few weeks as economic sentiment in the UK has been very strong. But the real question is, have buyers overextended themselves in the equity markets to push to this record high? All previous touches at the 70 mark on the RSI have led to minor pullbacks – this looks likely to occur again if the pair fails to break through tomorrow.
The bullish trend is very sharp and steep on the daily chart and looks like it could break over the next 24 hours if there is a reversal, the weekly trend though is still remaining very strong and I would expect this to continue in the long run due to the fundamentals being strong at home in the UK after the recent positive sentiment from jobless report and manufacturing, which showed an upsurge in recent months as the UK recovery picked up pace.

Source: Bloomberg
When looking at real GDP growth compared to the FTSE 100, we can see that there is a clear divergence from 2009 onwards, which in turn adds weight to the over-valuation that is apparent in the market. As real GDP growth, sitting at 1.5% does not match the current growth rate in the FTSE 100 when compared historically to the correlation of the two, leading to what many analysts believe to be an over valuation of the FTSE 100 as a whole.
Looking at resistance levels, the clear one can be found at 6776.00 – this level has not seen a candle close past it since 2000 and looks likely to hold after yesterday's pull back. The Support levels can be found at 6720.0, 6663.00 and 6608.00, each of these should be treated as strong support levels as markets will most likely resist pulling away from the recent highs.
Looking forward, I see it as unlikely that the FTSE 100 will be able to break through its current resistance level – even with all the money floating around out there from QE. And I would certainly look for a pullback in equities when tapering comes about.
---
Source link
---
---