14 November, 2013
The UK market is one of the most active and fast markets globally, and markets are starting to feel the effects and move accordingly. Certainly, as an avid trader, I have the UK market on my watch list, as I feel trending opportunities are most currently at their best, and the opportunities are more apparent there then compared to their neighbours across the channel, the Euro and Swiss Franc.
GBP/USD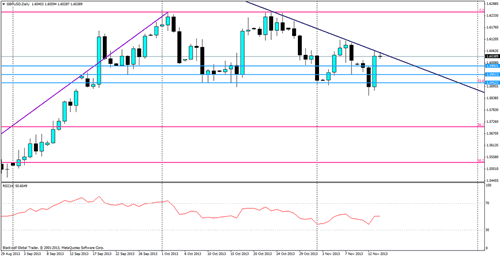 The Pound is looking heavy on the charts, after the dramatic upsurge on the charts last night. I think it will be looking to fall further against the USD, as market sentiment looks bearish and the trend-line shows a decreasing GBP/USD pair.
After last night's announcements of claimant counts decreasing heavily for the UK economy, and the unemployment rate falling in turn, things are starting to look up with a more vibrant economy. This rise was coupled with the leak of Yellen's statement due out tomorrow on the US economy, which talks about the US economy still being sluggish, helping push the pound higher. However, many are starting to feel that the pound has reached its high point, and technicals are starting to take over and force the pound back down further.
It's certainly clear though that bearish sentiment is starting to take hold of the currency, as it starts to trend down after a spate of positive news for the UK economy. Current support levels are looking very strong and will produce some bounce backs as it moves lower, with main support at 1.5912
Any lift above the current trend line would signal that the GBP/USD is going to range further and is unlikely to get trapped in a bearish trend. However, tonight's markets will certainly give the opportunity to validate if this is the case, though overall my view is still bearish for this pair in the next few days.
FTSE100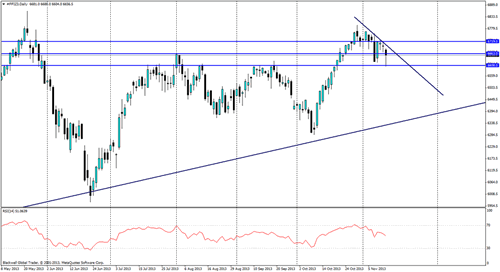 FTSE 100 futures are looking very attractive after a strong pullback coming close to the 6600 level, it certainly looks like any breakthrough could signal a downward trend to the 6450 mark. Short term trading opportunities are certainly opening up as a push through the 6600 mark would produce some small trades before it touches on its long term weekly bullish trend.
Playing the FTSE in the short term certainly looks ideal at the present moment, though a breakthrough down through the current bullish weekly trend would signal to me that it certainly is time to short the pair, and that the market may believe that the FTSE is overbought more than ever.
Looking at the FTSE, I feel very bearish on this index as of late, after touching record highs for the second time. In the near term I would certainly look to make the most of it.
Written by Alex Gurr, Currency Analyst at Blackwell Global.
---
Source link
---
---