November 14, 2013
---
NZD: Head and shoulders, or is it?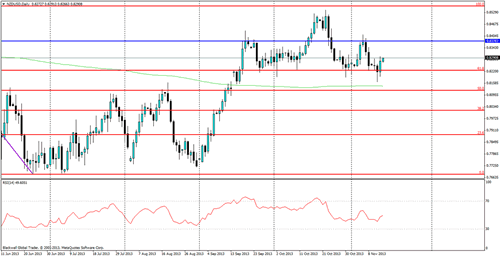 The New Zealand Dollar has recently fallen after touching on 0.85 cents compared to the USD, and this has sparked calls from a lot of technical analysts of a head and shoulders pattern forming in the market, and for the most part they are right. I myself use technical when it comes to trading the markets and looking for opportunities, but I prefer opportunities where the fundamentals match up with the technicals to give me the best opportunity. The NZD/USD shoulder pattern is one of those technical movements that I am not sold on though, and here's why.
Over the last month, forecasts for the NZ economy have been optimistic and for the most part these forecasts have been wrong and the NZ economy has exceeded expectations.
| | | |
| --- | --- | --- |
| Economic Indicator | Actual | Forecast |
| Unemployment rate | 6.20% | 6.30% |
| Trade Balance | -199 | -750 |
| CPI q/q | 0.90% | 0.90% |
| Retail Sales ex Autos q/q | 2.50% | 2.60% |
The table above shows that unemployment has fallen, and the trade balance for the country has fallen heavily compared to forecasts. Inflation is within forecasts and is unlikely to jump or fall heavily, leading to the NZD being a stable currency. The only minor blip is retail sales at 2.5% which is likely to pickup regardless as the Christmas season rolls around. However, this minor blip in retail sales does nothing when you look at the current trend and see how strong it is for retailers.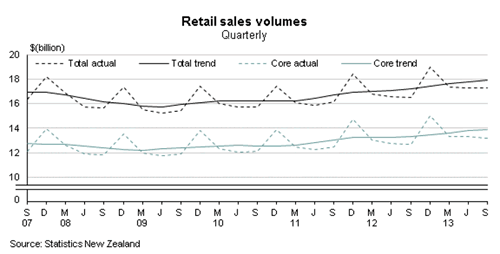 Comparatively, the USD which the NZD is paired against, is currently stronger. However, recent comments from Yellen have indicated that despite the USD starting to increase in strength, it looks unlikely tapering has been locked in yet for the US economy. While at home, banks are factoring in interest rates rising, which will make the NZD appealing in the long run to overseas investors as rising fixed interest rates will lead to capital inflow.
Overall, I like a good head and shoulders pattern and this is certainly one of them, but in this case, your typical plunge after forming the pattern is not there. The only viable way I can see it happening is if the Australian dollar plunges further and drags on the kiwi. Nevertheless though, markets will reach a point where they will jump back into the kiwi, forcing it back up in light of the recent economic news and positive investor sentiment. If anything, it's likely the kiwi may indeed range further rather than plunge, as the conflict between the AUD dragging on us and the New Zealand economic situation remaining strong will lead to a stand off for the currency as the USD waits on tapering comments.
If one were to take anything away from this, it is that yes, technicals are effective for trading, but when they don't match up with fundamentals, do trade cautiously.
Written by Alex Gurr, Currency Analyst at Blackwell Global.
Publication source
---
Blackwell Global information
Blackwell Global reviews
January 23, 2017
Donald Trump is finally in power, a new era has arrived, and his policy plans in the first couple of weeks will override fundamentals. Markets spent more than two months pricing in growth policies promises, lowers corporate taxes, and deregulations, now it is time to deliver as markets will no more move on words but actions...
---
January 23, 2017
The U.S. dollar continued to extend the declines for what could a third consecutive day. On Friday, Donald Trump took office as the 45th President of the United States...
---
January 20, 2017
Asian stock markets were mixed overnight, after U.S. and European shares closed in the red Thursday. Japan and mainland China bourses managed to move higher (Chinese GDP beat expectations at 6.8%)...
---