20 November, 2013
This coming Thursday, ECB president, Mario Draghi is set to speak regarding the EU economy. The EU has suffered over the previous month. October's low inflation levels prompted the ECB to surprisingly cut their interest rates to counter potential deflation and reinvigorate economic growth. Since then, the EU economy expanded by only 0.1%, with both Italy and France showing contraction.
In complete contradiction to all the above, the EURUSD is still looking bullish. I expect Draghi to use Thursday's speech as a platform to fully awake the bears and devalue a currency pair, which has been very much overwhelmed by recent risk appetite in the markets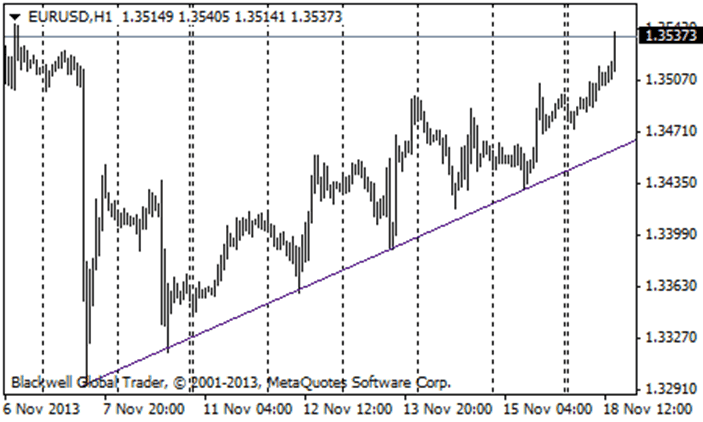 Yellen inspired risk appetite:
There is still a reasonable amount of uncertainty regarding the progression of the U.S economy. One week, the US economy is on the right tracks, the next, the bears are awake once again.
Two weeks ago, the U.S surprised most onlookers. Their GDP in the 3rd quarter expanded by 2.8%. Far beyond Bloomberg's 2.0% expectation. Following this, the United States added 204,000 jobs to their payroll in October. This again, surpassed Bloomberg's 120,000 predictions. October was the month where the US government shut down was expected to deter business hiring.
However, just as we thought the U.S may well be turning a corner and a potential QE taper next month created optimism, Janet Yellen inspired risk appetite throughout the markets. Yellen spoke dovishly regarding the US economy and indicated that she will refrain from tapering QE.
This subsequently weakened the USD and inflated more risky currency pairs, such as the EURUSD.
Expect Draghi to awake the bears:
Mario Draghi has every right to be concerned right now. Economically, the EU is still in a precarious situation, but the EURUSD is again on an uptrend. He has emphasised on more than one occasion that a EURUSD value of 1.36 will threaten the EU recovery. I feel Draghi will try to awake the bears on Thursday.
Deflation is a serious problem for the any economy. If the prices of goods continue to decrease, then consumer expenditure will fall. Consumer's will recognise that the price of goods will continue to drop. This alone will prevent the EU economy from recovering.
Last week's latest GDP release created further anxiety. France and Italy, the eurozone's 2nd and 3rd largest economy both contracted by 0.1%. Germany also noted a slowdown in growth.
According to the Eurostat, the unemployment rate within the 17 nation Eurozone has reached a new record high. The European Commission expects it to stay this way for at least another two years. Draghi has more than enough economic challenges to handle, without dealing with an overwhelmed currency pair.
Final thoughts:
In conclusion, there is no disputing that Draghi's speech on Thursday will be closely monitored. He has on several occasions been able to spook the markets by illustrating how precarious the EU economy will be. After the last couple of weeks of metric data, he has more than enough information to further elaborate and sound dovish.
However, if Draghi's words alone do not provide enough volatility, we also have France and Germany PMI's released on Thursday morning. Usually, Germany take center stage when it comes to EU PMI's however, bearing in mind France's recent economic contraction, there is every possibility that France's PMI indicator will be under close scrutiny.
Written by Jameel Ahmad, Currency Analyst at Blackwell Global
Follow Jameel on twitter @JameelAhmadFX.
---
Source link
---
---