21 November, 2013
Oil futures, are one of the most popular futures for many traders, and traders are starting to watch, and wait, on heavy movements that are in the works for oil futures, as it starts to squeeze on technical trend lines.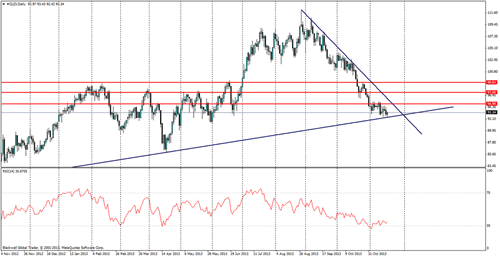 Current market technicals are pointing to a squeeze on oil as it touched on the bullish trend line from 2008. Traders should be paying special attention to this as it could point to the breakout markets have been looking for to help push oil futures up. As the current bearish trend line and bullish trend line converge, we could see a solid break out and the bullish uptrend continue.
At the same time, a breakthrough would to me point to further bearish sentiment which could push down to the 85 dollar mark. Either way it's certainly looking likely that big things are on the horizon for oil
Market sentiment though is clear and fundamentals could still push on the pair. But over all recent crude inventories have shown surpluses in five out of the last six weeks as American consumers are not consuming as much as predicted during the government shutdown and after in the lead up to Christmas.
Will this change overall? I think not. But I also believe market technicals will take charge when it comes to oil and force it to play within the current trend lines. Currently the low it has touched on has sparked a rally back against the pair and its likely that markets will certainly look to push back after this touch. The moment of truth will either happen as it crashes through the bullish trend line, or alternatively jumps up through the bearish trend line, signalling an end to this bearish run. Either way, the next six to seven trading days will certainly be ones to watch when it comes to this pair as it looks to make a big move.
Written by Alex Gurr, Currency Analyst at Blackwell Global
---
Source link
---
---