5 December, 2013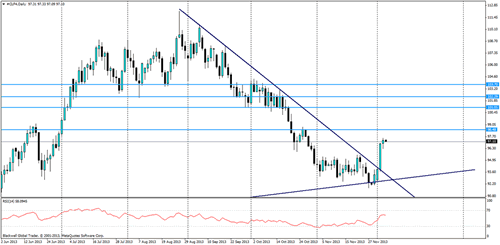 Source: Blackwell Trader
I have been talking for some time about oil futures, and in recent times I have mentioned a breakout that was clearly in the works for the pair. Additionally, as of a few days ago, that breakout became a reality, as the pair leapt out of its bearish trend line to break upwards and end bearish sentiment for the time being.
This movement was already in the works, but such a solid breakout was confirmed when US crude inventories were well below analysts' predictions and dropped heavily to -5.885 compared to forecasts of just -0.5, as demonstrated by the chart below.
Source: Bloomberg
While this decline may not seem like a big issue, it does point to a decrease in supply, which is significant given the recent few months of surpluses. The period in June where there was a decline in inventories led to a large rise in the overall price of oil; as can be seen in the above daily chart. This decline though could continue in the short term as cold weather is predicted for the US region which will put pressure on the US stockpiles, and a long cold winter in the US generally leads to much higher oil prices, while a mild winter leads to a fall in prices.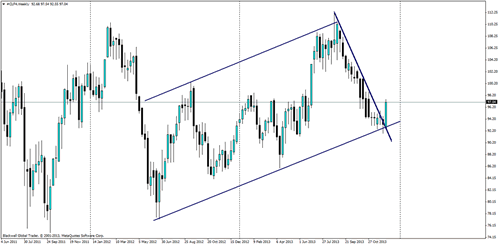 Source: Blackwell Trader
The current weekly chart also supports further bullish movements as we can see that a clear channel has formed in the recent months for Oil. With yesterday's breakout, it certainly looks likely to continue in the near term, and steady growth in the pair will be exactly what day traders will be looking for, compared to the bubble-like volatility of 2008 which saw oil markets jump dramatically to 150 a barrel.
Overall, it looks likely that resistance can be found at 98.48, 101.05, 102.09 and 103.70 as the pair climbs. The RSI is showing heavy signs of buying pressure, and that is not a surprise given the pressure on US crude oil inventory data and the obvious breakout which markets rushed into. However, we can expect to see profit taking as oil climbs, especially after such a large jump, but overall momentum I doubt will be slowed from traders taking profit.
I am bullish on oil after technicals showed a breakout upwards, and in the long run I continue to remain so especially given the ever growing needs of Asia, and the insatiable hunger of the US economy when it comes to consuming oil. I believe now is certainly a good time to take a look at Oil and consider a move into the market, especially if the winter in the north continues to persist with frequent cold spells and oil remains within its technical channel.
LI/FB: As predicted, Oil futures have broken out, with a clear channel forming in recent months. Now is a good time to move into the market, with the bullish Oil expecting to remain so in the long run.
---
Source link
---
---