12 December, 2013
I have to admit, as an analyst and trader, that the AUDNZD pair has taken me by surprise. The aggressive nature of the downward trend has been surprising at best, and incredibly strong.
As a resident in New Zealand who pays very close attention to the New Zealand Dollar, and of course the Australian dollar as well, I have wondered when it would turn, but after the last few days pushing through lows not seen for a year, it looks certainly like more bearish sentiment is in the works for the AUDNZD pair.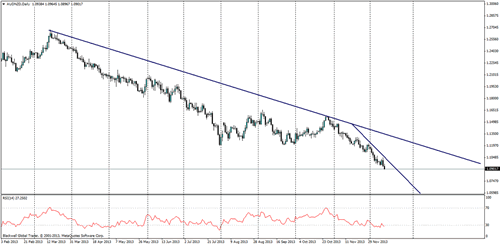 Source Blackwell Global Trader
The pairs' trend line is in two parts a long, slow bearish trend line which has been in control since Feburary. While in the last month, the speed of the decline has certainly picked up further.
This has in part, been led by two things. Firstly, the Aussie dollar has been hammered by the poor economic data and the rampant talk from the Reserve Bank of Australia (RBA), who have gone out of their way to talk down the Dollar so much in order to enable an export orientated recovery. So far, this has worked moderately well, but with fears of a slow down in China, a rate cut from the RBA might be in the works. Secondly, the New Zealand economy is going from strength to strength, despite the threat of its neighbour Australia slowing down. The unemployment rate is in decline, and consumer and business confidence is up, along with GDP forecasts up on the whole.
So where to for the AUDNZD pair from here in its current bullish downtrend?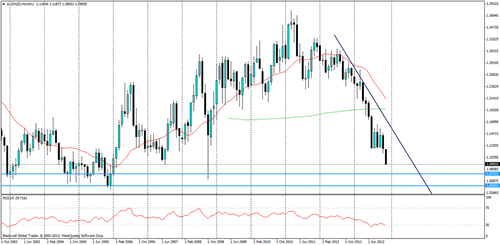 Source Blackwell Global Trader
When looking back at the monthly chart (the weekly is too small to make out the levels), we can see that there are two significant levels that the chart is trending towards. The 1.0723 level and 1.0501. Obviously, these levels are some distance off, however, the 1.0723 level is well within reach of the pair in the coming week and I will be looking to trade off this line and the following consolidation or extension movements. The RSI as a whole is also showing heavy selling pressure of the AUD and in the near term, this looks likely, especially when you take into account the RBA is maybe looking to cut rates, while the RBNZ is looking to push rates up.
Overall though, the current down-trend looks very solid and likely to stay in motion for some time. I myself have watched this pair eagerly and the more I look into it, the more opportunity I am starting to see.
---
Source link
---
---