12 December, 2013
Christmas Shopping with the Yen
It is that time of the year again. I am sure many of you have heard of the common adage saying it's best to stay out of the markets in December. Well, I for one am still a bargain hunter looking to find good buys, as long as the markets offer them. I am sure we all realise by now that the Yen is a pretty cheap currency to use at the moment, so that's what I will be focusing on. I will take you through the NZDJPY and GBP/JPY and show you why I think they can be the best buys this season.
The NZD/JPY Carry
The Reserve Bank of New Zealand (RBNZ) has just announced today that it is leaving its official interest rates unchanged at 2.5%. However, RBNZ Governor Wheeler projects rate hikes of more than 200 basis points by early 2016. This gives the NZD a substantial yield advantage over its AUD counterpart. No specific date has been given for this but the markets will start to price this in the weeks to come.
Technically speaking, the NZD/JPY broke out of the 83.95 resistance of the ascending triangle last week. It then proceeded to take out 84.85, a level that has held since the end of April this year. It is interesting to note that the bullish trendline (blue line) is an extremely clean one as it has been respected over the past 3 months or so. Price is also above the 20MA and 200MA. You can easily see why I am extremely bullish on this pair.
I would be looking to collect longs on the dips toward the trendline or the 20MA with a keen respect to the 83.95 and 84.85 levels for now. As this is a long term carry trade, brace yourself for the bears' homecoming on the yearly highs at around the 86.00 level and let the carry work itself out.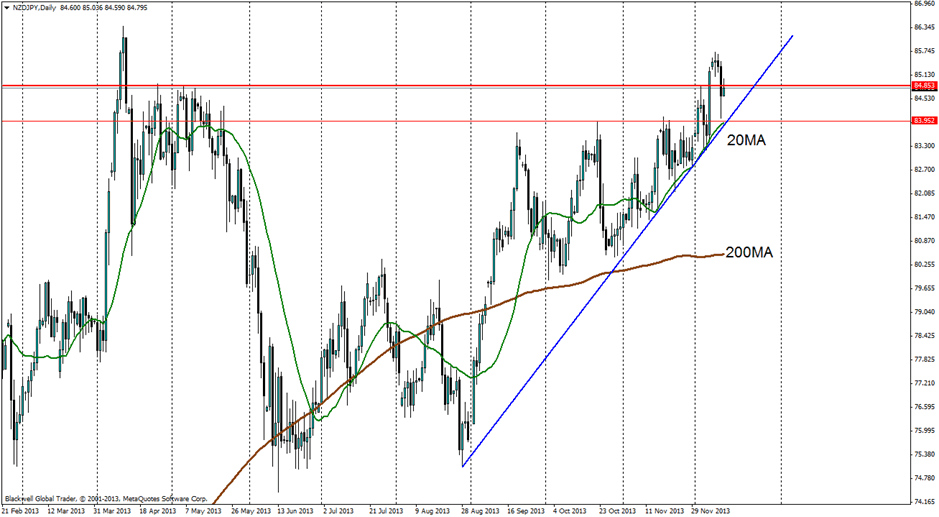 GBP/JPY Technical Examination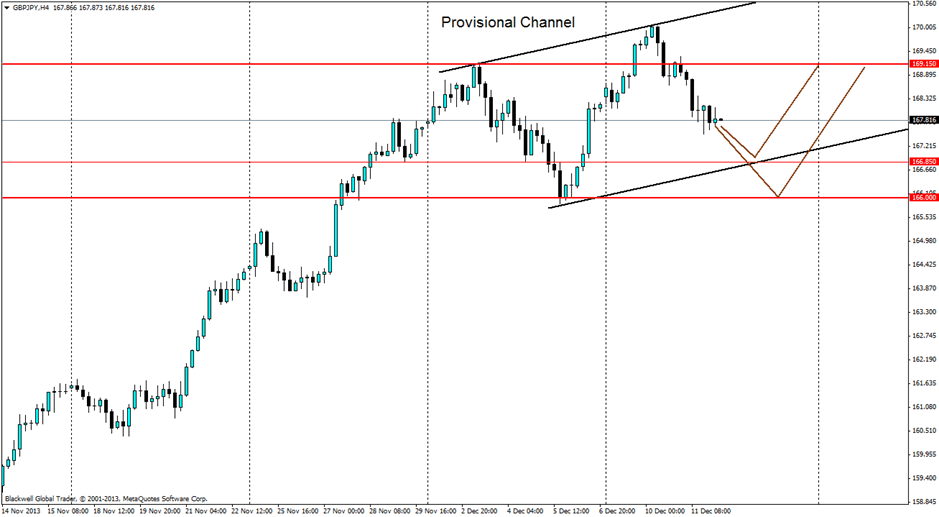 One of the first questions that come into my mind when I look at the GBP/JPY chart is whether it is ranging or trending. These 2 different contexts jump up at me and I will look to unpacking them in the next 2 paragraphs:
The 166.00-169.15 range
In the H4 charts, one can clearly see the significance of the whole number 166.00 as a support that price launched off twice going on 3-4 day rallies of 300 pips and 400 pips respectively. I observe a relatively weaker resistance level of 169.15 that price has broken through and come back down from. The question is whether or not that is a false break of this range.
The Provisional Bullish Channel
A bullish channel is simply a fancy-schmancy way of saying price is in an uptrend as dictated by the printing of two consecutive higher lows and higher highs. I am thus pretty strict on 2 solid touches on either side to start trading it as a channel.
Follow my train of thought closely now. You may choose to agree or disagree later. 166.00 is clearly a line in the sand, 169.15 is not till price at least rejects off it strongly. It is therefore prudent to take off any profits before 169.15 as the false breakout/not false breakout conundrum could weigh in strongly, causing whipsaws trend traders hate. I see two potential entry zones at the moment as dictated in brown: after the channel is confirmed and after the bounce off 166.00.
Of course if these setups do not come into play in the next few days. Don't fret, go and enjoy a good Christmas and buy some real Christmas gifts for your loved ones. Help the retail sector out a bit in your country. Happy holidays.
Written by Jonathan Suen, Research Analyst with Blackwell Global.
---
Source link
---
---