13 December, 2013
The FTSE 100 is an interesting index, it's nothing like the S&P 500 which is just purely bullish, and it's certainly no Nikkei which is jumping around in line with the Yen. No, instead it seems to be playing a different game all together, and as of last night, that game is changing yet again.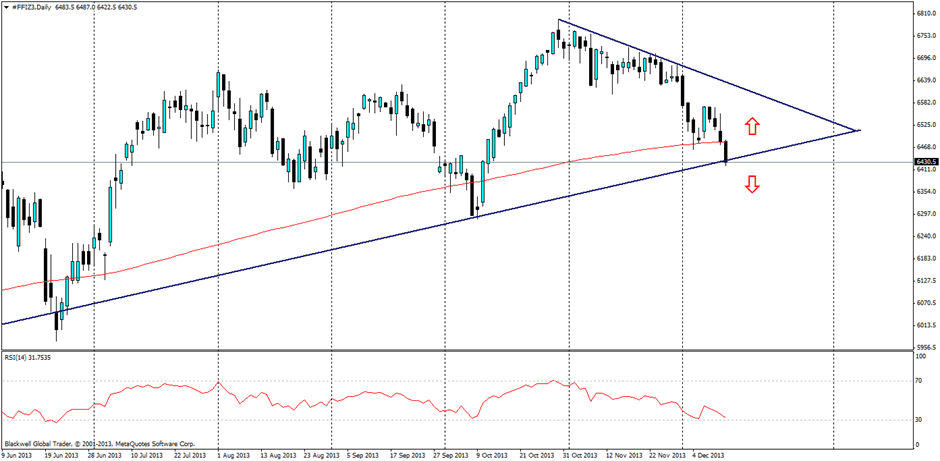 Source Blackwell Global Trader
Overnight, the FTSE 100 moved lower, which was expected if you have been following some of my articles on it. However, this movement has certainly been more rapid in the last few weeks as traders have extenuated this bearish sentiment and pushed it down to the current bullish trend line in place since Feburary 2012. This long term trend line has certainly set the tone of what could happen next for the FTSE 100 as a whole.
There are two scenarios here of what might happen:
Firstly, the FTSE 100 could in fact push through the current trend line and start to drop lower, this would initially be seen by some as a fake breakout. However, as people started to come in, it would lead to a massive drop through and a few bearish candles puncturing through and dropping low suddenly before the consolidation.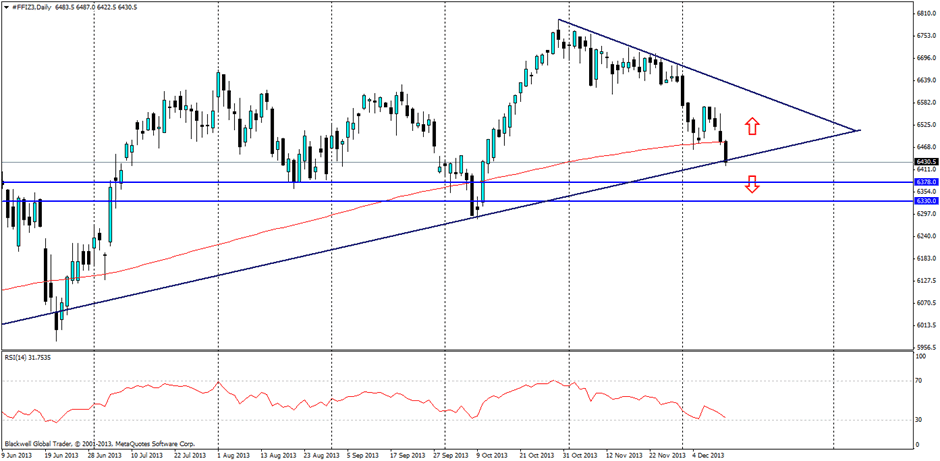 Source Blackwell Global Trader
In the event of a breakout, I would expect the FTSE 100 to rush down to current support levels before looking to consolidate around either the 6378.00 mark or the 6330.00 mark. Either way, I would expect these support levels to be relatively strong as markets will be unsure as to the extent of a breakout or if it heralds complete turn.
The Second scenario is the one I see as the most likely, and that is a rebound of the current trend line, as currently the UK economy is still strong and a pullback from the trend line has happened over four times since 2012.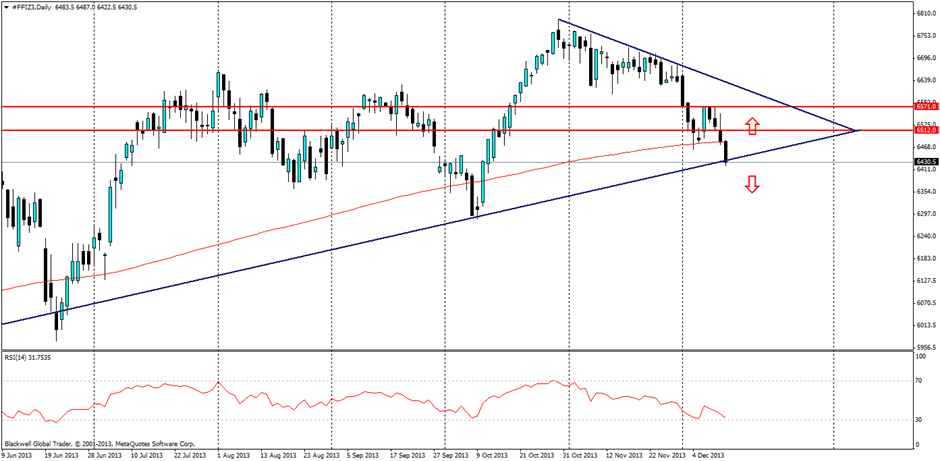 Source Blackwell Global Trader
This upward trend seems most likely, as I personally do not like going against the trend, and it certainly is bullish in the long run. I see possible resistance levels at 6512.00, and additionally at 6571.00. Expect any push upwards to be rapid, as the last few movements have been all major moving candles lifting upwards. Lending more support to this scenario is the RSI, which is showing that upon touching the 30 mark, we do see pullbacks especially when touching this key trend line.
Overall, it's certainly looking exciting for the FTSE100, and the most likely scenario that I can envision at this stage is a pullback north. However, the next move will likely be rapid and profitable for traders paying close attention. I myself, will certainly pay close attention to this Index over the next few days.
---
Source link
---
---