December 19, 2013
---
Japan is one of the world's largest and most developed economies, and also one of the economies which has experienced significant economic change over the last year as Abenomics has come into play, in an effort to kick start the Japanese economy. However, after all the smoke and dust has settled, is the Japanese economy any better off?
Lately, the economic news has been relatively positive in the last few days, as the Bank of Japan's Tankan quarterly business sentiment survey showed that the policies have started to spill over into small and medium businesses in the local economy. Which in turn so far, has led to a record high in the small firms business sentiment index. This, in part, has been led by a much weaker Yen, but also as demand for business has increased from major export industries such as automobile and electronics industries.

Source: Bloomberg (Tankan Index for large manufacturers)
However, forecasts now put business confidence as falling and capital investment is set to decline in the new year according to the latest predictions. In response, the Japanese government has put together another stimulus package in an effort to boost spending. The latest spending package is around 53 Billion USD or roughly 5.46 trillion Yen, and is likely to benefit the lower areas of society, helping to shore up families and people who are currently not earning much. Overall though, the expansionary spending is not going to happen via issuing more debt. Instead, it will be done via tax receipts and selling of government assets.
So far so good, but currently, the Japanese economy is a bit like a sick patient. Every now and then, it gets another shot of stimulus to the arm and this helps perk up the economy in the short run. What they need overall though, is a final shot to really help drive the economy.
I believe this will, in turn, lead to more overall stimulus from the BoJ as currently, it has looked to help the Japanese economy further. The question will be though, how much stimulus will the BoJ help with. It looks likely that the BoJ will keep up its strong bond buying programs and may even up them further to help out the economy under its new aggressive style. The real fear is that investors may view further bond buying activities as essentially monetising government debt and lose faith in the bonds themselves, leading to a sharp spike in interest rates and when your country has debt to GDP ratio of 400%, the consequences could be a severe economic shock for the country.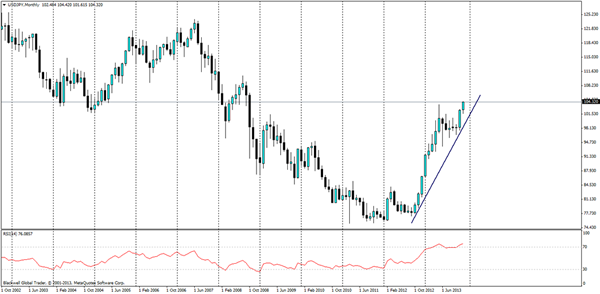 Source: Blackwell Global Trader
The flow on effects for the currency and the Nikkei are likely to lead more of a boost for them, with the Yen devaluing further if the BoJ steps up its actions, and the Nikkei index rising much further. Certainly, 2014 could be a big year for the Yen and the Nikkei if the BoJ continues its aggression – especially in the wake of US tapering, and there is certainly still plenty of room to move on the USDJPY chart. We can clearly see that the currency is nowhere near its capable long term highs, with a target of 110 mid year being more than likely for the pair. Overall though, we will have to wait and see if the aggressive action really is the cure that Japan needs.
Publication source
---
Blackwell Global information
Blackwell Global reviews
February 27, 2017
Price is dropping nicely towards our profit target. We remain bearish below 1.0604 resistance (Fibonacci retracement, Fibonacci extension, horizontal overlap resistance) for a further push down to 1.0494 (Fibonacci extension, horizontal support)...
---
February 27, 2017
Spot gold remained on strong bullish footing on Friday. After an Asian flat the price got an upward impetus in the European morning...
---
February 24, 2017
Gold surged Thursday on a breakout of its previous consolidation to hit and slightly exceed major technical resistance at $1250, a level not seen since early November...
---