January 15, 2014
---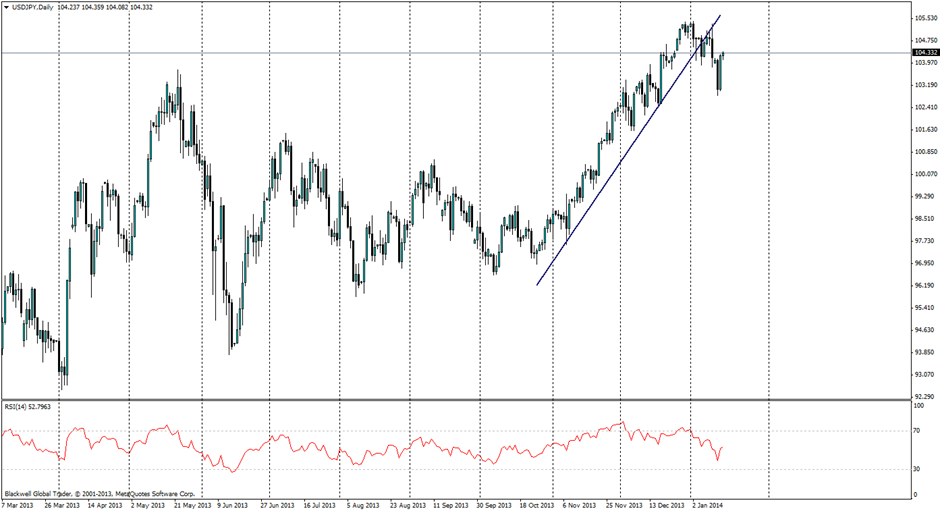 As many market pundits would have noticed in the recent days, the USDJPY has been jumping around frantically and making big moves on the back of volatile US results, as market forecasts turn out to be off the mark, heavily. Despite all of these movements, it has remained clear though that the USDJPY pair is up there with one of the most popular trades as of late, in line with GBPUSD and AUDNZD.
There are several reasons why the USDJPY is such a popular trade, and that is because of the battle between traders and investors, over whether the USDJPY is going to push higher in the near term or fall back and consolidate a bit, after such a heavy bull run in the past month.
For the most part, there is a strong belief that it will go higher and there is a lot of credibility to it. The first point is the strong USD as of late. It took a bit of beating on the last nonfarm payroll data release when it came out to 75k, but I believe that is far too low and will likely be restated next month as being higher. With this data, it looked certain we would see a weaker USD, as people expected a weakening to tapering, however, last night we saw the results of retail sales which were predicted to be weaker. Retail sales came in at +0.7%, despite the fears around unemployment that weren't necessarily true, and it's likely there will be no slow down of tapering.
The Yen is a safe haven for many investors and major traders, however in recent months, it has become somewhat more speculative – in part to Abenomics and its effects. But the changes are indeed massive and can be clearly seen. Recently, Japan's trade balance recorded its largest ever deficit in history as exports were no match for imports. This in turn led to a devaluation in the Japanese Yen, and it's likely we will continue to see such large deficits in the long run as markets react to Abenomics.

Japanese Trade Balance, Source: Bloomberg
The CPI argument is a strong one for the Yen as well, but looking at data from the last 20 years, we can see that CPI spikes have not been sustained - though extreme effects look to be the only catalysts for past spikes. However, recent data has shown a strong rise in CPI for the Japanese economy, though the real test will be the introduction of tax reforms required to help maintain fiscal responsibility and this will come in the form of a sales tax. Countering this though has been talk that the Japanese government will likely spend the extra revenue on the economy, and that the Bank of Japan is likely to help provide additional stimulus to help with the process of applying the tax.

Japanese CPI y/y. Source: Bloomberg
The overall long term outlook looks likely to be more talk from the government of Japan, and additionally more stimulus from the Bank of Japan to help boost the economy further in the largest economic experiment this year, with this in mind, the point we are at now is certainly not the high we should expect, and in reality highs of 110-120 are more realistic in the near future given how markets have picked up after the New Year break.
Written by Alex Gurr, Currency Analyst with Blackwell Global.
Publication source
---
Blackwell Global information
Blackwell Global reviews
February 17, 2017
The US economic data continued to post strong gains with building permits and Philly Fed manufacturing index beating expectations strongly. However, the markets were not quite impressed despite the data points supporting the hawkish Fed for more rate hikes...
---
February 17, 2017
There seems to be little drive for any real direction now. Brent remained rather unchanged on Thursday staying in a tight range above 55.50 dollars per barrel. The Asian upward impetus lost it legs when European markets opened...
---
February 16, 2017
After touching the level 1.0550 the euro bounced off and was able to reverse a minor part of its losses. The overnight's recovery attempt stalled just under 1.0600 barrier. The pair came under renewed selling pressure and slipped into negative territory in the late Asian session...
---