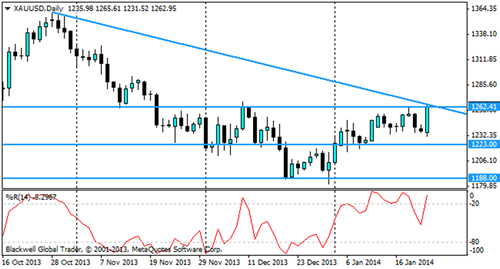 Gold has witnessed a slight revival so far this month after hitting a three year low in December, when the Federal Reserve somewhat surprised the markets with a QE taper. Gold started to attract buyers, when the United States posted a surprisingly disappointing Non-Farm-Payroll (NFP) this month. The commodity has increased in value again this week, while there has been a slight reduction in US economic releases, alongside the US markets being closed on Monday for Martin Luther King day.
Despite the weak NFP, I am still expecting the Federal Reserve to conduct another small QE taper in January.
January's NFP was indeed very weak. However, we must bear in mind that the extremely hazardous weather conditions that the US faced in December would have likely affected data collection. In my opinion, Febuary's NFP is going to be bullish, partly because it will include payrolls, which were not included in January's release or because January's result will be revised to a significantly higher figure.
In fact, it can be highly argued that although the January NFP may have alarmed, the US employment economy is certainly improving. For instance, in November the US added 241,000 jobs to their payroll and in October, the NFP equalled 200,000. Furthermore, US initial jobless claims are consistently improving. For the past few months, they have rarely been above the 330,000 expectation. The Federal Reserve will certainly be aware of this.
The US economy began 2014 with the same impressive form in which it ended 2013. For example, Advance Retail Sales surpassed analyst expectations, in what Bloomberg is reporting may have been the strongest quarter in US consumer expenditure for three years. Durable Goods Orders have also impressed. The Federal Reserve has always maintained consistency in expressing that when tapering QE, they will review consumer data, as well as employment results. This gives me further belief to expect a taper on Wednesday.
When looking to trade this pair, I can see a support level at 1223.00 and a minor support level at 1188.00. I will be targeting the latter because this is where Gold hit a three year low at the last FOMC and I am expecting a similar response next Wednesday. Equally, it appears that Gold has now touched a December high, but is unable to push above the newly formed minor resistance level and might be looking to now retrace. This is backed up by the Williams Percent Range, which is now within the overbought boundaries, suggesting that a pullback is on the horizon.
Overall, I am still expecting the Fed to taper QE next Wednesday. Their economic performances in January have been impressive, and they would have been encouraged by the Advance Retail Sales and Durable Goods Order performances. Additionally, initial jobless claims have been consistently declining throughout the past few months, reflecting an improving labour market.
I think the weak NFP will be overlooked considering the disastrous weather the United States faced in December.
Written by Jameel Ahmad, Research Analyst with Blackwell Global.
Follow Jameel on Twitter @JameelAhmadFX.