January 31, 2014
---
Good afternoon, dear investors. Today we traditionally publish the analytical material for personal composite instruments, composed by using the PCI GeWorko Method. As it was said in the previous report, we continue to follow the classic Sharpe portfolio. The portfolio is based on stocks included in the S&P 500 Top10 of companies with the highest capitalization. The result is an instrument with a maximum ratio of return/risk: Exon Mobile (19 %), General Electric (33%) and Procter & Gamble (48%) - total capital investment is specified as a percentage. Despite the fact that the analysis was based on weekly candles, this instrument is useful for day traders because the large-scale trend dynamics is known.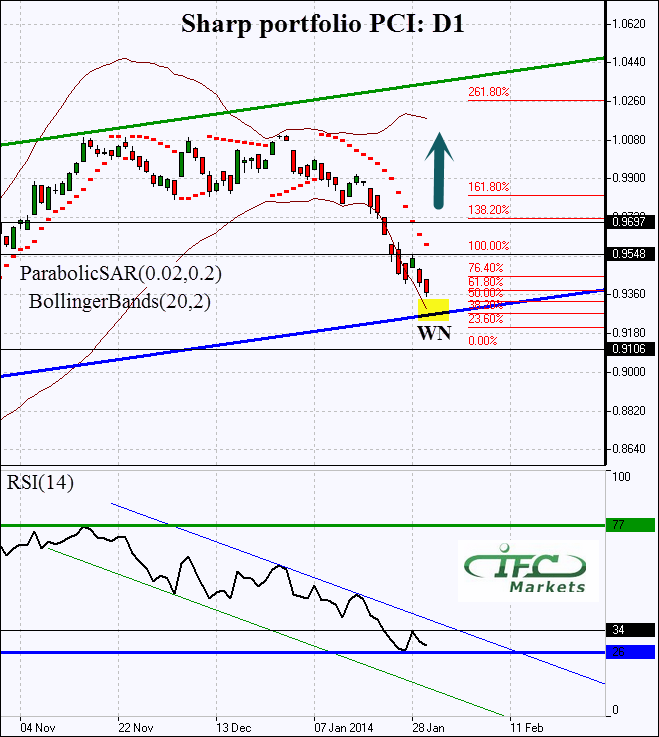 Today is a wonderful time to test the portfolio stability. Rising weekly trend has ben existed for two years and it has touched the support line 6 times. We believe that its continuation is most probable, so we recommend the day investors to count on the end of the correction in the daily chart. Currently the nearest resistance (0.9548) is around the ParabolicSAR(0.02,0.2) trend indicator. This suggests that the breakthrough of the level can move the indicator below the prices and it will indicate the end of correction. This scenario corresponds to the simultaneous breakthrough of the RSI(14) oscillator level 34. Note that the oscillator at the moment has come to the oversold local level 26 - the price reversal is likely.
We recommend placing a pending order to buy above the recent low at 0.9548. The nearest target corresponds to 138.20 % Fibonacci system, but we put it a little lower, at the historic highs (0.9697). As usual, risks are defined by the nearest low at 0.9106. Triggering the stop loss will be possible only when the long-term uptrend is violated and it has a low probability – the lower boundary of the Bollinger Bands(20,2) channel strengthens the weekly support line. Recall that the latter was confirmed 6 times within 2 years (figure below).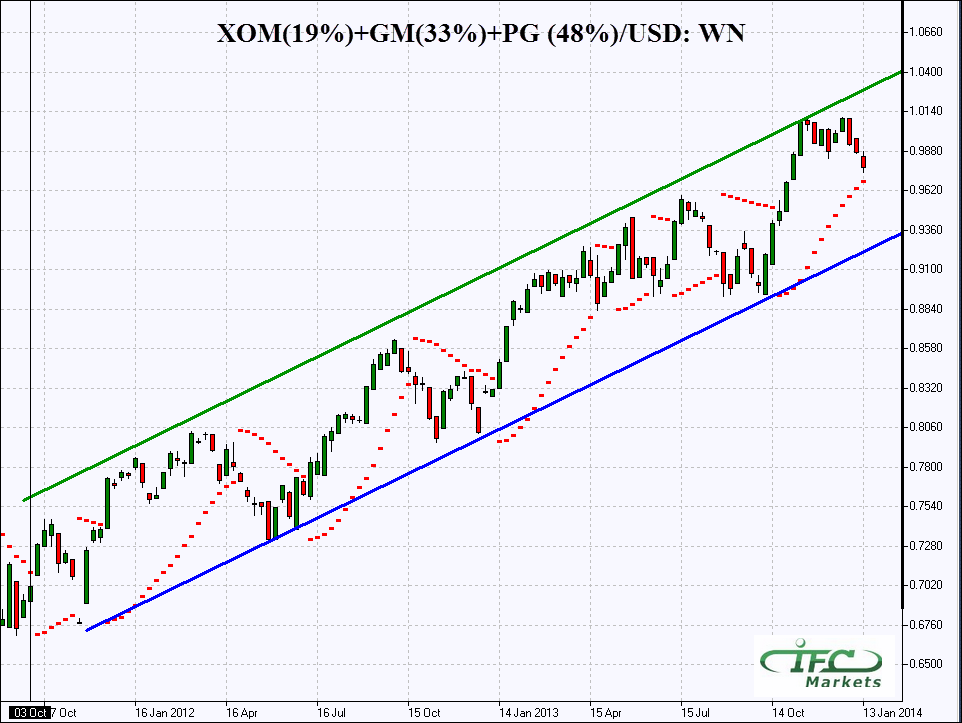 Publication source
---
IFC Markets information
IFC Markets reviews
January 20, 2017
Asian stock markets were mixed overnight, after U.S. and European shares closed in the red Thursday. Japan and mainland China bourses managed to move higher (Chinese GDP beat expectations at 6.8%)...
---
January 20, 2017
UK retail sales fell most since 2012. We see he fastest pace of decline in almost five years in December. It is due to sales of... pretty much everything from household goods to clothing and food...
---
January 20, 2017
Investors await Trump's inauguration and speech due later today as he takes office as the 45th President of the United States. The U.S. dollar was seen giving up some of the gains yesterday with some volatility coming off the EURUSD on the back of the ECB meeting...
---