February 24, 2014
---
Good day, dear investors and traders. Congratulations to all who took profit on the PCI XOM ( 19 %) + GM ( 33 %) + PG ( 48% ) portfolio instrument, using the recommendations of the last analytical report on it . Under the proposed scenario, the pending order triggered above 0.9425 with profit taking at 0.9542. These levels are indicated by the dashed lines at the bottom of the presented figure. Today we will continue the portfolio consideration. Recall that it is made by using the GeWorko method on the basis of the U.S. index S&P 500 Top10. The portfolio optimization based on the William Sharpe model and described in detail in our article " Sharpe Portfolio - three leaders". We emphasize that the portfolio compilation is a special case for (Personal Composite Instruments), you can create within the platform NetTradeX platform of the IFC Markets. You will need 5 minutes of your time and a few clicks of the mouse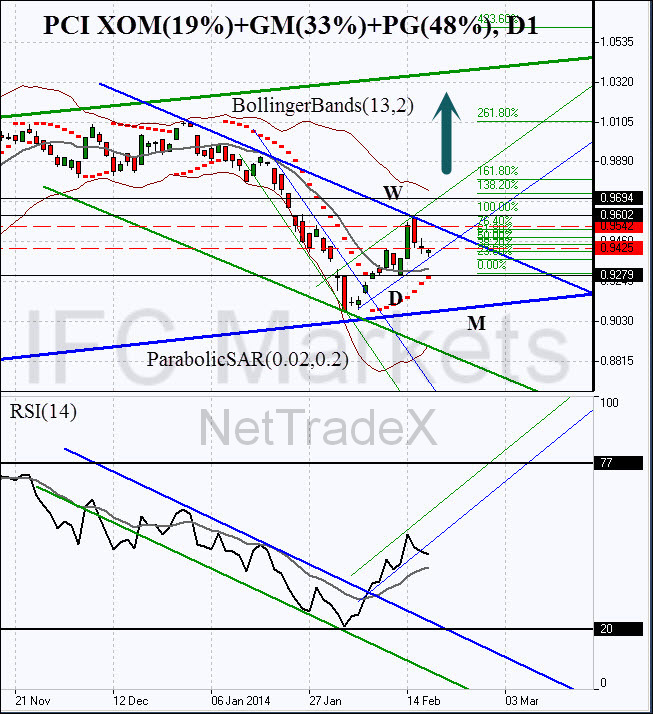 The next significant portfolio price movement is likely to be associated with the crossing of bearish resistance line and the end of correction. This scenario has a high probability, because at the moment the price is above the 13-day exponential moving average MA(13). Moreover, the same behavior is observed by the RSI(14). Parabolic confidently confirms the next support level at 0.9279 and also indicates an upward trend . The contradiction to this hypothesis is a bearish signal from the RSI(14) as the signal line crosses the uptrend support line down. Nevertheless, there is every reason to assume that this breakthrough is false if the portfolio price breaks the resistance at 0.9602
We all reasons to expect this level to be violated, and therefore we recommend placing a pending order to buy with risk limited at 0.9279. The nearest 138.2 % Fibonacci level is slightly above the historical maximum at 0.9694, which we will use as the first target. Conservative investors can use this for profit taking. More aggressive traders are recommended to switch a position into a breakeven state in case of breakthrough with slipping the stop loss after the ParabolicSAR unless you quench your desire to multiply your funds.
Publication source
---
IFC Markets information
IFC Markets reviews
February 21, 2017
While the U.S. dollar was seen slipping during a quiet trading session on Monday which saw the U.S. markets closed, the greenback got a boost with hawkish comments from Fed's Patrick Harker from Philadelphia...
---
February 21, 2017
The Australian economy continues to be a roller coaster for any Aussie bulls, but one thing is certain the markets are not paying too much attention at present with the AUDUSD being one of the stand out performers in 2017 so far.
---
February 20, 2017
The U.S. dollar is attempting to post some gains to build up from Friday's reversal. Price action has formed an inside bar among EURUSD and USDJPY which could indicate a potential breakout trading that could establish the near-term direction of prices...
---