October 29, 2014
---
Current trend
For over a week gold has been trading in the narrow range of 1234.00-1225.00, trying to go beyond these limits. Several attempts to exceed the upper limit and reach the local lows of 1255.00 were unsuccessful.
Today, market is in anticipation of the US Fed meeting. It is assumed that FOMC will announce the termination of the asset purchase program. It is unlikely that interest rates will be raised in the near future; however, if during the meeting, there will be some indications that changes in the interest rates can take place at the end of the next year, but not in the middle of the year, it will support gold.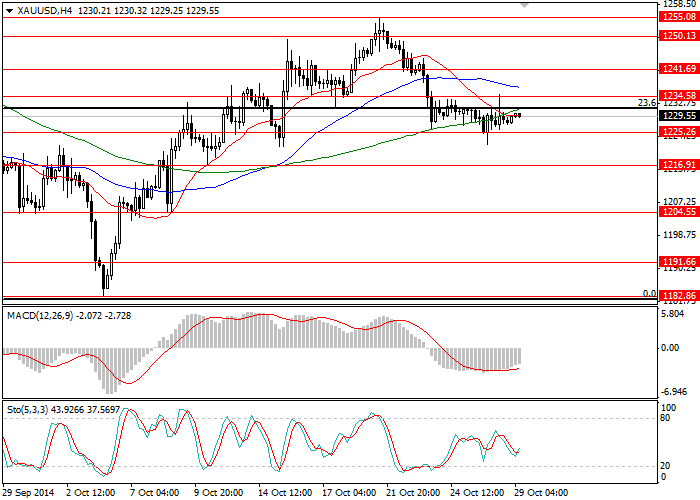 Support and resistance
Technically, the pair has entered consolidation phase after the correction and is now at the Fibonacci level of 23.6%. The pair tries to break through this level and in case of successful attempt the pair can go up to the level of 1255.00, or probably higher up. Technical indicators do not give clear signals.
Resistance levels: 1234.00, 1241.00, 1250.00 and 1255.00. The latter one is the main target of the "bulls".
Support levels: 1225.00, 1216.00, 1204.00, 1191.00 and 1182.00.
Trading tips
It makes sense to place buy orders after consolidation of the price above the level of 1234.00 with the target of 1255.00. Limit sell orders can be placed at the same level. Sell positions are advisable below the level of 1225.00.
Ilya Lashenko
LiteForex Investments Limited Analyst
Publication source
---
LiteForex information
LiteForex reviews
December 5, 2016
MACD was in the negative territory. If MACD remains in the negative territory, sellers' positions will strengthen. RSI was in a neutral area...
---
December 5, 2016
As we noted the day before Friday's US jobs report, only a significantly worse-than-expected reading for November would have likely made the Federal Reserve's next interest rate decision more difficult...
---
December 5, 2016
Politics are setting the tone for Monday trading with all eyes on Europe. While Austria presidential polls delivered a defeat to the far-right candidate Norbert Hofer...
---