20 November, 2014
Current trend
At yesterday's trading session the price of GBP/USD has slightly rose. At the end of the trading day the British currency gained over 60 points against the USD. The pair GBP/USD was supported by the outcome of yesterday's meeting of the Bank of England, where it was decided to leave interest rate at the previous level, due to low inflation rate, which showed growth of only 1.3% in October versus 2%, which is the target set by the Bank of England. The main positive detail in the outcome of the meeting was the fact that not all 9 regulators of the Bank of England unanimously approved the decision to keep interest rate at the existing level. Two regulators voted for the rise in the interest rate in November. A range of opinions among those, who voted in favor of maintaining existing level of interest rate, was also wide. Today, the price of GBP/USD has corrected after yesterday's rise and is trading in the sideways range. Among interesting fundamental news will be UK retail sales data for October (12:30 GMT+2), and the US inflation data (16:30 GMT+3).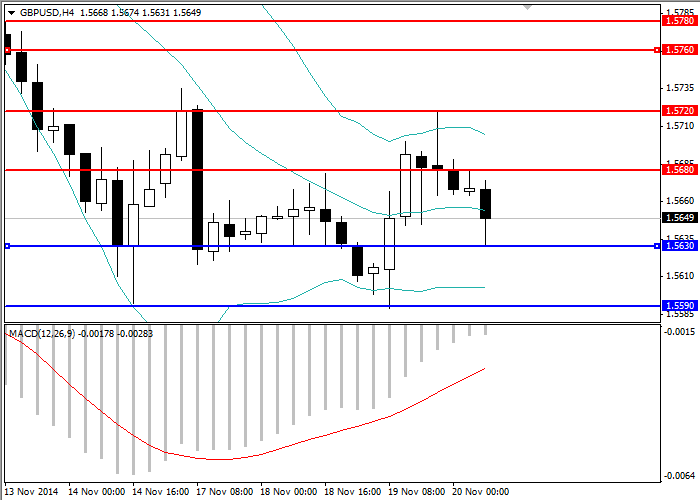 Levels of support and resistance
Support levels: 1.5630, 1.5590, 1.5540 and 1.5500.
Resistance levels: 1.5680, 1.5720, 1.5760, 1.5780 and 1.5810.
Trading tips
On the four-hour chart technical indicators show that market is relatively quiet. In anticipation of the macro-economic news the pair is traded in the sideways channel. Buy positions are advisable in case of consolidation of the price above the level of 1.5680. Next target of the "bulls" will be yesterday's highs of 1.5720. Long-term target of the "bulls" is 1.5760. Trend reversal can take place in case of consolidation of the pair below the level of 1.5590. In this case the "bears" will try to drop the pair further down to the levels of 1.5540 and 1.5500.
---
---