28 November, 2014
Current trend
On Thursday the pair EUR/USD had reached the upper limit of the channel at resistance level of 1.2530. After that the price pushed off from this level and went down. Positive data on the key European indices had not supported Euro, while the demand for the USD has increased significantly. Today, downward movement continues; investors strongly sell European currency and poor performance of French economy puts additional pressure on Euro.
Today, the data on European labor market will be known, as well as consumer price index in Eurozone for November. If negative forecast turns out to be correct, the price of the pair EUR/USD can fall to the level of 1.2360.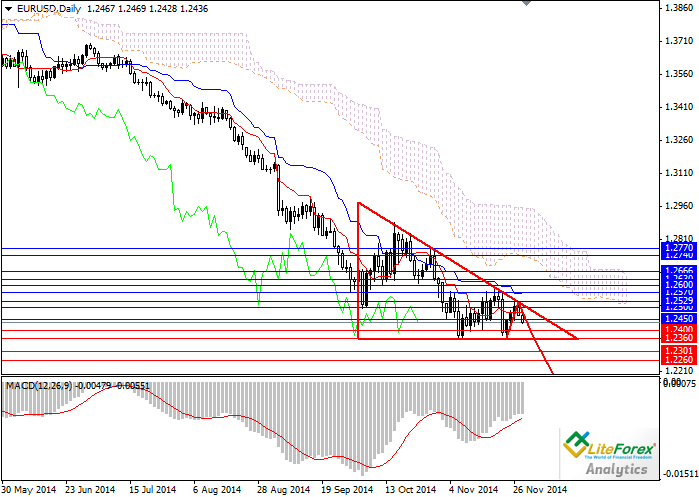 Levels of support and resistance
The data on labor market in Eurozone can significantly increase volatility in the pair. If the index remains at the previous high level of 11.5%, it will have a negative impact on European currency; while the decline in consumer price index can drop the pair to the key support levels of 1.2400 and 1.2360. In cease of breakdown of the level of 1.2360, the price can fall to the level of 1.2300.
Support levels: 1.2400, 1.2360, 1.2300, 1.2260 and 1.2150.
Resistance levels: 1.2450, 1.2500, 1.2570, 1.2600, 1.2630, 1.2660, 1.2740 and 1.2770.
Trading tips
In the current situation it makes sense to open short positions with stop-loss above the level of 1.2600 and the target of 1.2360; in the medium-term the price is likely to fall further down to the level of 1.2300 (1.2150).
Dmitry Likhachev
Analyst of LiteForex Investments Limited
---
---