December 30, 2014
---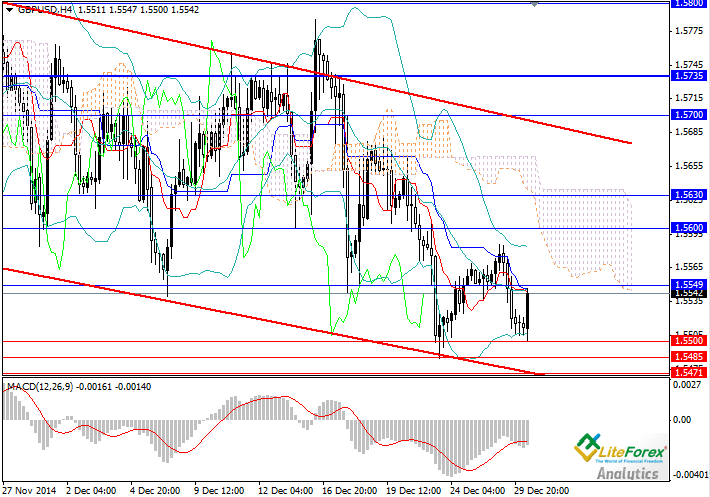 Current trend
There is the lull in the market during New Year holidays. Due to lack of the macro-economic news, the pair GBP/USD is under influence of the trading sentiments. It is worth noting that despite the fact that the USD is significantly overbought, the demand on the American currency remains high. On Monday the pair slowly went down to the level of 1.5500; nevertheless this morning the Pound has won back some of the losses. The US news, which will be released today, will include consumer confidence index and house price index.
Support and resistance
This morning demand for the Pound had grown and the pair went up. However, it looks more like the upward correction. British economy remains weak and there are no grounds for soon recovery. The American currency will continue to rise in price. In the medium-term target level can be at 1.5470. After reaching the bottom limit of the channel, the pair can undergo reversal and go to 1.5630.
Support levels: 1.5485, 1.5470, 1.5425, 1.5350 and 1.5275.
Resistance levels: 1.5550, 1.5600, 1.5630, 1.5700, 1.5735 and 1.5800.
Trading tips
In the current situation it makes sense to trade on trend, opening short positions from the levels of 1.5630 and 1.5700 with take profit at the level of 1.5470.
Dmitry Likhachev
Analyst of LiteForex Investments Limited
Publication source
---
LiteForex information
LiteForex reviews
January 17, 2017
The U.S. dollar was trading weak yesterday in a holiday thin trading session. The Japanese yen strengthened strongly in the early hours today as investors turn cautious ahead of the British PM...
---
January 16, 2017
U.S. markets are closed Monday for Martin Luther King Day. This will be a busy week for traders, with the inauguration of president-elect Trump on Friday headlining...
---
January 16, 2017
U.S. markets are closed today on account of Martin Luther King Day. Economic data is quiet ahead of another busy week. The Bank of England Governor, Mark Carney will be speaking later this afternoon and his comments come a day before the British PM Theresa May will be holding her press conference on Brexit...
---