10 April, 2015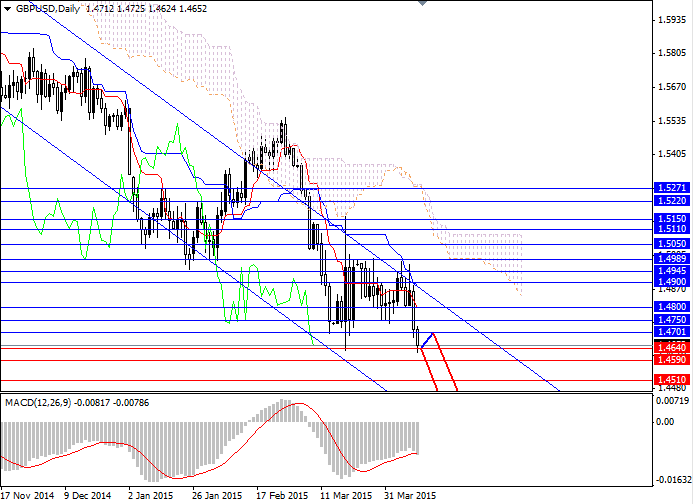 Current trend
After reaching the key resistance level of 1.4990, the pair GBP/USD sharply went down, breaking down important support levels of 1.4800, 1.4750 and 1.4700. Such rapid decline in the pair was primarily caused by strengthening in the USD after the release of the minutes of the US Federal Reserve. The majority of the American regulator voted for the increase in interest rates this June. In addition, main British macro-economic data this week were negative, which triggered the decline in the British currency.
Today, the Pound was affected by the data on industrial production and production in the manufacturing industry, as both indices have been lower than expected. In the afternoon, US import price index and Federal budget report will become known.
Support and resistance
Now, the pair is traded at the local lows of 1.4640. If the American session finishes favourably for the USD, the lows can be exceeded. In the given situation it is difficult to envisage up to what level the pair can fall in the next few months. Note, however, that the key support levels are: 1.4590, 1.4510, 1.4380 è 1.4250 (five -year lows).
Support levels: 1.4700, 1.4750, 1.4800, 1.4900, 1.4990 and 1.5050.
Resistance levels: 1.4640, 1.4590, 1.4510, 1.4380 and 1.4250.
Trading tips
It is recommended to trade on trend, opening short positions after breakdown of the local lows of 1.4640 with take profit at the levels of 1.4380 and 1.4250. Alternative scenario is to wait for the rebound from the key support level 1.4640 and then open long positions at the current price with the short stop-loss and long take profit.
Analytics by LiteForex Investment Limited
---
---