April 13, 2015
---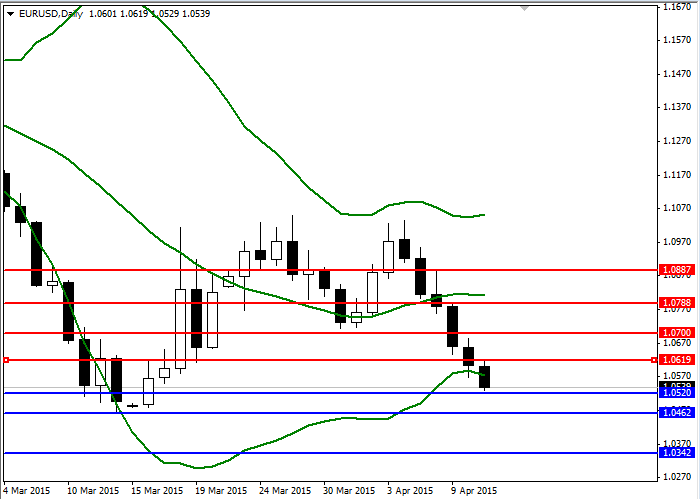 Current trend
The pair EUR/USD continues to lose positions at today's trades. The USD has been strengthening for the 6th consecutive day amid expectations of the increase in the interest rate by the US Fed. After the release of the minutes of the meeting of the Open Market Committee, investors begun to believe that the US monetary authorities can introduce this measure as early as this June. The assumption is supported by the positive statistics on the American labor market. In addition, last Friday, import price index (which is a leading inflation indicator, indirectly affecting interest rate decision), fell not as significantly, as had been expected by the experts. The index fell by 0.3% against expectation of 0.4%.
On the other hand, Euro is still under pressure from situation in Europe. The "Times" said the EU authorities allegedly have worked out a scheme to expel Greece from EU. The document was drawn up by Finance Ministry of Finland in collaboration with Germany and provides for specific tools to exclude Greece from the zone of European currency.
The day is not going to be very eventful today. Trades are likely to be quiet. If European currency finds support at the nearest support level, the correction may take place
Support and resistance
Support levels are the local lows of 1.0520, 1.0462 and 1.0342.
Resistance levels: 1.0619 (Asian session's lows), 1.0700 (important psychological level), 1.0788 (highs of 9 April), 1.0887 (highs of 8 April).
Trading tips
It makes sense to open short positions if the price breaks down the level of 1.0520 with the first target of 1.0460 and the next one at 1.0350. Long positions can be opened from the level of 1.0620 with the targets of 1.0700 and 1.0788.
LiteForex Investments Limited Analytics
Publication source
---
LiteForex information
LiteForex reviews
January 16, 2017
U.S. markets are closed Monday for Martin Luther King Day. This will be a busy week for traders, with the inauguration of president-elect Trump on Friday headlining...
---
January 16, 2017
U.S. markets are closed today on account of Martin Luther King Day. Economic data is quiet ahead of another busy week. The Bank of England Governor, Mark Carney will be speaking later this afternoon and his comments come a day before the British PM Theresa May will be holding her press conference on Brexit...
---
January 13, 2017
Aftershocks from President-elect Trump's campaign-like press conference, which had weighed on global stock markets and yields started to recede late in the U.S. session and U.S. equities managed to recover part of their losses...
---