April 14, 2015
---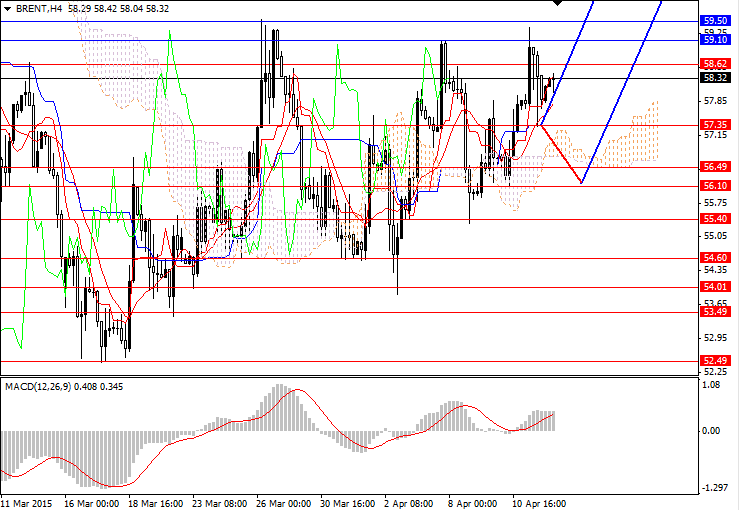 Current trend
At the beginning of April the price of oil has grown amid weakening in the USD. In addition, the news from the US shale giants is negative: large companies have suspended drilling rigs operations and reduced the number of new rigs; many companies bear losses, therefore in the near future oil production will drop significantly.
On the other hand, volume of production in Saudi Arabia has reached the new peak in March, while oil from Iran will flood the market as soon sanctions on Tehran's nuclear program are lifted.
Despite the increasing volume of oil production in some countries, it is clear that in the current situation, energy value is underestimated. It is likely that production volume will settle down soon, and the price will reach stability. By the third quarter oil shall consolidate within the range of 70-80 USD per barrel.
Support and resistance
Support levels: 57.35, 56.50, 56.10, 55.40, 54.60, 54.00, 53.50 and 52.50.
Resistance levels: 59.10, 59.50, 60.00, 60.80, 61.35, 62.50, 63.05 and 65.00.
Trading tips
In the current situation it makes sense to open long positions and pending long positions from the key support levels with take profit at the levels of 62.50, 63.00 and 65.00.
Analytics by LiteForex Investment Limited
Publication source
---
LiteForex information
LiteForex reviews
January 19, 2017
Trump stated on Tuesday that a strong dollar is risky to the US economy, as it weakens competitiveness of US exports and corporate profits...
---
January 19, 2017
The U.S. dollar did an about turn yesterday after the Fed Chair; Janet Yellen said that the prospects for further rate hikes increased with the economy near its maximum employment and inflation moving towards the Fed's 2% goal...
---
January 18, 2017
German HICP confirmed at 1.7% y/y, as expected, with prices up 1.0% m/m. The sharp acceleration from just 0.7% y/y in November was mainly due to base effects from lower energy prices and the breakdown showed that prices for heating oil jumped 21.9% y/y in December...
---