April 14, 2015
---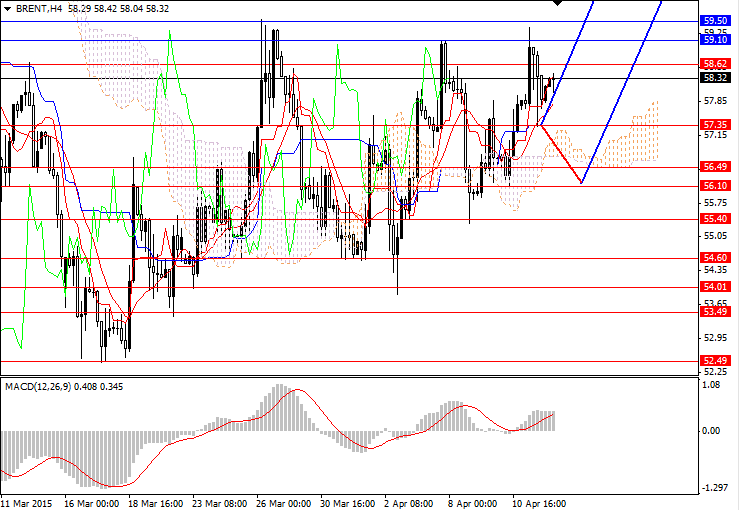 Current trend
At the beginning of April the price of oil has grown amid weakening in the USD. In addition, the news from the US shale giants is negative: large companies have suspended drilling rigs operations and reduced the number of new rigs; many companies bear losses, therefore in the near future oil production will drop significantly.
On the other hand, volume of production in Saudi Arabia has reached the new peak in March, while oil from Iran will flood the market as soon sanctions on Tehran's nuclear program are lifted.
Despite the increasing volume of oil production in some countries, it is clear that in the current situation, energy value is underestimated. It is likely that production volume will settle down soon, and the price will reach stability. By the third quarter oil shall consolidate within the range of 70-80 USD per barrel.
Support and resistance
Support levels: 57.35, 56.50, 56.10, 55.40, 54.60, 54.00, 53.50 and 52.50.
Resistance levels: 59.10, 59.50, 60.00, 60.80, 61.35, 62.50, 63.05 and 65.00.
Trading tips
In the current situation it makes sense to open long positions and pending long positions from the key support levels with take profit at the levels of 62.50, 63.00 and 65.00.
Analytics by LiteForex Investment Limited
Publication source
---
LiteForex information
LiteForex reviews
October 21, 2016
The price maintained its bearish tone on Thursday. The EUR/USD pair stayed around its recent lows during the day. The euro slightly strengthened towards 1.1000 ahead of the US opening. The 50-EMA limited the euro recovery in the 1 hour chart...
---
October 21, 2016
Asian stock markets are narrowly mixed, with Japanese bourses managing marginal gains as the Yen falls against the Dollar. Stock futures in the U.S. are down...
---
October 21, 2016
The ECB monetary policy meeting yesterday saw the euro give up its intraday gains to close on a bearish note. As Draghi signaled that the central bank would need time to assess the monetary policy situation...
---