April 14, 2015
---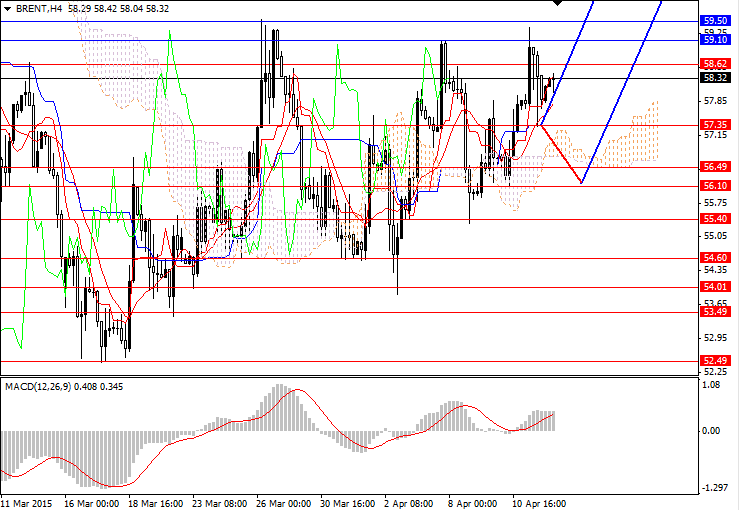 Current trend
At the beginning of April the price of oil has grown amid weakening in the USD. In addition, the news from the US shale giants is negative: large companies have suspended drilling rigs operations and reduced the number of new rigs; many companies bear losses, therefore in the near future oil production will drop significantly.
On the other hand, volume of production in Saudi Arabia has reached the new peak in March, while oil from Iran will flood the market as soon sanctions on Tehran's nuclear program are lifted.
Despite the increasing volume of oil production in some countries, it is clear that in the current situation, energy value is underestimated. It is likely that production volume will settle down soon, and the price will reach stability. By the third quarter oil shall consolidate within the range of 70-80 USD per barrel.
Support and resistance
Support levels: 57.35, 56.50, 56.10, 55.40, 54.60, 54.00, 53.50 and 52.50.
Resistance levels: 59.10, 59.50, 60.00, 60.80, 61.35, 62.50, 63.05 and 65.00.
Trading tips
In the current situation it makes sense to open long positions and pending long positions from the key support levels with take profit at the levels of 62.50, 63.00 and 65.00.
Analytics by LiteForex Investment Limited
Publication source
---
LiteForex information
LiteForex reviews
February 20, 2017
The U.S. dollar is attempting to post some gains to build up from Friday's reversal. Price action has formed an inside bar among EURUSD and USDJPY which could indicate a potential breakout trading that could establish the near-term direction of prices...
---
February 20, 2017
In the US, the Fed will release the minutes of its February meeting. Markets will probably focus on any signals regarding the timing of the next rate hike...
---
February 20, 2017
The dollar fell on Friday amid a light market due to US President's Day. Investors are monitoring the US political situation and waiting for a decision on financial aid to Greece...
---