April 27, 2015
---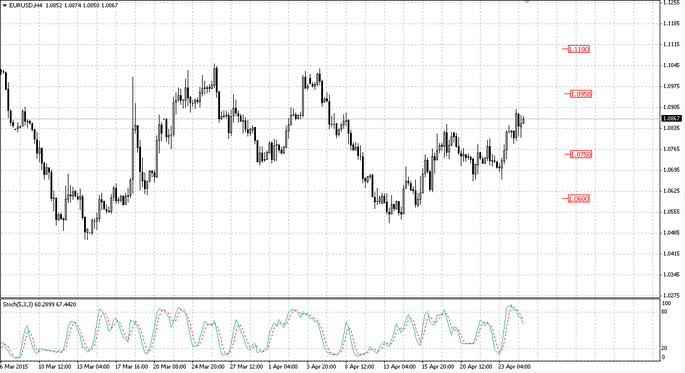 The US dollar was under pressure - the dollar index basket (USDX) finished the trading day at the mark of 97.43. The pair EUR/USD has demonstrated a growth despite the mixed news background. The Germany manufacturing sector business activity showed a decline to the level of 51.9 p while the US primary market housing sales decreased by 11.4%. As a result, the trading day the pair euro/dollar ended with the quotations growth.
The pair GBP/USD also finished the day in the positive area despite the UK retail sales weak release. In March the index fell by 0.5% because of the wages decrease which is a negative factor for the economy, but traders ignored it and continued to build up long positions on the pair rebounds. By the end of the day the pair GBP/USD had increased.
After the quotations growth to 120.10 the pair USD/JPY remained under pressure and ended the trading day in the "red zone". The UK primary March market housing sales weak report with the achievement of the psychological level of 120.00 contributed to the downward trend development. By the end of the day, the pair dollar/yen had decreased.
Publication source
---
Fort Financial Services information
Fort Financial Services reviews
January 24, 2017
The UKs Supreme Court will be giving its verdict in the High Court on whether the Brexit referendum should be put to a parliamentary vote or note. There is a widespread consensus that the Supreme Court will rule in favor of the High Court...
---
January 24, 2017
Oil prices were initially weaker at the start of the new week, but they have now recovered to trade almost flat at the time of this writing. At the weekend, the OPEC and some producers outside of the group met to discuss the progress of their oil production deal...
---
January 24, 2017
Asian stock markets were mixed overnight, with Japanese bourses still under pressure (Nikkei closed down 0.55%). despite a dip in the Yen, as USD stabilised. Uncertainty over Trump's regulatory and trade policies continues to weigh on investor sentiment...
---