12 May, 2015
Current trend
Yesterday, volatility both of the USD and its major counterparts was high, which was caused on the one hand, by the fact that Conservatives won the parliamentary election in the UK, and on the other hand, by rapid decline in the pair NZD/USD. The fall in NZD/USD was provoked by the statement of the representatives of RBNZ about probability of the decrease in interest rate in June. EUR/USD is still under pressure from outstanding problems in Greece. Following yesterday's strong fluctuation, the cross-pairs can undergo correction today, as well as the other currencies against the USD.
Let's look at the charts of the pair USD/CAD. The indicators give signals for opening short positions.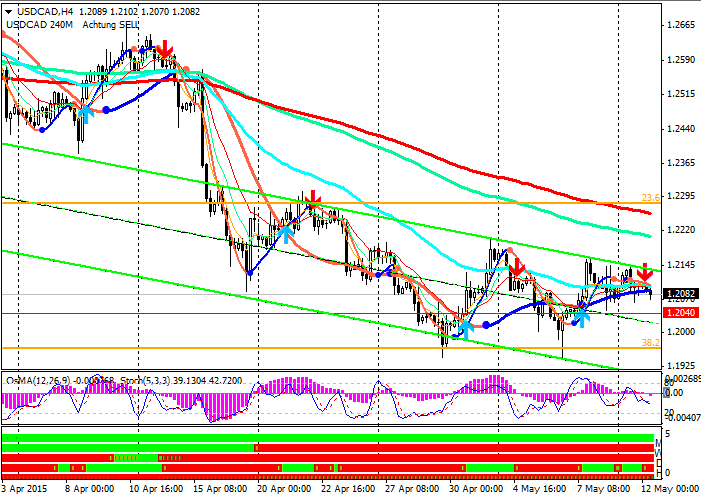 Í1 - H4
Histogram OsMA is below the zero line and is going down. Stochastic is in the sell zone. The trend indicator (lower window) on the periods of Í1-Í4-Daily is of the red color. The price is below the moving average lines of ÅÌÀ144 and ÅÌÀ200. The line SDL (fast and slow) is red.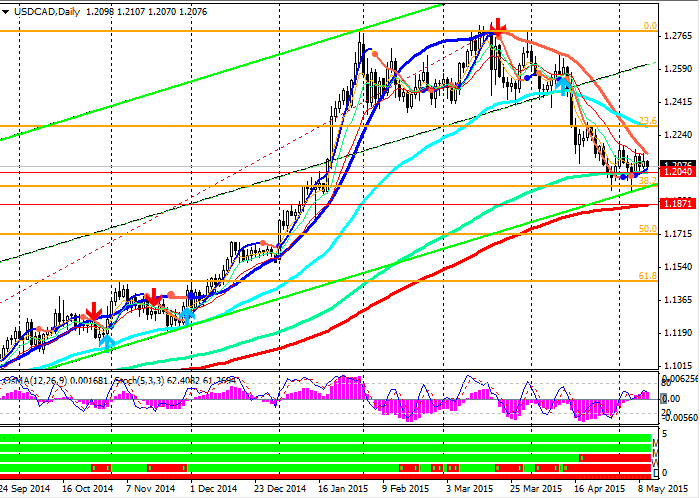 D1
On the daily chart the price is in the zone between 23.6% and 38.2% Fibonacci retracement. The price is moving towards the resistance level, which coincides with the moving average ÅÌÀ144 (1.2040).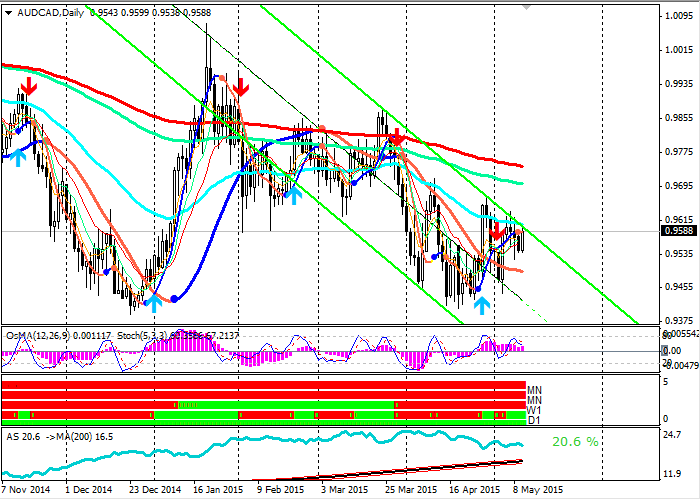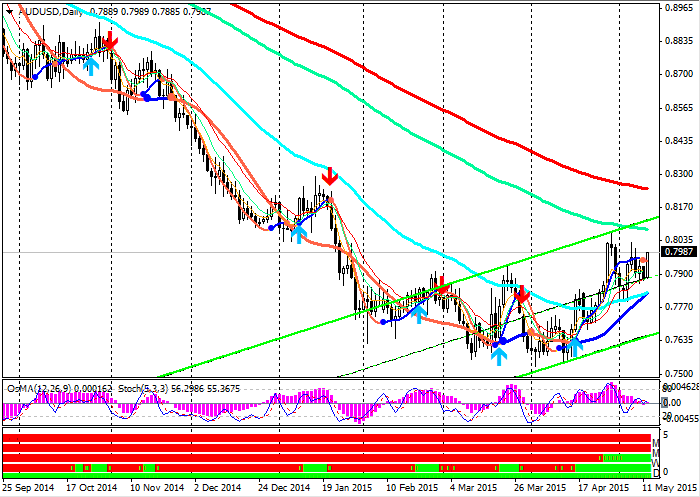 Hedging
In order to hedge risks it is recommended to open the opposite equivalent position in lots on the pair AUD/CAD. The rise in the pair AUD/USD against the USD and versus the New Zealand dollar in the cross-pair AUD/NZD speaks in support of long positions on the pair AUD/CAD. The position can be closed either when the estimated total profit is achieved on both pairs, or if the trend is being changed in the market.
Support and resistance
Resistance levels: 1.2040, 1.1965 and 1.1870
Support levels: 1.2110, 1.2140, 1.2180 and 1.2280
Trading tips
It is recommended to sell the pair USD/CAD on the current price with the targets of 1.2000, 1.1980, 1.1910 and 1.1710. If resistance level of 1.2140 is broken down and the price consolidates above the level of 1.2180, it makes sense to open long positions with the targets of 1.2280, 1.2430 and 1.2790.
---
---