13 May, 2015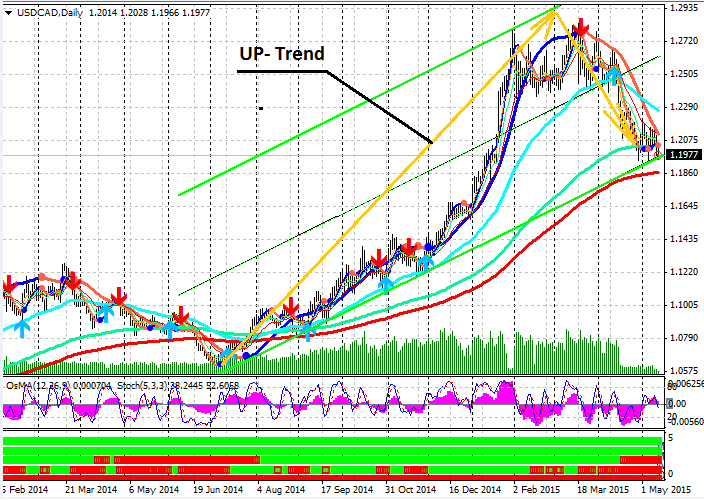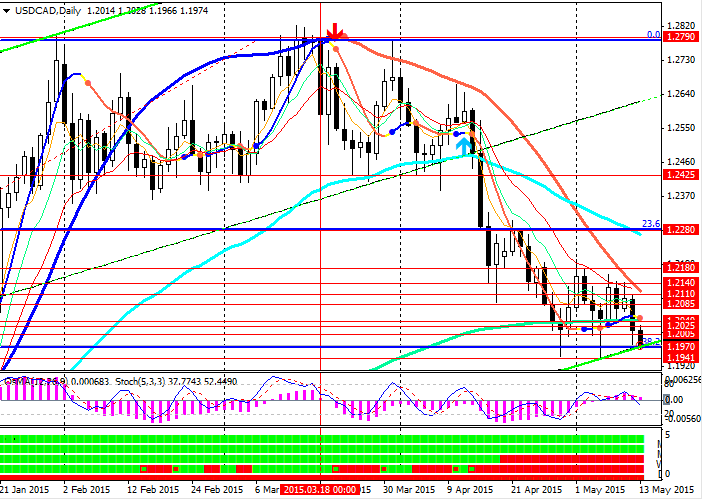 Current trend
On Tuesday, the American Petroleum Institute (API) reported the decline in the commercial inventories of oil in the USA by 2 million barrels. Futures prices of oil are rising despite negative forecast of the International Energy Agency (IEA). The decline in the USD against other currencies, which continues since mid-April, provides support to the oil prices. Recall that the Canadian dollar is considered a commodity currency; therefore it is very sensitive to the fluctuation in oil prices.
Current situation is favourable for the Canadian currency; therefore it is strengthening against the USD. If we take 18 March as a starting point, the decline amounted 800 points. Currently, the pair is traded at the level of 1.1970, which coincides with 38.2% Fibonacci. Breakdown of this level can trigger further decline in price. A strong indication of the downtrend will be the consolidation of the price below the level of 1.1870, which goes along the line ÅÌÀ200 on the daily chart. In this case the targets will be at the levels of 1.1720 (Fibonacci 50%) and 1.1470 (Fibonacci 61.8%). Indicators (OsMA, Stochastic channels and trend) on the periods of Í1, Í4 and Daily will suggest that short positions are advisable.
Support and resistance
Resistance levels: 1.1970 and 1.1870.
Support levels: 1.2025, 1.2040, 1.2085, 1.2110, 1.2140 and 1.2180
Trading tips
Limit sell orders are recommended at the levels of 1.2000, 1.2025 and 1.2040. Sell positions can be opened after breakdown of the level of 1.1970 with the target of 1.1930.
Buy positions are advisable after breakdown of the level of 1.2085 with the targets of 1.2110, 1.2140, 1.2180 and 1.2280.
---
---