June 11, 2015
---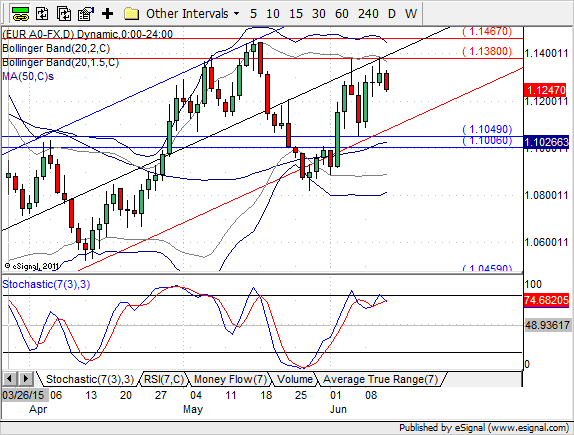 EURUSD, Daily
Germany may be considering a staggered deal on Greek aid. Greece will apparently be required to commit to at least one economic reform to win partial access to bailout funds. German Chancellor Merkel was reportedly quoted as saying "where there is a will there is a way. The goal is to keep Greece in the euro area". The ECB has agreed to increase the Emergency Lending Assistance to Greek banks by 2.3 billion euros. According to Bloomberg the ECB is trying to strike a balance between keeping Greek lenders afloat and safeguarding the country's central bank, which provides the aid, as the government veers toward a debt default. This is the biggest weekly increase since February 18th.
Standard & Poor's downgraded Greek bonds deeper into junk status, questioning whether Athens can pay its debts. Reuters reported that Tsipras emerged early on Thursday from talks with Chancellor Angela Merkel and President Francois Hollande to express confidence. "We decided to intensify the efforts to bridge the remaining differences and proceed, I believe, to a solution in the coming period."
EURUSD traded most of the day yesterday below the 1.1380 resistance identified in my previous report with the result that yesterday's candle formed a shooting star. There was a brief rally above the 1.1380 level yesterday with the pair creating a high print of 1.1386 but it wasn't sustainable and rally failed. Most of the morning EURUSD was trading in a small range between intraday support and resistance levels. Market was truggling with an intraday resistance and created a shooting star in 60 min resolution after which it headed towards yesterday's low at 1.1260 and at the time of writing is trading below it at 1.1244. In daily context the pair is trading close to a daily and weekly resistance which suggests that in the daily resolution the line of least resistance is down. The nearest significant daily support and resistance levels are at 1.1049 and 1.1380.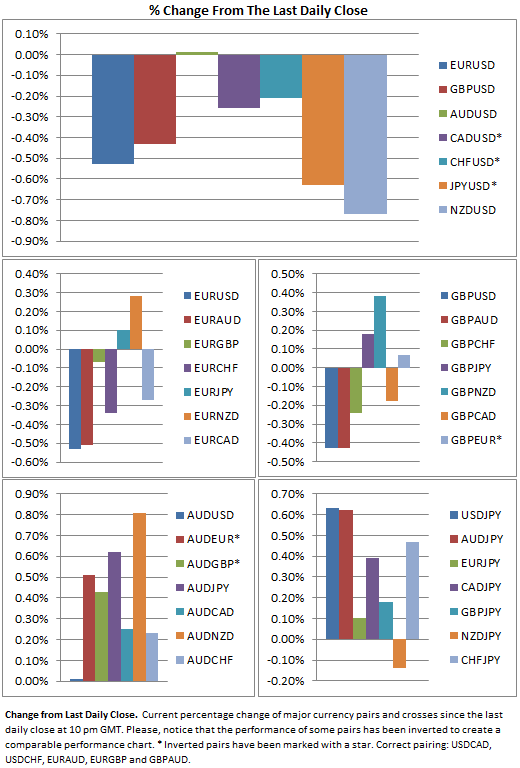 Currency Pairs, Grouped Performance (% Change)
This morning AUD and USD have been strong while almost all currencies are up against JPY and NZD. The NZD rate cut keeps the currency weak while USD strength might be just down to the technical picture of euro, the heaviest weighted currency in US Dollar Index. AUDNZD is the best...Read more here.
Publication source
---
HotForex information
HotForex reviews
October 26, 2016
Asian stock markets are mostly down, with Japan a notable outperforming (closing up and indices holding on to modest gains as the Yen continued to decline against the Dollar...
---
October 26, 2016
The Australian Bureau of Statistics released the consumer price index data for the third quarter. Official records showed that CPI advanced 1.3% on the year in the third quarter of 2016...
---
October 25, 2016
Asian stock markets are mostly down, as the positive confidence indicators out of Europe and the U.S. yesterday were overshadowed by weak GDP numbers from South Korea, which weighed on most markets. Topix and Nikkei outperformed, with a weaker Yen underpinning exporters...
---