12 June, 2015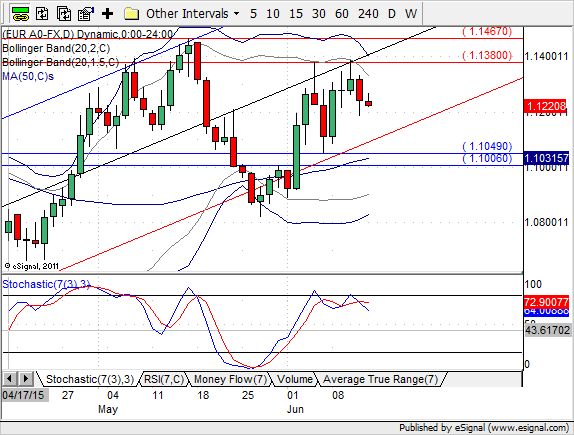 EURUSD remained weak yesterday and the pair closed below the shooting star candle from day before amidst positive US data. Yesterday US retail sales was reported to have surged 1.2% in May, with the ex-auto figure up 1.0%, close to expectations. April's headline unchanged figure was revised up to 0.2%, and the ex-auto number was left at 0.1%. Sales excluding autos, gasoline, and building materials increased 0.6% versus 0.3% previously (revised from 0.1%). Atlanta Fed boosted its Q2 GDP forecast to 1.9%up from 1.1% previously in the wake of the firm May retail sales report, which was propped up by auto sales and gasoline prices. That closed the gap somewhat with Blue Chip economists, who have a median forecast of around 2.65%. US household net worth rose to $84.9 tln in Q1 from a revised $83.3 tln in Q4 (raised from $82.9 bln), according to the Fed, thanks to rising home values and investment gains. Household debt increased at a 2.2% annual pace, down from a revised 2.8% previously (was 2.7%). Increased returns and lower borrowing is a relatively healthy development for the outlook on consumer spending and dovetails with some of the better contemporary readings on the economy.
U.S. business inventories rose 0.4% in April, with sales up 0.6%, both higher than expected. March's 0.1% rise in inventories was not revised, but the February gain is now 0.3% from 0.2%. The 0.4% sales increase in March was bumped up to 0.6%, with the 0.2% February drop revised to -0.3%. The inventory-sales ratio was steady at 1.36 and is just a shade below the expansionary high of 1.37 in February. The data are good news for Q2 GDP. US initial jobless claims rose 2k to 279k in the week ended June 6, from a revised 277k in the prior week (was 276k). That brought the 4-week moving average to 278.75k from 275k (revised from 274.75k). Continuing claims were up 61k to 2,265k in the week ended May 30, from a revised 2,204k (was 2,196k). US consumer comfort index sank to 40.1 for the period ended June 7, down from 40.5 the week prior and the lowest reading since November, according to Bloomberg. That's down about 8-points from an 8-year high in mid-April. Rising gasoline prices contributed to the decline, though wage gains and firmer equities supported household sentiment.
IMF doesn't see progress on Greece. IMF's Rice said the IMF has major differences with Greece in key areas and doesn't see a progress on the way to an agreement with obstacles still including pensions, taxes, financing. Markets have been buying into hopes of a deal with Greece today, but that always seemed premature, considering that comments from most officials continue to stress that talks continue, but also that Greece needs to make more commitments and that there are still differences. Even if there is a bailout extension, it would not solve the problem as any payout of funds still hinges on the implementation of reform commitments that Tsipras is unwilling to subscribe to.
Germany prepares for Grexit, according to a German newspaper Handelsblatt. Tabloid paper Bild meanwhile reported that the government is preparing for default with considerations of capital controls and a haircut on Greek debt. So far it was mainly Tsipras who threatened that a Grexit would mean the beginning of the end for the Eurozone, but after the IMF finally lost patience with the lack of progress in the talks with Greece, the reports suggest that Germany is also not willing to keep Greece in at all costs. A Bloomberg story meanwhile said creditors will give Greece less than 24 hours to come up with a serious counter-proposal to its own reform list. There may not be any real progress, but it seems the beginning of the end to the Greek crisis is finally here, even if it could still go one way or the other.
Today's data calendar being quite thin EURUSD might not move that much today. Over the next couple of days I think that bias is still to the downside due to the shooting star candle from two days ago. Today's price action has taken place below Wednesday's low and yesterday's low was also below Wednesday's shooting star low, which is inline with the expectation that EURUSD is likely to remain weak and retest the support 1.1006 to 1.1049 region. The nearest significant daily support and resistance levels are at 1.1049 and 1.1380 while the low from Wednesday has clearly been a resistance today.
---
Source link
---
---