EURUSD didn't move much yesterday even though some positive news was received from the negotiations on financing Greece. The pair rallied to 1.1410 but failed creating both a 4h and eventually a daily rejection candles. This was very much in line with what I have been saying over the last week about EURUSD being limited on the upside to 1.1435 and with downside potential to 1.1000. The bearish wedge supported the view and now price action has confirmed this analysis with a breakout from the wedge. Today's price action is likely downward biased with upside limited to 1.1319 while I see support between 1.1112 and 1.1148. The nearest significant daily support and resistance levels are at 1.1050 and 1.1434.
ECB has increased Emergency Lending Assistance to Greece this morning while the country has been now given 48 hours to reach a debt deal. EU leaders see progress in the Greek talks after the latest reform list showed a narrowing of the gap between creditors and the Tsipras administration and have given Greece 48 hours to finalise a deal. Eurozone Finance Ministers will meet again on Wednesday and could sign off a package if there is a staff level agreement by then. EU heads of state will then meet again on Thursday with the aim to finalise a deal by the end of the week. It is likely that this will include an extension of the current bailout agreement and financing of upcoming ECB and IMF repayments through existing ESM funds earmarked initially for Greek bank recapitalisation. Greek debt is likely to be lengthened or re-profiled, although given the current construction of the ESM holding most of Greece's debt, an outright write off seems less likely.
The 5.1% May US existing home sales bounce to a 5.35 mln pace yesterday beat the prior 5.31 mln four-year high to leave the strongest pace since the spike to a 5.44 mln clip back in November of 2009 with the homebuyers' tax credit. We also saw a 4.6% median price rise to $228,700 new cycle-high, as prices now sit near the all-time high of $229,500 in June of 2005. Sales have bounced sharply in the seasonally important spring season after a dismal Q1 performance, alongside big rebounds for pending sales, permits, and the MBA purchase index, though we still have an anemic pace of housing sector recovery overall, with lean inventories and a cyclical price uptrend.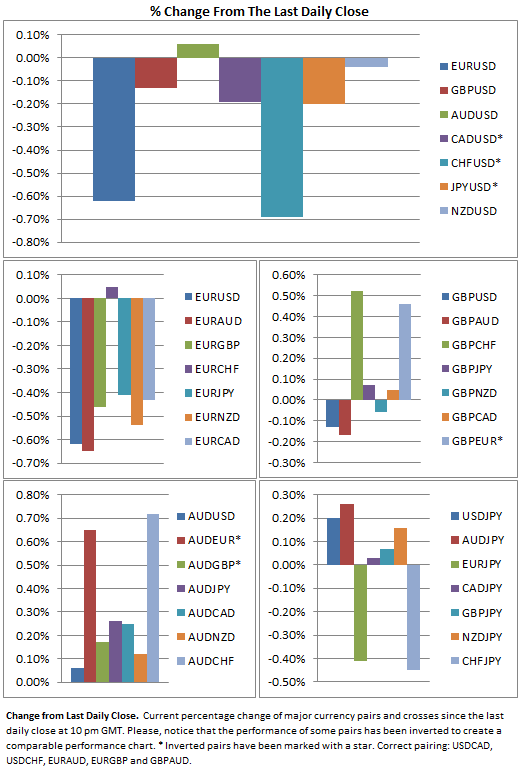 Currency Pairs, Grouped Performance
AUD and USD strength together with EUR weakness have been the main themes this morning. EURAUD has lost the most ground at the time of writing as the pair failed to penetrate a resistance yesterday and is now approaching the lower end of the sideways range. Another strong mover this morning is NZD against EUR. EURNZD is struggling to penetrate a weekly pivotal resistance level at 1.6445. EURGBP is also down this morning despite the fact that the pair is close to support levels and lower daily Bollinger Bands.
Nearest important daily support and resistance levels for these pairs are:
EURAUD 1.4427 / 1.4769
EURNZD 1.6159 / 1.6674
EURGBP 0.7110 / 0.7211
Main Macro Events Today
China's June HSBC/Markit PMI rose to 49.6 from previous 49.1 even though it was expected to remain in contraction for the fourth straight month.
EMU PMI: Eurozone preliminary June PMI readings are expected to show a stabilisation in the manufacturing number at 53.6 (median same) and a decline in the services reading to 53.6 (med same) from 53.8 in the previous month, which should bring the composite down to 52.0 (med same) from 52.2. PMIs still point to ongoing expansion and national indicators are looking more even but there is no further acceleration in output growth and the data tie in with the ECB's view that growth is broadening but not necessarily strengthening. This will leave the central bank firmly on course for full implementation of QE measures despite the pickup in headline inflation. Indeed, there still is some outside chance of a widening of asset purchases if the Greek crisis implodes and threatens to derail the recovery and stability in the rest of the Eurozone.
US New Home Sales. May new home sales should reveal a 1.0% decline to a 512k (median 520k) unit pace for the month following the 6.8% bounce to a 517k pace in April. Despite today's firm existing home sales figures which had the headline pace up 5.1% there is still downside risk to tomorrow's release from the NAHB decline to 54 in May and the fall in housing starts to 1,036k from 1,165k in April.
U.S. Durable Goods. May durable goods data should reveal a 0.5% (median -0.5%) decline for orders following a 1.0% drop in April. Shipments are seen rising by 0.5% with inventories up by 0.2% following respective April figures of -0.2% and 0.2%. Data in line with this forecast would leave the I/S ratio steady at 1.67 for a third month. There is downside risk to the report from the decline in Boeing orders to 11 from 37 in April and the weak industrial production figures which fell by 0.2% in May.
Click here to access the full HotForex Economic calendar.
Price is dropping nicely towards our profit target. We remain bearish below 1.0604 resistance (Fibonacci retracement, Fibonacci extension, horizontal overlap resistance) for a further push down to 1.0494 (Fibonacci extension, horizontal support)...
Spot gold remained on strong bullish footing on Friday. After an Asian flat the price got an upward impetus in the European morning...
Gold surged Thursday on a breakout of its previous consolidation to hit and slightly exceed major technical resistance at $1250, a level not seen since early November...