EURUSD, Daily
Technical picture in EURUSD is bearish with price moving outside the bearish wedge I've had on the chart for quite some time now. Resistance area below 1.1239 is likely to turn price lower today and with no high quality support levels in proximity of current price action I am expecting to see another strong sell off today. My target for today's move is 1.0937 as this level is likely to turn price higher again. Important daily support and resistance levels are at 1.1207 and 1.0930.
An agreement at technical level with Greece needs to be on the table today, in time for Finance Ministers to sign off the agreement at the Euro group meeting Wednesday evening ahead of Thursday's EU summit. Even if this goes without a hitch, Tsipras will still have to get the deal through parliament in Athens and then through the German parliament. So plenty yet that could go wrong and trigger another flip in fixed income markets.
Yesterday US new home sales rose 2.2% to a 546k pace in May after rebounding 8.1% to 534k in April (revised from 517k) from the 9.4% March drop to 494k. That knocked the month's supply to 4.5 from 4.6 (revised from 4.8). Regionally, sales were split with gains in the Northeast and West, and declines in the Midwest and South. The median sales price fell 2.9% to $282,800 from $291,100 (revised from $297,300). Prices are down 1.0% y/y versus the 6.0% y/y clip in April. Data are better than expected. The U.S. Markit flash PMI manufacturing index slipped to 53.4 in June from May's 54.0 and is down from April's 54.1. It's a third straight monthly decline and is the weakest reading since October 2013. However, employment and new orders were higher, with the former at its fastest pace since November. Average cost burdens were up for a second straight month.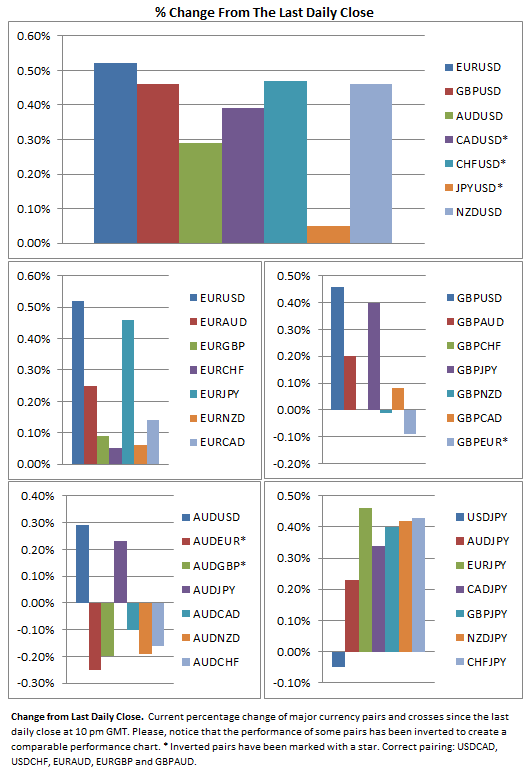 Currency Pairs, Grouped Performance
USD strength yesterday turned into weakness this morning with EURUSD and NZDUSD leading the pack. EUR pairs are seeing some strength across the board even though the German IFO was a disappointment today. AUD performance has been mixed while JPY is the loser this morning as it is down against almost all the competitors.
EURJPY came close to a support level at 138 and has now bounced higher but struggles with a resistance at 138.90. GBPJPY is one of the performers this morning as it's trying to break above a sideways range it has been bound for a week. As this has been caused by the pair trading at resistance this is not an ideal spot to be a buyer in this pair. CHFJPY moving higher from the bottom end of an ascending triangle formation.
Significant daily support and resistance levels for aforementioned pairs are:
EURJPY 138.00 / 140.63
GBPJPY 194.63 / 195.35
CHFJPY 131.50 / 134.35
Main Macro Events Today
German IFO came in much weaker than expected, with the overall confidence reading falling to 107.4 from 108.5 against consensus expectations for a drop to 108.1. The weaker than expected number is in stark contrast to yesterday's better than expected PMI readings, which showed improved sentiment in both services and manufacturing sectors. The IFO reading showed the third consecutive drop in the forward looking expectations number, which was likely impacted by uncertainty about Greece and is now at the lowest level since the start of the year.
Euro group meeting. An agreement between Greece and its creditors needs to be reached in time for Finance Ministers to sign off at the Euro group meeting this evening, ahead of tomorrow's EU summit.
US Gross Domestic Product. The Q1 GDP growth is likely to be revised to -0.4% from -0.7% in the second release, following 2.2% growth in Q4. Forecast risk: downward, given last year's big downside surprise for the second revision that may be on track for a repeat. Market risk for USD: downward, as a weaker report could impact the already-fragile Fed rate hike timing.