EURUSD, Daily
Yesterday's EURUSD trading was limited by the resistance level just below 1.1239. Market turned lower below this level as I expected and has since failed to push through this resistance but the selloff I anticipated didn't materialize. Market has now formed a flag in 4h timeframe and projection from this formation suggests potential all the way down to 1.0915. The 50% Fibonacci level (measured from March low to May high) can be found at 1.0965while my target of 1.0937 sits in between the aforementioned levels. The pair has been range bound with some effort to push the price higher but now it has moved below the 4h flag formation. I don't expect yesterday's high of1.1234 to be exceeded today but look for a movement below latest pivot low at 1.1134 and towards my target. Important daily support and resistance levels are at 1.1207 and 1.0930.
Pensions remained sticking point in Greek talks, according to the FT citing leaked documents covering creditors' counter offers to Greece's reform plans. Creditor demands are focusing on the time line for a raise in the retirement age as well as the time contributions have to be made to benefit from full pensions. The pension system has been a key issue of controversy right from the start with creditors demanding a comprehensive overhaul of a system where costs spiraled out of control over the last decades.
There already was one reform in 2012 but costs remain too high with creditors demanding further cuts, while at the same time recommending a basic social safety net, which so far doesn't exist in Greece, leaving the pension of parents and grandparents a fall back for many unemployed.
Tspras's meeting with creditor officials run into the early hours of Thursday morning, but in the end there was still no deal on the table. Eurozone Finance Ministers, which had gathered Wednesday evening, had little to discuss, and called off their meeting early, while agreeing to meet again this afternoon. Negotiators have already re-started talks this morning and the discussions with Tsipras will continue at 9 am local time. European heads of state are gathering for a 2-day summit again today and it seems Tsipras is banking once again on discussions at leaders level, where he can play Greece's card of strategic Nato partner in the south-east of Europe and threats to forge closer ties with Russia.
This ties in with Greece's demands that the ESM take over Greece's debt at the IMF and the ECB. Merkel, however, has repeatedly stressed that a deal with the institutions, including the IMF, is a prerequisite. A Greek government minister put the chances of a deal at just 50% now and Grexit is becoming a real possibility. Sticking points are reportedly mainly immediate emergency measures demanded by creditors, which want to see the government passing more reforms through parliament before handing over further cash.
Even if there is an agreement and that is a very big if now, Tsipras will still have to get the deal through parliament in Athens and may run into difficulties with the left wing of his coalition. If he loses the votes of some of his allies there may be a greater shift in government or a referendum after all. The German parliament, which also has to sign off the deal, said it won't vote on any agreement before it has been rubber stamped by Greek lawmakers. And another extension of the bailout agreement, which seems likely, will mean more talks and public wrangling.
The U.S. Q1 GDP growth boost to -0.2% from -0.7% slightly beat estimates thanks to small upside surprises spread across consumption and intellectual property, though we generally saw the mostly expected modest hikes for private and public construction, and boosts of $4.5 bln for inventories and $0.4 bln for net exports that left a small hike in real final sales growth to a still-weak -0.6% from -1.1%.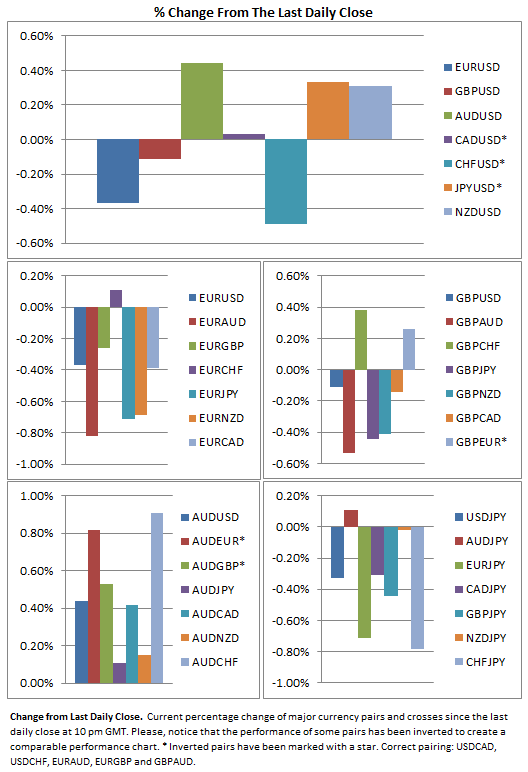 Currency Pairs, Grouped Performance
AUD strength really sticks out today. Australian Dollar is nicely up against everything else while EUR is weak and JPY is showing some strength. AUDUSD is moving higher from a rising channel support at 0.7700 while AUDCAD is approaching a resistance at 0.9594. GBPAUD is rolling over from a sideways formation after hitting a resistance at 2.0556. EURAUD has moved lower today after hitting a resistance at 1.4549 yesterday.
Significant daily support and resistance levels for these pairs are: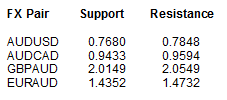 Main Macro Events Today
German Jul GfK consumer confidence falls to 10.1 from 10.2 in June. The dip was a tad below market consensus. Greek concerns are likely to have weighed, although German sentiment reading remain at very high levels, amid a robust labour market and rising disposable income, which is not only boosted by low inflation, but also sizeable wage gains this year. The breakdown for the Gfk, which is only available until June, showed a marked decline in the reading for business expectations, while income expectations surged. The willingness to buy fell back slightly, but remains high. The German consumer will continue to support the recovery.
EU Extraordinary Economic Summit
US Personal income is expected to grow 0.4% in May, while consumption should be up 0.9%. Forecast risk: upward, given the stronger May employment report. Market risk: downward, as softening in data could impact rate hike timelines.
US initial jobless claims are expected to be 270k (median 272k) in the week-ended June 20. Continuing claims are expected to rise to 2,225k for the week-ended June 13. Forecast risk: downward, as some risk remains from oil sector disruptions. Market risk: downward, as weaker than expected data could delay rate hike expectations.
Asian stock markets are mostly down, as the positive confidence indicators out of Europe and the U.S. yesterday were overshadowed by weak GDP numbers from South Korea, which weighed on most markets. Topix and Nikkei outperformed, with a weaker Yen underpinning exporters...
Marking the final day of Fed speeches ahead of the one-week blackout period starting today, FOMC voting member, Bullard said that December was most likely for a rate hike...
Equity markets began the week on a positive note with M&A activities, positive earnings, and better than expected manufacturing data from the Eurozone and U.S. all boosting appetite to risk...