June 26, 2015
---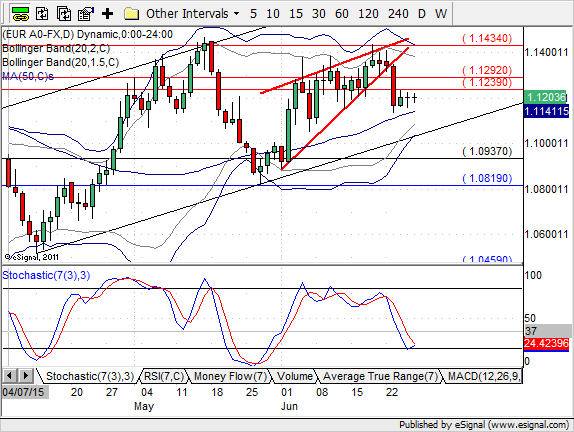 EURUSD, Daily
EURUSD keeps on moving in a range while market participants wait for clues on what will happen with Greece. In previous reports I've pointed to a resistance below 1.1239 and suggested it would cap the upside yesterday and day before. This has been the case and price bars in both daily and 4h charts have been making lower highs. The bearish daily technical picture points to lower prices but the lack of downside momentum over the last two days and this morning forces me to question this indication.
Also, this being Friday and with no progress in Greece – EU negotiations in sight market might be range bound for yet another day. EURUSD has had a few narrow two to three day ranges since the March low but no such four day ranges. Therefore, we are approaching the breakout from this range. Range bound market means that the supply and demand are in a relative balance and therefore probabilities of price moving lower are now smaller. In other words, the likelihood of price moving up as easily as it could go down has increased. At the time of writing market has been rallying higher and towards the resistance levels. Intraday price action at resistance will give us clues on how likely it is that the resistance will hold. Important daily support and resistance levels beyond the range are at 1.0930 and 1.1292.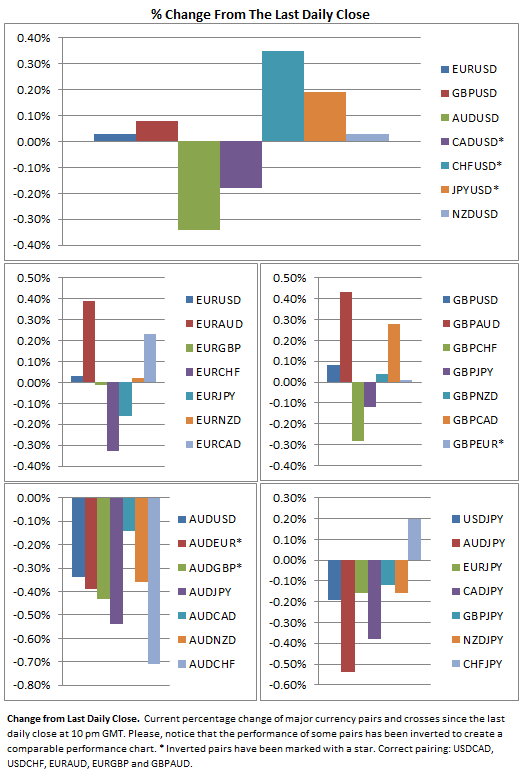 Currency Pairs, Grouped Performance
This morning it has been the commodity currencies that have taken beating. At the time of writing AUD and NZD are down against the majors. JPY has been attracting money from AUD and NZD while USD, EUR and GBP have not had constant performance one way or the other. NZDJPY has been moving lower for the last two weeks and is now trading relatively close to a weekly support level at 84.08 and right at a support zone created by a weekly pivot candle. AUDCHF rally failed from a resistance yesterday and has been now moving lower closer to a 4h pivotal support at 0.7182. The 0.7750 resistance proved too much for AUDUSD again yesterday and the pair fell down to lower 4h Bollinger Bands and close to a support provided by rising daily trendline. However, price has made lower highs in 4h resolution which suggests that this market is lacking in buy conviction.
Significant daily support and resistance levels for these pairs are:

Main Macro Events Today
German May import price inflation was weaker than expected, falling back to -0.8% y/y from -0.6% y/y in April. Prices were down 0.2% m/m and for once not because of lower energy prices, but a sharp decline in prices for consumer goods. Prices for durable goods dropped 0.9% m/m and prices for non-durable goods fell 0.5% m/m. The monthly drop, which was likely impacted by the rebound in the EUR from the middle of April to the middle of May, brought the annual rate for imported consumer goods to a still relatively high 3.3% y/y.
BoE Governor Mark Carney Speech
EU Extraordinary Economic Summit
US Michigan Consumer Sentiment: The second release on June Michigan Sentiment is out Friday and should be revised up to 95.0 (median 94.6) from 94.6 in the first release and 90.7 in May. The report has displayed a consistent, though, diminishing tendency toward upward revisions over the past year.
Publication source
---
HotForex information
HotForex reviews
December 6, 2016
Risk aversion intensified during early trading on Monday following reports of Italian Prime Minister Matteo Renzi experiencing a crushing defeat in the referendum on constitutional reforms which sparked concerns of renewed political instability in Europe...
---
December 5, 2016
MACD was in the negative territory. If MACD remains in the negative territory, sellers' positions will strengthen. RSI was in a neutral area...
---
December 5, 2016
As we noted the day before Friday's US jobs report, only a significantly worse-than-expected reading for November would have likely made the Federal Reserve's next interest rate decision more difficult...
---