EURUSD, 60 min
EURUSD didn't attract enough buyers yesterday but traded lower on slightly better than expected US macro releases. The pair moved all the way down to support at 1.1032 and is after failed push higher the pair is moving sideways. The pair is still trending lower in a downward regression channel and a breakout accompanied with a higher low is needed to change the picture more positive. The next intraday resistance at 1.1095 is fairly close and coincides with the Bollinger Bands while 50 period SMA is currently at 1.1132. Move closer to May 27thpivotal low looks likely if EURUSD stays in the channel today but the proximity of Monday's low should slow the tempo. Important daily support and resistance levels are at 1.0937 and 1.1135.
Eurozone markets are bouncing back and Bund and Gilt futures are under pressure as safe haven flows receded on hopes of a Greek deal, but the risk of another set back remains high. The Greek referendum is still on and with Tsipras still calling for a "No" to the last creditor offer, Eurozone officials decided to hold off any future talks until the referendum is through. It looks like the yes camp is shrinking amid the banking closure, but Tsipras continues to sell the vote as a chance to get a better deal, while Eurozone officials see it as a vote on Eurozone membership. The latter would get a resounding "Yes", but that is not how the referendum will be worded. For now the ECB is keeping the Greek banks and implicitly the government afloat with ongoing ELA assistance, but the question is how long Draghi will be able to maintain the Greek banks are essentially solid.
Yesterday's US reports revealed upside surprises across the ISM, ADP, and construction spending figures, though vehicle sales are posting a 3% June drop-back from a May cycle-high that trimmed the day's good news. For construction, we had revisions back through 2013 that lifted the construction trajectory into Q2 after what is now a smaller winter-weather hit, hence lifting growth prospects despite restraint in new home construction. The ISM popped to 53.5 from 52.8 with a employment spike to 55.5 from 51.7, while ADP posted a solid 237k June rise that defied the typical downward bias in as-reported ADP figures.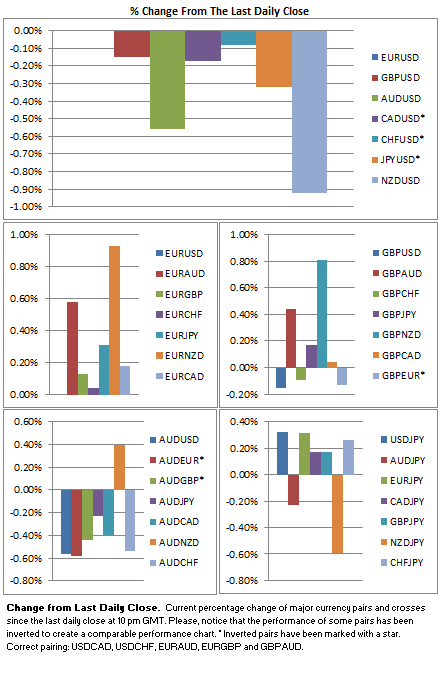 Currency Pairs, Grouped Performance
Yesterday, I pointed out that NZDJPY was at levels it could sell off again. At the time of writing NZDJPY is trading 0.61% below yesterday's close. NZD is also down against EUR as EURNZD has been rising (up 0.95%) from the support identified in yesterday's report. GBPNZD has been another nice runner since the publication of my report yesterday, up by 0.80% from yesterday's close.
This morning AUD weakness against everything else but NZD sticks out while USD and EUR are seeing some strength against the majors. GBP and JPY have mixed performance.
Significant daily support and resistance levels for AUD pairs are: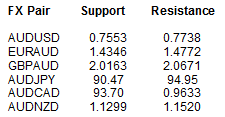 Main Macro Events Today
US Initial Jobless Claims: Claims data for the week of June 27th is out Thursday and we expect to see the headline remain about steady at 270k (median 272k) from 271k in the week prior. Claims have generally improved in June and look poised to leave a 272k average for the month following a 274k average in May.
US Factory Goods Preview: May factory goods orders are out on Thursday and should reveal a 0.5% (median -0.5%) decline for orders with shipments up 0.4% and inventories down 0.1% for the month. This follows respective April figures of -0.7% for orders, flat for shipments and 0.1% for inventories. Data in line with our forecast should leave the I/S ratio steady at 1.34 for a third month.
US Non-Farm Payrolls: June employment data is out on Thursday and should reveal a 230k (median 230k) headline employment increase following a 280k bounce in May. We expect the unemployment rate to tick down to 5.4% (median 5.4%) from 5.5% in May.