13 July, 2015
EURUSD, Daily
I was expecting EURUSD to move towards the 1.1188 intraday resistance on Friday. This resistance was reached and then penetrated before EURUSD fell back to 1.1125 S&R level. This morning EURUSD rallied to the same resistance area after the news that Euro group had reached a deal on helping Greece. At the time of writing the pair has corrected lower and reached a support level at 1.1056. There is intraday resistance at 1.1085 which is likely to cause troubles for longs. Daily technical picture looks weak after the pair has not been able to stay inside the rising trend channel. Resistance at 1.1190 is a weekly pivotal candle low while 1.1000 is a weekly pivotal candle high and has been providing support to EURUSD.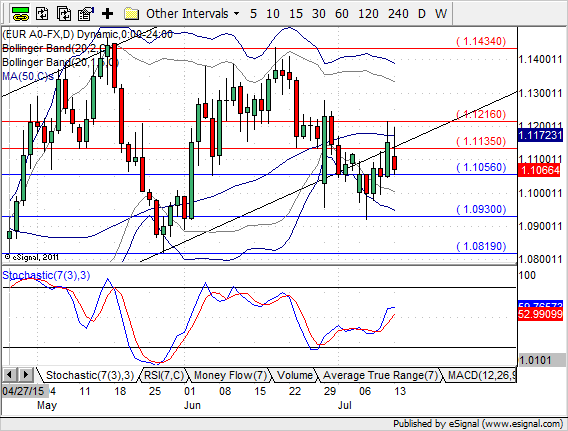 Eurozone reaches deal on Greece that could pave the way for a third bailout programme. After epic talks there was finally a deal that will allow Greece to stay in the Eurozone, if, and that is still a rather big if, Tsipras gets sufficient backing for further concessions at home and the other countries manage to get the deal through their respective legislative processes. German lawmakers, who won the right to sanction even the mandate for talks on a bailout package, won't be very happy to be presented with what looks like a done deal, even if formal talks are still to start. Eurogroup head Dijsselbloem said trust was a key issue in the talks and confirms that a fund will "monetize" some Greek assets. There will be no debt forgiveness for Greece, according to Malta's Muscat.
The Fed Chair Janet Yellen gave a cautiously optimistic view of the economy in her speech on Friday, though affirming that a rate hike later this year is appropriate, assuming "unanticipated developments" don't delay or accelerate it. The Fed's biggest challenge is to make sure the financial system is strong enough and resilient enough to whether another crisis like that of the last decade. It's the Fed's task to be much more vigilant and much better prepared than was the case previously.
Yellen also took a swipe at the IMF saying that advice from the fund on US rates is "part of the spectrum opinion" on appropriate policy and the overemphasis on timing of the lift-off is less important than the full path of policy over time. In other words, thanks for your advice on holding off on rate hikes until 2016, Madame Lagarde, but no thanks. Fed looks at a number of labor market metrics as they judge the degree of slack in the market. Currently she judges that there is more slack in the data than is suggested by the current 5.3% rate. The Committee generally sees the 5.0% to 5.2% range as a normal rate, she said.
The 0.8% US May wholesale inventory rise beat estimates on Friday to signal some upside Q2 GDP growth risk, though a lean 0.3% May sales rise only slightly extended the 1.7% (was 1.6%) April pop, and much of the inventory strength reflected a price-led 4.4% petroleum inventory rise. The sales rise was disappointing and left a mixed report for the outlook overall, though we at least now have the first two gains for this measure since July of last year. Today's wholesale trade figures are consistent with our 2.7% Q2 GDP growth estimate, with a $35 bln Q2 inventory subtraction that follows a $19.5 bln Q1 addition, with a still-elevated $64 bln Q2 accumulation rate that leaves room for a small further inventory unwind into Q3.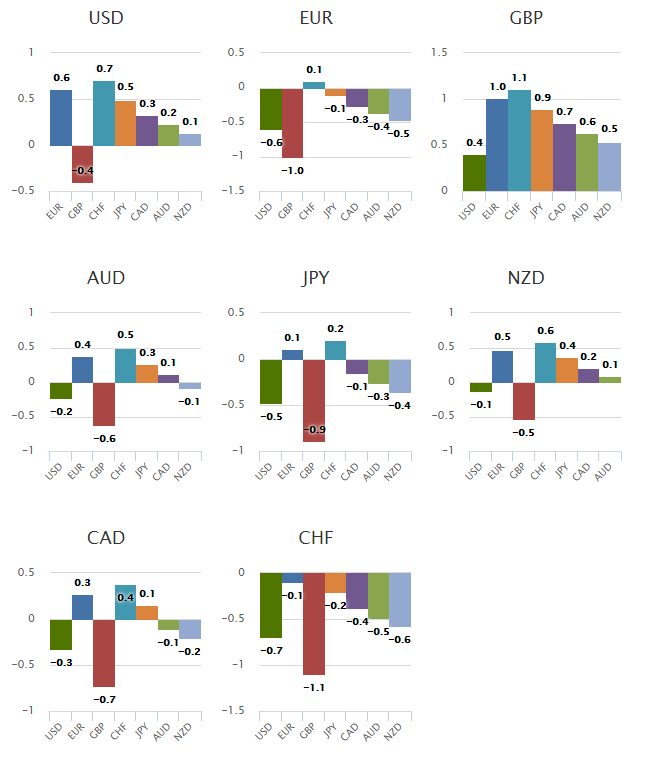 Currency Pairs, Grouped Performance (% change)
Current intraday percentage change of currencies against other major currencies since the last daily close at 23:59:59 server time. The new Currency Movers Charts show the percentage change from previous day's close to the current moment against the other major currencies.
After the news about Euro group reaching a deal on Greece money has been flowing out of CHF and to some extent from EUR as well. The clear winner has been the GBP with CHF losing the most against it, a sign of unwinding risk aversion trades. Market participants are more prepared to accept risk again but seem to prefer looking for returns in a currency that is deemed the next in line after the USD in rising rates.
Significant daily support and resistance levels for GBP pairs are: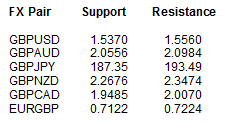 Main Macro Events Today
Japan industrial production and Tertiary Index disappointed and came in at -3.9% and -0.7% respectively.
Eurogroup meeting. A deal was struck to help Greece. Now the deal has to be accepted in local parliaments.
US Treasury Budget: June treasury data is out today and should reveal a $50 bln (median $41.0 bln) surplus for the month following an $82.4 bln deficit last month and a $70.5 bln surplus a year ago. Receipts are expected to be up 6% y/y with outlays up 15.8% y/y.
---
Source link
---
---