16 July, 2015
EURUSD, Daily
EURUSD managed to clear the 1.0920's lower short term 1st target after failing to hold above the key 1.0960's levels. According to my daily chart observations, looking back over the past six weeks, a down trend is being observed. This downtrend observation is supported by the fact that price is printing a series of new lower consecutive tops and lower bottoms over the last six weeks. Technically, the EURUSD remains soft, and after the clean break of the 1.0920's, EURUSD short traders should keep an eye on the 1.0840's as the next relevant target. EURUSD long traders will be watching the 1.0950's -60's areas for any potential price bounce upward penetration to leave a new lower top around the 1.1030's-70.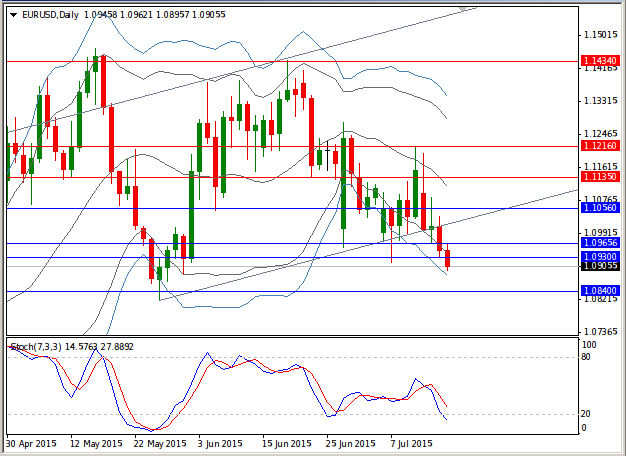 The ECB seems to have some concerns about the re-opening of the Greek banks. ECB's Dombret said in a speech that "it must be made sure that there is enough available liquidity, should depositors want to withdraw more money after the opening of the recapitalized bank". Dombret also questioned if the Greek major banks are capable of surviving in the long term.
Fed Chair Yellen during yesterday's testimony to congress gave an upbeat view regarding the US economy; however, she did not confirm or deny a September rate hike. Yellen did reiterate that tightening will likely happen sometime in 2015. The markets took this as a clue that it's still Dollar time.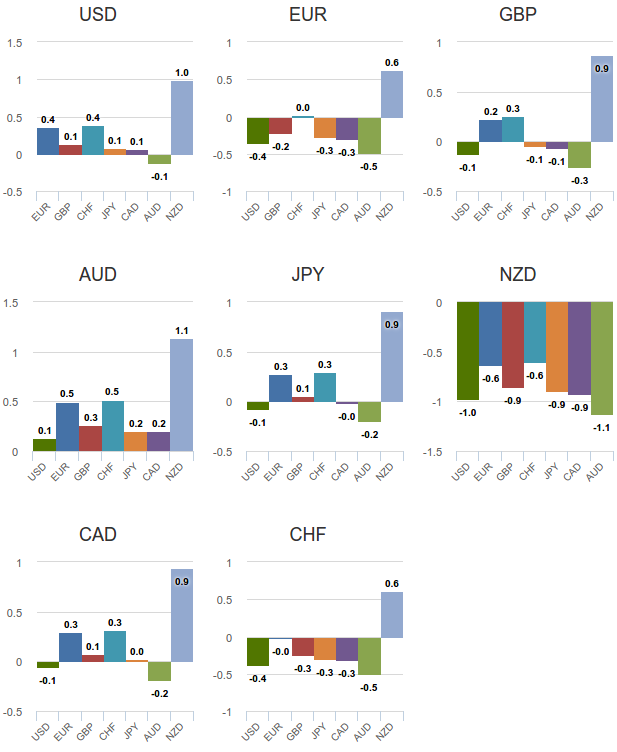 Currency Pairs, Grouped Performance (% change)
The new Currency Movers Charts show the percentage change from previous day's close to the current moment against the other major currencies. This morning EUR is trading higher against commodity dependent currencies' such as the CAD, AUD and NZD performance remains soft against the USD. AUD is strong against the NZD, while NZD is weaker across the board against most pairs.
Significant daily support and resistance levels for these pairs are: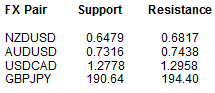 Main Macro Events Today
• USD Capacity Utilization June stood at 78.4% against 78.2% in May. The economy has improved, but still has a way to go.
• CAD Bank of Canada cut its key rate to 0.5% from 0.75% on July 15 in the hope of giving the economy a boost. Also, CAD Manufacturing sales in May were up 0.1% after having fallen 2.2% in April.
• GBP Unemployment increased to 5.6% in the three months to May, the lowest since April-June 2008. At the same time, wages grew at the fastest pace in more than five years.
---
Source link
---
---