17 July, 2015
EURUSD, Daily
EURUSD is now trading at the lower end of the daily chart downtrend channel after breaking below the key 1.0920's levels earlier this week. The short term outlook still remains bearish even after a failed attack on the 1.0840's 2nd target extension during yesterday's trading session. At the time of writing, price seems to be bouncing off the lower Bollinger band; ideally, I would like to see a lower top around the 1.0970's – 1.1030's before initiating any new short sales. Traders should expect to see some choppy trading during the next bounce before any resumption of any attack on the 1.0840's, if these levels are cleared, the next leg lower should leave price to hang around the 1.0750's.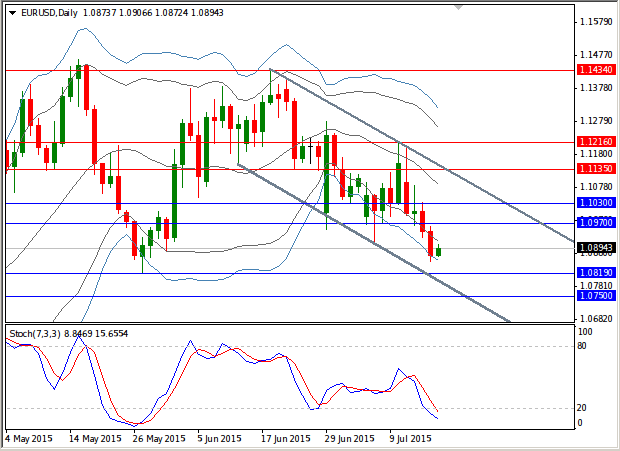 The ECB and the markets would like to move past Greece; focus was on the ECB policy meeting yesterday which, as expected, left monetary policy unchanged. Reporters, however, did not feel that it was time to move past Greece with the ECB press conference dominated by questions regarding Greece. The good news for Greece is that the European Central bank lifted the ELA assistance for Greek banks, removing any immediate fears that Greek Banks would not have any funds for depositors to withdraw. What still remains unclear for the Greeks is how long exchange controls will remain in place.
The dollar was firm during most of the N.Y. session on Thursday, although, the greenback did trade a bit softer upon the release of the Philly Fed index. For Friday trading, expect some USD price action upon the release of the USD Building Permits, CPI and later Uom Consumer Sentiment reports.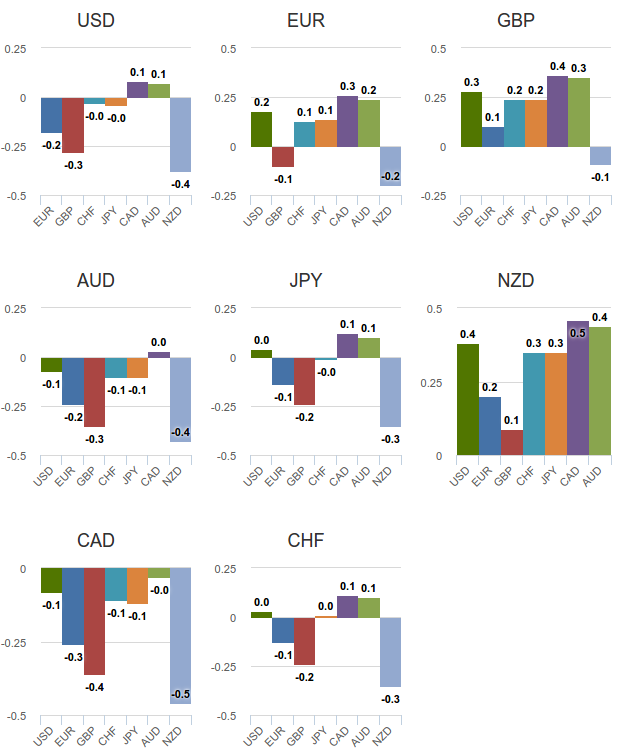 Currency Pairs, Grouped Performance (% change)
The new Currency Movers Charts show the percentage change from previous day's close to the current moment against the other major currencies.
This morning EUR is trading higher against commodity dependent currencies' such as the CAD, AUD and NZD performance remains firm against the USD.
GBP is strong against the JPY, while NZD is weaker across the board against most pairs.
Significant daily support and resistance levels for these pairs are: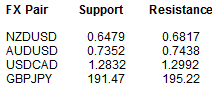 Main Macro Events Today
• US Housing Starts: June housing starts are out Friday and should show a 5.7% increase for the headline to a 1,095k (median 1,108k) following a big gyration in April-May that saw starts shoot up to 1,165k in April before dropping back to 1,036k in May. Accompanying the report we expect permits to slow to 1,105k from 1,250k in May and completions to slow 1,105k from 1,034.
• US CPI: June CPI is out Friday and should reveal a 0.2% (median 0.3%) increase for the headline with a matching 0.2% (median 0.2%) increase for the core. The already released PPI data revealed a headline increase of 0.4% with the core up 0.3%. Plunging oil prices over the winter and spring worked to depress inflation measures but we have begun to see some rebound as this effect dissipates.
• Canada CPI: We expect CPI, due Friday, to expand at a 1.0% y/y pace in June (median same at +1.0%) following the 0.9% y/y rate in May. CPI is seen rising 0.3% on a month comparable basis in June (median +0.2%) after the 0.6% bounce in May. The BoC's core CPI index is seen dipping 0.1%, similar to the action seen in past months of June. Annual core CPI growth is expected to expand at a 2.2% y/y rate in June (median 2.2%), identical to the 2.2% clip in May. Core CPI saw a 2.3% y/y rate in April and a blistering 2.4% rate of increase in March.
---
Source link
---
---